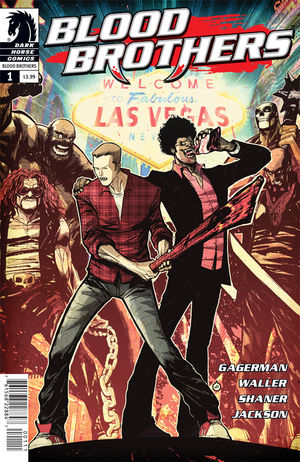 Review Fix chats with the uber funny Andrew Waller and Mike Gagerman who discuss their new comic book series "Blood Brothers." Like "Family Guy" meets "True Blood," it's all about rearranging history to suite your needs, with plenty of blood and sexual references thrown in for good measure.
Review Fix: What was the inspiration for the series?
Andrew Waller: Dark Horse came to us with an idea for a comic about two vampires who had been friends for a thousand years. Mike and I have been friends since high school, so we understand what kind of baggage a long term friendship brings with it.
Mike Gagerman: Am I baggage to you, now? That's it, we're breaking up.
Review Fix: What's the creative process like? How do you guys work together?
Gagerman: We have a small office in Hollywood. It's where the magic happens.
Waller: We spend most mornings trying to figure out what we're gonna order from Chiptole. Then we eat Chipotle. Then we get to work…Sometimes.
Gagerman: Or we watch old episodes of Frisky Dingo.
Waller: But generally we beat out a story together. Then one of us takes a first pass at the script. Then the other one follows behind, rewriting. This goes on until it's Chipotle time.
Review Fix: What did you guys read growing up? How do you believe it affected this series?
Waller: I was a big Spider-man and Daredevil reader as a kid. To me, those were grounded stories about guys who happened to be superheroes. That's what we hoped to do with Blood Brothers. It's about two long time friends who happen to be vampires.
Gagerman: I mostly read Judy Blume, but Superfudge had no real influence on this book.
Review Fix: What are your goals for this series?
Gagerman: Total Comic Book Supremacy.
Waller: For people to read it and not say that it sucks on the internet.
Gagerman: Which is the equivalent of Total Comic Book Supremacy.
Review Fix: What makes this series different?
Gagerman: Our day job is as screenwriters and we're big fans of the action comedy genre, stuff like Lethal Weapon and Rush Hour. We hoped to bring some of that vibe into our books.
Review Fix: What was it like working with Evan Shaner?
Gagerman: He was great. Really collaborative.
Waller: This was our first comic book, so the fact that he was patient was a real plus.
Review Fix: Who do you think will enjoy the series the most?
Waller: My Mom was a big fan.
Gagerman: Dudes. Dudes will like this book. And cool chicks that can hang with dudes.
Review Fix: How do you want the series to be remembered a few years from now?
Waller: As our first step on the path to global superstardom.
Gagerman: Well, we broke up earlier in this interview, so I will always remember it fondly as the last project we ever wrote together.
Waller: What if I buy you Chipotle? You can get barbacoa.
Gagerman: Ok, maybe we'll give it another shot.