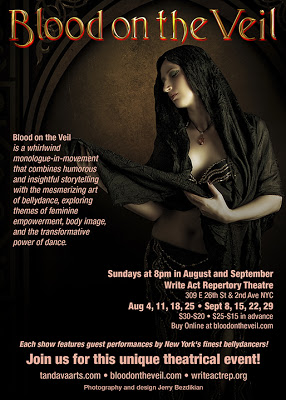 The ends of her flowy chestnut hair brush against her hips. The dark nail polish and multiple cocktail rings on her fingers show off an artistic, creative sense of style.
Brooklyn-raised Carol Henning is not your typical belly dancer, or stand-up comedian, or screenplay writer. She is in fact all of those professions at the same time.
Her current show "Blood on the Veil," written and performed by Henning herself, is based on true events of her life as a performing artist.
"I started as a stand-up comedian," Henning said. "I was extremely not funny for most of my childhood through my teenage years. Somewhere around 15 or 16 years old, I was having dinner with one of my schoolmates. And I just started riffing. I don't remember what we were talking about, but I just started making jokes, making connections about things – and they were all laughing."
On that day, sometime in the late 80s, Henning discovered the new, giggle-inducing version of herself. So she went out to seek people with similar interests.
"I met a comedian whom I started dating, not because I liked him. As it turned out, I actually wanted to be him," she recalled. "So I ended up going on stage. I did really well the first time I came up – somehow the magic happened. I was like, 'Wow, I can make them laugh.' So I started writing material and most of it was very bad. Later I was slowly starting to understand what made things funny."
In 1993, Henning joined a theater company in hopes to gain some experience in stand-up. Over the course of about eight years, she learned about how the theater works and had a chance to try her hand as a screenplay writer and stage manager, as well as the stand-up talent. She is especially proud of the last comedic set she produced there.
"It was the best I've ever done," she added. "It was a full half an hour and I did really, really well. But I was not sure I wanted to write stand-up. The thing I don't like about it is that it's a short joke format."
At that point, Henning learned to adapt to aspects of performance outside of her comfort zone.
"I'm not good at tumbles," she confessed in reference to physical comedy. "But even if you're not good at a thing, you find a way to do it in which you can sell it. So if you can't do the tumble, you drop and you roll. See if that gets laughs. The audience is your best teacher."
When Henning was cast in a play as a crazy church lady, her role involved coming out with a chainsaw at the end. The character would usually be played by a petite woman to provoke laughter rather than fear from the audience.
"The director was directing me the same way she would direct [the shorter actors], without realizing I'm six feet tall," she explained. "You can't be six feet tall and be yelling and screaming and holding a chainsaw – the audience will get scared. And they did."
Henning knew that her height was not the only quality that set her apart from the other performers.
"I'm not quirky, I'm edgy. Quirky is a little off-beat and different from what you expect. Edgy is nothing that's going to comfort you. It's rough, like any dark comedy."
It took three performances of horrifying chainsaw waving, but Henning found a solution. She changed her tone of voice in that scene to a milder, less dramatic note. Next time when the audience laughed, she knew a desired image for her character was established.
"The audience is my director," Henning said.
A major turning point came when she had a bad injury, followed by a surgery, which made even simple movements like walking, a heavy chore. Henning felt she was out of place, until she discovered belly dancing.
She found that in spite of the difficulty and pain that she experienced at first, the dance made her feel "back" on track.
"I never want to forget how much I struggled," she said. "I had pain just learning to awaken my body."
During the next several years, Henning experimented with dancing to poetry and the utilization of movement in storytelling. She always wanted to do a one-woman show about her outer and inner journey. She took a workshop to educate herself about stage productions.
Soon the biographical "Blood on the Veil" was created.
In the near future, Henning hopes to produce a show about "everything that can go wrong when you're belly dancing." It will reflect the comedian side of her persona, with funny jokes and physical comedy.
With a genuine smile and a wink of experience, she advises, "If you're true to yourself and what's funny to you, it will work for you."