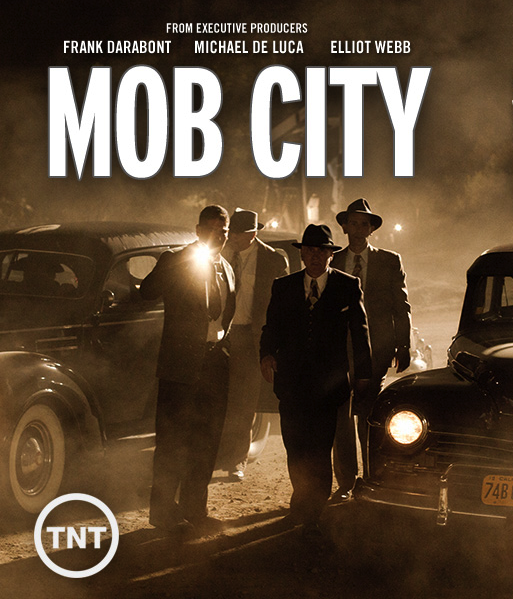 Stars of the new TNT event series "Mob City" Ed Burns, Robert Knepper and Milo Ventimiglia spoke about the new project at New York Comic Con and treated fans to the first 18 minutes of the show's pilot. Not in attendance were series protagonist, Jon Bernthal, who could not attend due to his commitment to the World War II epic "Fury" and executive producer Frank Darabont because of a conflict in his schedule.
The series tells the story of the war between the mob and the police in 1940s Los Angeles, where there are no clear heroes or villains and no happy endings. It is based on the John Butin novel "L.A. Noir: The Struggle for the Soul of America's Most Seductive City." Although Darabout was absent, he did make time to record an apology for his absence and an introduction to the pilot, teasing a surprise performance by a well-known actor and praised TNT's commitment to the series.
The pilot opens in 1924 New York, three young musicians are passing through as they are suddenly stopped by three thugs with guns who are on high alert, securing an alcohol shipment, and force the musicians to "scratch." The three begin to play their violins; easing the tension, the thugs begin to let their guard down. A mysterious women passes with a carriage passes by to tip the musicians but little do the thugs know that in the carriage lies three instruments of chaos and destruction, tommy guns. The musicians whip out the tommy guns and begin unloading their clips into the thugs. Then narration by Joe Teague (Bernthal) kicked in revealing these "musicians" are Bugsy Siegal, Meyer Lanksy and a fictional character Stu Rothman.
Cut to Los Angeles 1947, a mysterious figure lights a cigarette, slipping his matchbox into Joe Teague's mailbox. Teague discover the matchbox which is to the Jungle Room and on the inside is written to meet at 8'o clock. Jump to the Jungle Room, after a flirtatious exchange with the bartender, Teague's date arrives and it is Darabont's surprise. Simon Pegg, the British actor known for Edgar Wright's "Three Flavours Cornetto" trilogy, rocking an American accent as Hecky Nash and working it.
Nash has heard about Teague and his marine days, hearing stories about how he took out a bunch of Japanese men and wants to offer Teague a job. A thousand dollars for an hours work. The job is to act as an enforcer to black mail an unnamed person. Joe then proceeds to show Nash his badge and asks "You do know I am a cop?" to which Nash responds that he should shine his badge up and wear it "right above your pecker." Teague is left to consider the offer.
We are then taken to a Catholic Church where a shady character enters confession booth. In the booth the priest asks the man what sins he has to unburden. The priest is an older Stu Rothman (played by Robert Kneeper). The man begins pleading he had nothing to do a leak to the police but his pleas are answered by Rothman's double barrel shotgun, he flies through the confessional booth a scene straight out of a John Woo film. Rothman then exits the booth, removing his collar, fade to black.
The pilot was written and directed by Frank Darabont. It did adhere to typical noir clichés, but this was overshadowed by the pilot's gloomy feel and production design which throws you into a time machine, taking you back to 1947 Los Angeles. According to the cast TNT spared no expense in bringing the world of "Mob City" to life. Bernthal seems right at home as hardened veteran/ detective Joe Teague, Pegg's Nash brings a burst of energy to the show and Kneeper plays a more subtle villain as oppose to his over the top turn as T-Bag from "Prison Break." We did not get a look at Ed Burns' performance as an aged Bugsy Siegal, who does not appear in the pilot or Ventimiglia's mob lawyer Ned Stax, but judging from the promo screened, there is a lot to look forward too.
The cast, almost in unison, said Darabont was what attracted them to the project. They praised his work ethic and vision. They especially praised TNT for giving Darabont creative freedom, acting as a collaborator rather than big brother. Ed Burns stated this is the most fun he has had on a production since "Saving Private Ryan," stating that the best writing for actors is now on the small screen using Frank Darabont's "The Walking Dead" as an example.