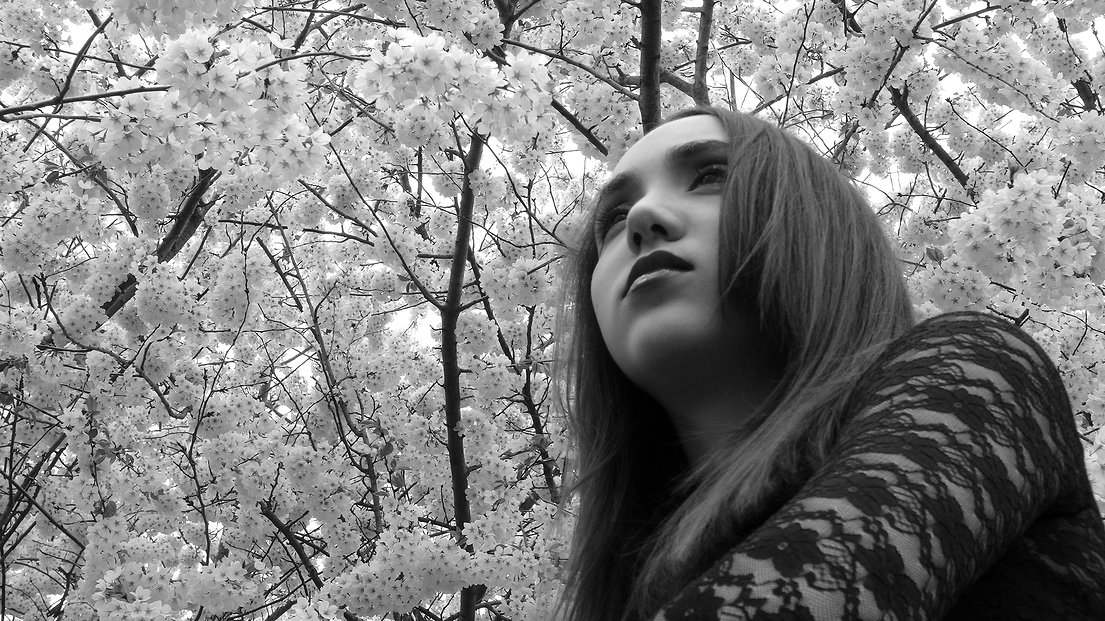 Review Fix chats with 14-year-old singer/songwriter Amelia Scalies, who discusses her new album "I Should've Known," as well as her creative process and how she manages to be a up and coming frontman as well as a student and a teenager.
Review Fix: Who are your inspirations and influences?
Amelia Scalies: Even though I am only 14, I listen to all genres of music. Therefore, I have a wide range of influences. When I was younger (9-11) I thought that the sun rose and set on Taylor Swift, so you can see where she influenced some of the songs on the record (such as, Macey Brown, and Rose Blossom). As I matured, I started to get more and more into alternative bands such as Green Day and Mayday Parade that I had liked a lot, but hadn't noticed that I liked them because I'd been so obsessed with Taylor. Some of my favorite bands are My Chemical Romance, Pierce the Veil, and Get Scared. I also like Ellie Goulding a lot, and she's electronica. So as a listener of contemporary country turned pop, alt-rock, pop-punk, and some electronic music, it's kind of not much of a surprise that my album is so diverse.
Review Fix: This album has so many different styles, which are you most comfortable in?
Scalies: I have to say that I'm really into alternative music. Memory and Welcome to the Black Parade are my favorite tracks on the record, and I'm hoping to produce more music like that in the future, hopefully with a band. I have a lot of new music written, a couple hundred songs, actually. I wrote most of the songs on 'I Should've Known' while I was twelve or younger. So that has given me a lot of time to write new material while we were making the album and now as we're marketing it.
Review Fix: What are your goals in music?
Scalies: I want to be the frontman (yes frontman I think it's ignorant to say frontwoman. We're all equal here) of a band when I grow up. I want to be famous so that I can help kids, and get them through tough times in their lives. Music has gotten me through a lot, more than I can even put into words, and I want to be part of that band that saved their lives: I want it to be my song that they blast in their headphones, my song that gets them through. I feel like not many people can understand what it's like to be bullied to the point where you hate yourself, and doubt every move you make. And in my mind, it's my responsibility, as someone who's been there and can write songs about how it feels and how it'll get better, to share my music with them and maybe make them feel like there's a way out.
Review Fix: "Bottom of the Ocean" is a track where you flash your claws a bit. Do you like to rock more than balladeer?
Scalies: I feel like there's a time and place for both types of songs. There are some bands and some artists that only do one type of song, and to me, that's extremely boring. If it's gotten to the point where every song sounds the same, you need to consider changing it up a bit. To me, it's just common logic. But in response to the question, I like both types of songs. I like rocking out as much as the next person, but not everything in life is upbeat and rocking. There are slow, sad moments too, and I think that you need some ballads to represent that.
Review Fix:"What I Should've Said" is such a beautiful song. It has this Eagles "Lyin' Eyes" kind of feel. What was the inspiration behind it and how was it written?
Scalies: "What I Should've Said" was written when I was eleven, right about to turn twelve. I had been following this five-year-old girl with cancer on Facebook, and she'd died. I was so upset and frustrated, and all I kept asking myself was "what if that was me? How would I feel? Or what if that was someone I loved, like my mom or dad?" and I got this song out of it. I'd actually written the base of the song before I knew this girl, and she was really the inspiration to take the song seriously, and to make sure it made the cut and got on my CD when we were determining what the tracks would be.
Review Fix: Speaking of writing, what's your usual creative process like?
Scalies: My writing process doesn't have a beginning or an end, or is it specifically structured, so I can't really condense it into a formula. As long as I can remember I've been writing stories, and I started writing songs when I was in preschool. Every day, I want to write more and more, and if I'm stuck, or if everything I'm writing is turning out opposite of what I intended it to be, I get so frustrated. I have these periods of time, like droughts, when I keep writing songs, but none of them stick with me or are really close to my heart. Eventually, I'll make a breakthrough and discover myself on the other side of that drought with a whole new perspective on writing, songs especially. Right after that breakthrough is usually when some of my best songs are written. So if I had to describe my writing process it would be nonstop, with different periods of varying success.
Review Fix: Is it hard to manage your career and school?
Scalies: Um, no, not really. I'm usually on top of my schoolwork, and I've always been, so academics aren't really a concern for me. But I'll tell you what is hard: managing my social life.
Review Fix: What song on the album do you think is the most indicative of your individuality?
Scalies: I think if I had to choose, I'd say that either "Bottom of the Ocean" or "Don't Let Them Win." "Bottom of the Ocean" represents how being bullied changed me into someone who's… not exactly harsher, but definitely harder to get close to, harder to understand. "Bottom of the Ocean" is more coming from an angry place, and it's everything I feel when my peers ignore me or shove me or talk about me. But "Don't Let Them Win" is about rising above it. You don't have to yell at them or punch them to fight back. Fighting back like that won't get you anywhere. The only way you're actually gonna get the better of them, the only way you'll win the fight is if you keep on being you. For example, in seventh grade, the girls who bullied me, who also used to be my friends (some friends, right?), would say, "Oh Amelia sucks at writing. She's trying to be Taylor Swift; she's such a wannabe. Ugh." I would let them say whatever they wanted, and I wouldn't defend myself. I just focused on writing, and did what was important to me, and this is where it has gotten me. If I'd listened to them, who knows how different my life would be. I might've stopped writing. I might not even be here. But I didn't let them win. I fought back, but in my own way. With music.
Review Fix: How do you want this album to be remembered?
Scalies: I want to help people with my music. That's all I've ever wanted, and this desire was only strengthened in these past few years. Music helped me survive being bullied, being alone. Even in my darkest days, it gave me hope that maybe I wasn't crazy. Maybe I wasn't a freak. Maybe I was just different, and maybe that wasn't such a bad thing. I want to be that person, to be that band for someone else. I want them to listen to my music when they feel like giving up, and I want to help them see that they're perfect-it's the world that's screwed up. Even if I only help one person, it would be worth it. That's all I want to do with my life. Help people.