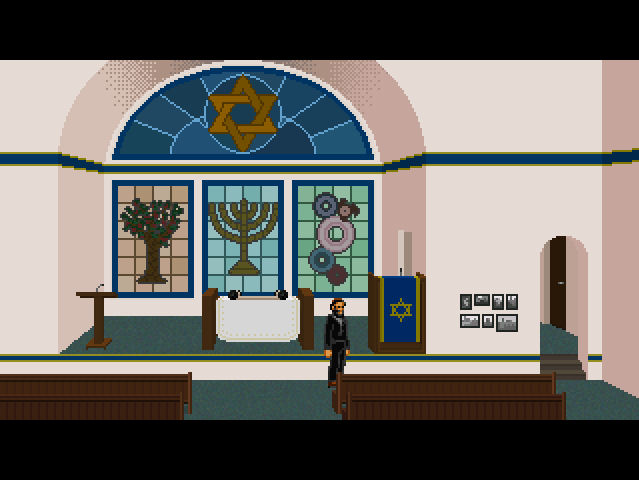 From the developers at WadJetEye Games comes Shiva: Kosher edition, a re-mastered port of the cult-favorite point and click detective game. In spite of its simple and simplistic approach, it manages to squeeze out plenty of charm in a story you'll end up remembering.
You take on the role of Rabbi Russell Stone who is accused by the police of murder of a former parishioner of his temple. The police suspect the Rabbi of murder because the man who was killed left Stone 10 thousand dollars.
In order to clear his name and find out why he was left such a large sum of money Stone takes it upon himself to solve the murder and clear his good name.
In a high graphic industry Shivah keeps things quite simplistic, the game is a 2D point and click adventure, you unmask clues and use your savvy to solve puzzles. The environment may aid you or ultimately confuse you when you are stuck.
The first step in this game is to access Stone's computer, but he doesn't recall the password or login for the system. It is up to the player to find these things you can either look around the Synagogue or check the business card for the Rabbi in conjunction with the handy book of Yiddish terms.
The frustration of this game comes in when you spend a great deal of time in search of computer passwords or evidence of names which are either incomplete or abbreviated to initials. Although in a world of walkthroughs and easy solutions this also adds to the charm of the game.
Voice acted character dialogues add to the ambiance of the game which is initially scored with Jewish themed music. Stone is the classic pessimistic anti-hero with a gruff voice and a no-nonsense attitude, a true New Yorker.
Locations in the game pertain to Manhattan. Notable neighborhoods are showcased from the as you travel between places in order to uncover clues.
The game itself isn't long although to figure out all of the computer passwords and what to do between cut scenes may take some time.
The simplicity of Shivah is what gives it its charm. It is a 2D game with pixilated art and a well-rounded story of religious exemptions in our society, but it is also full of messages to live by and quotes from rabbinical texts/teachings. That, in the end, may be the game's coolest and quirkiest feature and most redeeming quality.