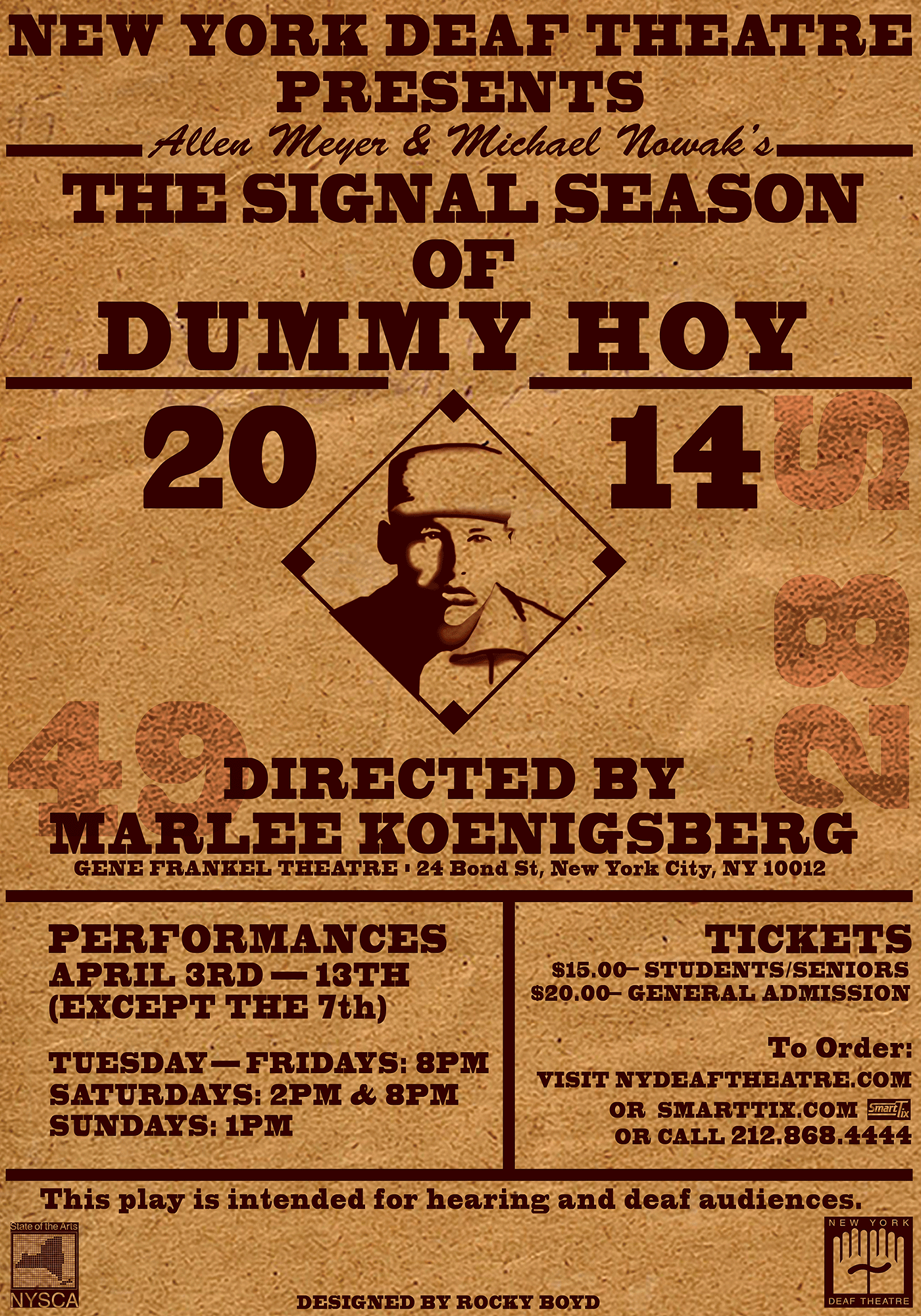 Review Fix chats with "The Signal Season of Dummy Hoy" co-playwright Allen Meyer, who discusses the historical comedy of Major League star William "Dummy" Hoy and how he changed America's pastime forever.
Set for a 10-day run at the Gene Frankel Theatre, "The Signal Season of Dummy Hoy" is more than a comedy for baseball fan, it's a coming of age story that reminds us that anyone, in spite of their disabilities, can achieve anything.Allen Myer – one of "The Signal Season of Dummy Hoy" playwrights
Review Fix: What was the inspiration for the play?
Allen Meyer: When I came across the story of William "Dummy" Hoy, I was amazed that it had not formally been told in play, movie or book form. Much research was done by Michael and me. This included meeting his heirs, and traveling to many of the places Hoy lived and played baseball in. We quickly learned what a terrific baseball player he was, as well as an upstanding person. Baseball is full of folklore, and this story needed to be included. Having a deaf daughter as I do, did inspire us as well.
Review Fix: How important is this story? Why do you think it should be told?
Meyer: Michael and I agreed early on that this was going to be a play about people, about relationships, about accepting your own weaknesses and challenges when a person who is somewhat different arrives on the scene. It is a very important statement about the variety of personalities exists within the human specie, and how people evolve…..or don't. This kind of presentation never gets too old to be told.
Review Fix: What was the writing and research process like?
Meyer: Â As the play is not brand new, the research process was a bit more manual than what it would be like today. However it was exciting and a valuable journey. As for the writing, it was a joy. Michael and I did not know each other prior to agreeing to write The Signal Season of Dummy Hoy. So the writing began with six months of discussion, creating a comfort level with each other and our vision of the nature of the play. The writing itself was a true collaboration of ideas, words and the creation of a diverse group of characters. To tell my truth, when the words "The End" were written, there was a feeling of bitter sweetness. It did not last long. There were plenty of rewrites, additions and fortunately, many productions.
Review Fix: What was the casting process like?
Meyer: As a rule, writers are not involved in the casting process. This is a vital and personal decision of the Director, who has their own vision of the characters. Michael and I were involved in casting the first production in Chicago, and the one in Portland, Oregon that Michael himself Directed. The only caveat we have is that Dummy Hoy be played by a deaf actor, except under extenuating circumstances and with our permission. This exception has mainly been granted to High School productions.
Review Fix: What are your goals for this production?
Meyer: Our goals for every production are the same. We want audiences first and foremost to be entertained. Without that, nothing the play has to offer will be accomplished. After that we want the audience to come away further sensitized to the plight of the deaf, and to the need search ones inner self about their relationships in general. Tolerance, empathy, respect and life's gift of how teamwork should always be an asset.
Review Fix: Who do you think will enjoy it the most?
Meyer: As Ringling Bros. says, "Ladies, Gentleman and children of all ages." This is a family play. One can enjoy it for and by themselves, or take away some message about their loved ones.
Review Fix: How do you want it to be remembered?
Meyer: For me, it is not so much "remembered." Sure we want people to now remember who Dummy Hoy was. But more importantly, I want people to take something of the play home with them. This is what motivates me to continue to believe in the play, as I have been privileged to hear stories of how it still affects people who saw it years ago.