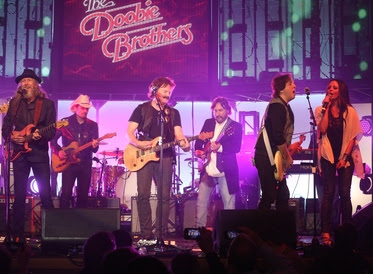 Surprise Nashville Performance at Sony Music Nashville's Annual Boat Show Set the Stage for the Great Music to Come
Four-time Grammy winning band the Doobie Brothers with Michael McDonald are teaming up with country's biggest stars including Toby Keith, Brad Paisley, Zac Brown Band, Sara Evans, Chris Young, Jerrod Niemann, Love and Theft, and more to be announced for an album of all-new recordings of the Doobie Brothers' biggest hits. Releasing later this year on Sony Music Nashville, the album was announced during last week's Country Radio Seminar at Sony Music Nashville's annual, invitation-only show aboard the General Jackson Showboat, which treated radio, media, and industry VIPs to a surprise performance by the Doobie Brothers collaborating with album stars Paisley, Evans, and Young.
The album has come together organically over the last few months with artists picking their favorite Doobie songs and recording them with the Doobies. Many of the artists have performed Doobie Brothers songs live in concert, and Sony Music Nashville label head Gary Overton's first live concert was a Doobie Brothers show in Phoenix, Arizona, in 1972.
Overton shares, "Seeing the Doobie Brothers perform all those years ago was such a thrill for me. I loved their sound, and the enduring appeal and influence of the Doobies runs deep. Artists have been telling me how excited they are to be a part of this project, and that alone speaks volumes about the amazing heritage of music that the Doobie Brothers have created."
As durable as American steel, Northern California's four-time Grammy winning Doobie Brothers sound has become part of America's musical firmament, sampled on dance records, reinterpreted on "American Idol," and a fixture on radio formats from top 40 to classic rock. They continue to write and record new material and tour the world, boasting one of the most loyal fan bases in music, all while breaking new creative ground. In 2011, the band marked a new chapter, filming a CMT Crossroads special with superstar Luke Bryan, and appearing for the first time ever on the Grand Ole Opry. Their relationship with Nashville continues to unfold with this new project.
The Doobies have rung up a glittering track record that would be the envy of any band. Beginning with their multi-million-selling sophomore collection Toulouse Street (1972), the Doobies have 3 multi-platinum, 7 platinum and 14 gold albums. Their Best of the Doobies (1976) has sold more than 11 million copies – a rare "diamond record." The Doobies' propulsive, roots-based, harmony-laden, guitar-driven style has sold more than 30 million albums.
Their No. 1 singles "Black Water" (1974) and "What a Fool Believes" (1979), both gold, lead a catalog of indelible songs that include "Jesus Is Just All Right," "Rockin' Down the Highway," "Long Train Runnin'," "China Grove," "Take Me in Your Arms," "Takin' It to the Streets," "Minute by Minute," "You Belong to Me," "The Doctor" and more. In all, the Doobies have tallied-up five top 10 singles and 16 top 40 hits.
Formed in 1969 by fellow singer-songwriter-guitarist-lead vocalists Patrick Simmons and Tom Johnston, the Doobies made their mark with a run of punchy, melodic hits on Warner Bros. Records. They attained radio and chart ubiquity in the early '70s. The group's expanded line-up was later augmented by Michael McDonald, whose soaring lead vocals pushed the band to new commercial and critical heights.
The years have witnessed many changes in the Doobies, but the band's most recent studio lineup harkens back to their earliest days. Simmons and Johnston continue to front the group. And multi-instrumentalist John McFee's history with the Brothers dates back to 1978, after his stint with Southern Pacific. Michael McDonald returns to the Doobie Brothers for this project.