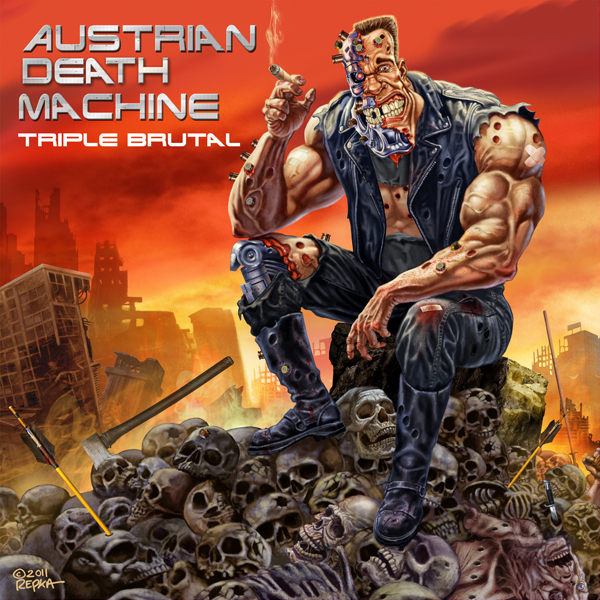 Get your rubber baby buggy bumpers and prepare to be terminated by "Triple Brutal," the third release from Tim Lambesis' (As I Lay Dying) Arnold Schwartzenegger themed metal known as "Austrian Death Machine."
The crowd-funded ("Ah-nold" extravaganza boasts 18 tracks of both skits and songs, staying true to the A.D.M. formula for maximum comedy. Instrumentally, the songs and their structure however have gotten more intense and more serious. The lyrics however, have remained consistently fun and the subject matter is more of the same from the one-man project.
One of the main concerns surrounding A.D.M. is how many songs about Schwartzenegger there can be before one gets bored. Although the album can seem a bit stale at times from songs like "One More Rep" and "Pumping and Humping," "Triple Brutal" is exactly what the doctor ordered at others; such as "I'll Be Back," "I'm Back" and the closer "Its Turbo Time."
Again, the songs are instrumentally very good. The production has also been handled very well. It never seems as though one instrument is louder or softer than another, nor does the mix ever appear muddy. The extra touches applied to the album in the mastering stages stand out clearly. This is what can turn a mediocre song into a very good one. An example of this would be "You'd Better Leave Enough Room for my Fist."
"Triple Brutal" is proof that a gimmick can go on longer than expected and still provide a moderate amount of entertainment. It is nothing new from the mind of Lambesis and is certainly not the first of its kind (California's ArnoCorps has been doing "Ah-nold" worshipping punk since 2001). While certain elements of A.D.M are losing their luster, others continue to shine bright enough to negate the rust.
Author's note: This may be the last album Lambesis puts out for a very long time. Lambesis was arrested in 2013 for conspiring with a supposed hitman (actually an undercover cop) to murder his wife. He is currently awaiting his prison sentence, which will be revealed at his May 2 hearing.