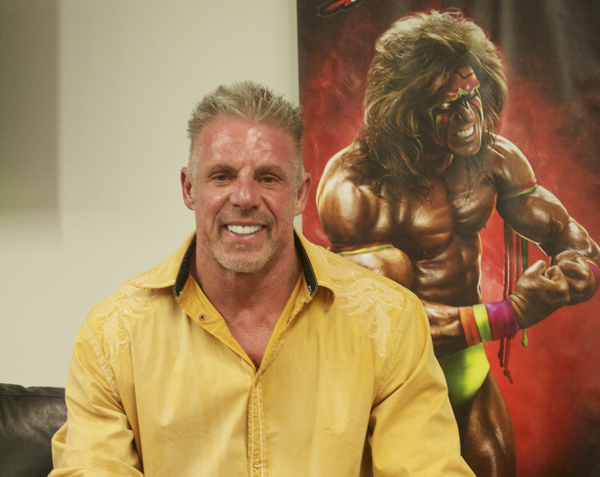 I don't often get scared. I'm six-foot-four and 300 pounds. I eat fear and put adobo on it. But when The Ultimate Warrior got pissed at me, I felt it.
It was July of last year. I interviewed him about his inclusion in "WWE 2K14" and even managed to squeeze in a few other questions about his legendary and -more often than not, misunderstood career. To say he was bluntly honest, was an understatement. But ah man, was he cool. As his young daughter stood by and watched her pop get interviewed, she jumped in a few times and like her dad, had a dry, but witty sense of humor. Warrior was obviously the cool dad. We grow up thinking our dad is the ultimate in something, anything, but this kid knew hers, was.
After a good 15 minutes of discussing everything from his relationship with Sting to his legacy, I asked Warrior for a photo for my article. His reply? "Only if you're in it with me." If only I could, I would have. If there was ever a time where I could break the rules I set for myself, this would have been the time.
Unlike the myriad of other journalists who turned into little prepubescent fanboys and opted to take one with him that day, I just wanted the headshot for the piece. Encountering his share of fans turned journos, Warrior couldn't understand. He asked me a few times why and I said it was unprofessional of me and that I didn't want my editor to see it.
Who, me? I am the Editor.
Having berated a student for taking a photo with a band I assigned him to interview a few months back, it would have been hypocritical for me to indulge. So instead I just looked at the press relations guy with the type of face that screamed, "Save me before this crazy bastard kills me." I imagine that's what a few guys have felt during Warrior's lifetime.
After the press person told him that I was just trying to get a picture for the piece, he obliged. I got my handshake and a damn good interview and later a painting with one of his infamous quotes on it. It's been on my wall in my living room ever since.
Ralph Waldo Emerson once said that true greatness is the art of being misunderstood and if that is indeed the case, Warrior is beyond great. His legacy is a mixed bag, but his life, much like his career in pro wrestling, was a wildly colorful and unpredictable one that transcends reality. He's almost like a dream. A WWE Champion turned conservative motivational speaker? You can't write that. And you never will again.