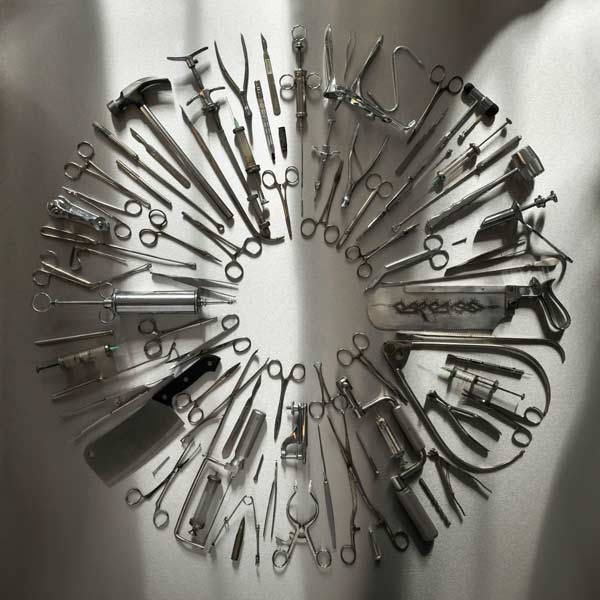 After a brief reunion in 2008, the legendary Carcass has been fully resurrected with a new record entitled "Surgical Steel"-their first in nearly 20 years.
The songs and their structure are on par with their two best offerings "Necroticism" and "Heartwork," which is exactly where the inspiration has come from in "Surgical Steel's" blended feel. Jeff Walker and company knew what they wanted and had a clear sense of direction to the end. "The Dark Granulating Steel Mills," "Captive Bolt Pistol" and "316L Grade Surgical Steel " are some of the tracks that heavily weigh in on this argument. The group has also experimented in some instances with the eight and a half minute opus "Mount of Execution"-their longest song to date. Music-wise, this album is great.
Having said that, the records production is an absolute train wreck.
"Surgical Steel" has the aural appeal of cute animals being severely beaten in front of you. The overheads, bass drums, guttural growls, and bass guitars have been aborted due to the overpowering high guitar frequencies. There is too much going on in the master that everything salvageable has been lost. Simply put, the lows are too low and the highs are too high. All of the frequencies cancel each other out.
But it doesn't stop there. If one listens to the album through quality headphones and speakers, they will be able to hear clipping and track cuts as clear as day.
This is most prevalent on "Cadaver Pouch Conveyor System" and "A Congealed Clot of Blood." An even worse observation is that if one listens to any older Carcass release (including demos), they will notice a lack of quality instantly in "Surgical Steel". The fact that this went completely under Nuclear Blast Record's radar is astonishing.
How could this have happened? In a one word answer: timing. There have been many well documented issues with the release of "Surgical Steel." As was the Carcass tradition, Colin Richardson was initially slated to produce the album. Demos and recordings followed suit and everything was going according to plan. Somewhere in the middle of the albums production, Richardson left Carcass hanging to produce Trivium's "In Waves"- indefinitely suspending the album's release. Nuclear Blast then employed Andy Sneap to not only mix and master the album, but to pick up Richardson's slack in producing the album as well.
When one person is given so much time, responsibility and deadlines on top of countless other projects to focus on a task, they will become burnt out at some point. Sneap is usually very observant and delivers excellent work for his clients. With all of these things on his plate-including whatever deadlines "Surgical Steel" must have been obligated to, it's no wonder the album turned out the way it did. If things had gone more smoothly, "Surgical Steel" would have been the masterpiece it deserved to be. Unfortunately, nature took its course and another potentially great record suffered at the hands of the production department.