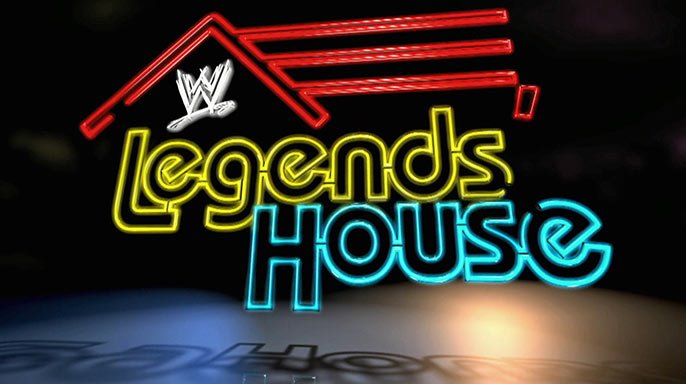 Gameshows and fishing with Shawn Michaels were just the tip of the iceberg in an episode of "Legends House" that continues to prove that retired professional wrestlers can do a lot more than swim in shark-infested reality show waters.
Although there wasn't much "heat" or ribbing in the house with Roddy Piper out on business for the second half of the episode, it was nice to see "Mean" Gene Okerlund and Jimmy Hart bicker.
A crotchety, perverted old man, it's impossible to not love Okerlund. He says what's on his mind, regardless of who's in the room, but manages to keep everything subtle and indirect. Only Okerlund could watch two tennis instructors work with Hart and Hillbilly Jim and say nothing wrong, but still say a few things that could be questionable. In the end, it's because at this point, we know how Okerlund's mind works. It's inescapable. He doesn't have to say anything anymore.
While there wasn't much cruelty or fighting this week, the love was. The gameshow segment showed just how much these guys know each other and the cheating from Piper and "Hacksaw" Jim Duggan was hilarious. In the end, it's simply a case of Piper not being able to escape his heel roots. From whispering answers to actually writing answers on his hand, Piper was in his '80s heel form for a few minutes. If not for Duggan's shoddy eyesight, he would have been able to read Piper's "hand" writing and the two would have been the recipients of the tennis lesson.
However, while Piper and Duggan had the funniest moment of the show, Duggan's antics when Piper left for Atlanta for an autograph signing were just as funny. Lost apparently without his roommate, Duggan was going stir crazy.
Even with less hostility this week, "Legends House" was a relaxing excursion that old-school wrestling fans will ultimately enjoy more than anyone else, but that's not a bad thing. With reality TV already all about demographics, it feels like this show accesses a demographic of men that TV execs sometimes forget about.