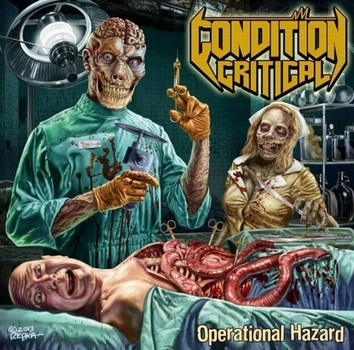 The baddest band on the planet, Condition Critical, has finally released their long awaited debut, "Operational Hazard."
Featuring the legendary artwork of Ed Repka, "Operational Hazard" makes no bones about being a thrash metal record before you even open the shrink wrap.
The album begins with a clip of the angry old man in "Billy Madison" screaming, "You're all gonna die," setting the tone before "Random Acts of Killing" lets loose one monster of a riff. Guitarists Sam Agnew and Alonso Maguino share an instrumental bloodline -providing whipping solos and earth shaking riffs. Some of the best guitar work is on "Morning Sickness," "Random Acts of Killing," and "Sector 16."
The strongest piece of the Condition Critical structure is their rhythm section. Mike Dreher and Ryan Donato's locking bass and drums groove the album to its fullest in perfect Demolition Hammer form. Synchronization is the most important element in music and these two have it down to a science. "Random Acts of Killing," "Surgical Malpractice" and "Dr. Criti-Kill" feature several of the many instances of this team bringing home the bacon.
Sonically, the album is superb from start to finish. Hard earned time, money and patience have paid off well in the form of excellent production at the legendary Mana Studios in St. Petersburg, Fl. A very well mixed and mastered album like this is needed in an era where there is so much overproduced nonsense.
The one buzzkill for this album is that the vocals sound too much like John Kevill from Warbringer. Maguino's voice has been refined and he has clearly made a lot of progress in learning his abilities, but the unique vocals from their infamous demo have become all too familiar and occasionally generic. Maguino shines more on tracks like "Surgical Malpractice" and "Morning Sickness" because his vocals are much more gruff and closer to the sounds heard on the demo.
Overall, "Operational Hazard" is a relentless and tank of a debut that the metal world will proudly boast about for years to come. With their first US tour under their belts, as well as an upcoming European tour-climaxing with an appearance on the Warm Up show at Germany's annual Headbangers Open Air festival, it's safe to say Condition Critical, even with a revamped lineup, are the next big thing in thrash metal.