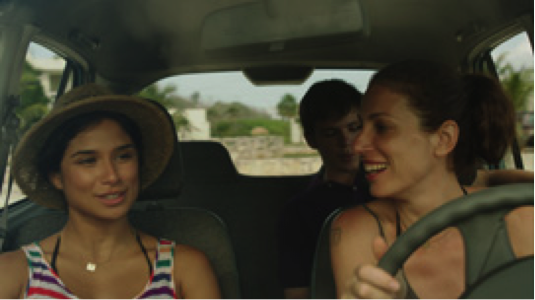 Due to our modern tech-savvy culture that relies on LED screens and the internet to form our bonds, Intimacy is a lost art and Livia De Paolis' Emoticon ;)(winky face silent) intends to provide social commentary on interpersonal relationships towards unfamiliar faces and situations; instead the film flounders on creating a true coming of age story with inconsistent performances and muddled storytelling. Emoticon ;) falters at providing a core while still maintaining an enjoyable experience, albeit an average one.
Elena (Livia De Paolis) an anthropologist graduate student in her early '30s, writing a thesis on modern means of communication. She is romantically involved with Walter Nevins (Michael Cristofer), a well off man in his mid '60s accompanied by his two adopted teenage children, Amanda (Diane Guerrero) and Luke (Miles Chandler). Elena's first encounter with Walter's children was less than reputable, which creates an awkward aura between the family, especially Amanda and her father. Elena and the Nevins family's kinship is trial by fire, creating a wedge between a father, his children and how the "other woman" fits in into their lives.
Paolis, who serves as the film's director, co-writer, and actress, has done a remarkable job on the look of the film with help of cinematographer Alex Disenhof. This movie does not look like it's on a mere estimated budget of $150,000. The way the camera pans and captures the subtle emotions of the face and body language is superb. This only adds to the fact that the physical acting in this film is exceptional. Luke's first impression of Elena was humorous but uncomfortable. Luke provides most of the comic relief in this movie, and most of it is through Chandler's subtleties.
The most impressive physical performance is from Paolis herself. Elena goes through numerous hardships in this film.
Relatively early in the story, Elena realizes she's pregnant with Walter's child. She portrays a canvas of emotions without any dialogue, effectively creating a heavy sense of sympathy and maybe even empathy from the audience. With that being said, it's unfortunate that Paolis is the weakest performer out of the entire film. While her emotions is depicted well, watching her trudge through dialogue, it's apparent she doesn't have experience in front of the camera, let alone a leading role. Elena isn't a memorable character outside of her crying or anger. The rest of the cast performed well. Cristofer's performance was solid and Guerrero provided a believable amount of angst in a girl who's judgmental of her father and protective of her little brother.
Amanda's direction in Emoticon ;) is a confusing one. Amanda is of Mexican descent and being one of the few minorities in her school(and the only one in her family) it's understandable that she doesn't feel like she "belongs," not even at home; but the way this subplot was introduced was forced, with seemingly one comment from Amanda's friend being the sole inspiration to go to Mexico to find her roots: "You don't want to dress like a white girl forever, do you?" Needless to say it unbelievable and it doesn't serve the film in any way.
The motives of the teenagers of this film was some what lacking as a whole creating an almost naïve vision of how young adults really act. With the film taking place in upper class schools and neighborhoods in Manhattan, it's hard to believe that five wealthy Caucasian boys would freestyle rap in front of their school just for fun. While there are scenes that truly captures the youthfulness of teenagers, they are usually followed by corny enactments that asked the viewer for a certain amount of suspension for disbelief.
In the end this film is just not what it wants to be—a coming of age film with social commentary. All about how we communicate with each other through the lens of social media, it seems to forget that—only using Facebook and Skype gags every once in a while in an attempt to keep the film on track. At the end, Elena's exposition filled dialogue tells the message the actual movie couldn't or forgot to do because of subplots that leads nowhere. Regardless, Emoticon ;) , despite it flaws, is a an enjoyable film as the majority of the cast performs well, the camera work is awesome and the physical turmoil these characters go through is well done—all creating a experience that is memorable- just not for long.