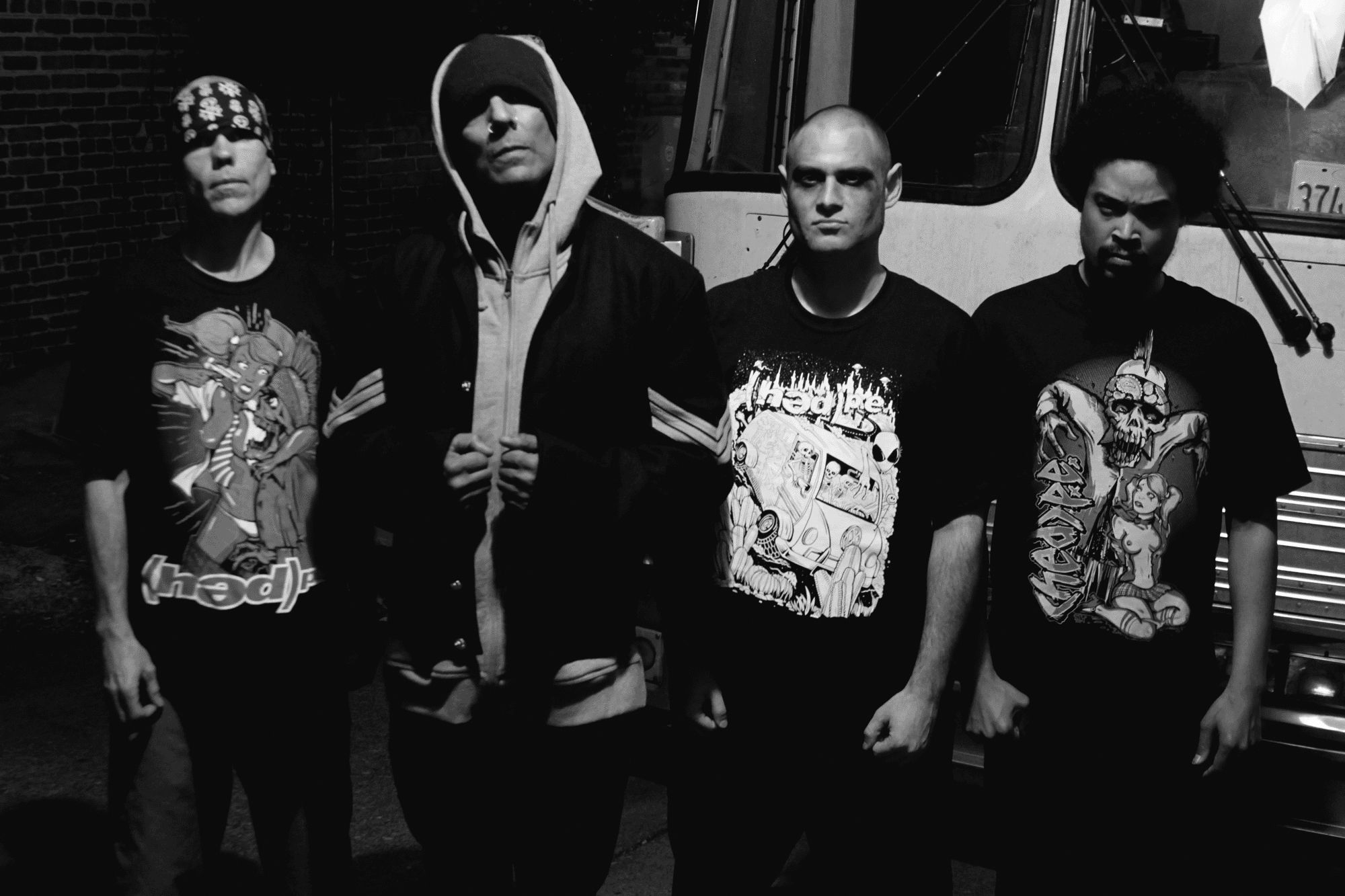 Review Fix chats with (hed) p.e.  guitarist Jackson Benge, who discusses the band's new record, "Evolution." Benge also discusses the band's creative process for the new album, as well as their goals for the future. A way for the band to reconnect with their metal roots, while playing with the sounds of some of their favorite acts, (hed) p.e. is ready to make a big time splash this summer while on tour with Powerman 5000 before heating up this fall while on tour with Soil.
"Evolution" will be released worldwide on July 22 via Pavement Entertainment.
Review Fix: What was the creative process for Evolution?
Jackson Benge: We had some material recorded from the Summer of 2012. While on tour, however, we had been talking about trying something different, musically. Doom metal seemed interesting to us because it really takes on characteristics of early Black Sabbath, which we are fans of. But, it was something (hed) p.e. really hadn't put on a record. For a period of time, Trauma and I would go into sound check and jam on a couple of riffs I had, which fit that description. We thought it sounded great, but when Mark finally joined in and Jared heard what we were doing, it was obvious to all of us that this was a style worth exploring. When we got home and had some time off, I started putting together a demo. I didn't do much outside of listening to Black Sabbath, watching documentaries on Black Sabbath, watching interviews with them, and writing music. I finally submitted the demo to the guys, in case they heard anything that we could use. Jared liked a lot of the stuff and had been working on material as well. Also, we had that material from 2012. So we ended up with a good batch of music to work on for Evolution.
Review Fix: How was this album a different experience for you guys?
Benge: The recording process was a lot different from previous albums. Usually, all music is done primarily in one studio, in one session. This time, we did it in different studios at different times. First, the drums were recorded in Ohio, at the Mushroomhead studio. After that, the sessions were sent to a studio in Michigan, where I recorded my guitars. The bass was done while on the road, and the vocals were done at Jared's house in Idaho. The album was mixed and mastered in Souther California. So, we really took advantage of technology to accommodate our schedule and where each one of us lives.
Review Fix: What do you think you learned through this process?
Benge: Ideally, everything would be done in the same studio. But, when working remotely like we did on this record, I learned the importance of communication. For example, different recording studios use different equipment. One studio may use a certain type of software plug-in while another studio may use a different kind, or may not use one at all. So, when transferring files from Studio A to Studio B, the drums may sound completely different in Studio B from how they sounded in Studio A. In one circumstance, this happened as a result of a missing plug-in. So, it is imperative that everyone involved is on the same page by listening and communicating back and forth to make sure certain fixes can be made incase something like that happens.
Review Fix: What song do you think is the clear cut strongest on the album?
Benge: It's tough to choose, but I would have to say "One More Body." The first mix I heard from this record was that track. When I heard it, I was amazed. It was that song that confirmed to me the strength of the record because I knew that if the rest of the album were mixed like that, we had a real winner.
Review Fix: What song do you think has the best story behind it?
Benge: Jared writes the lyrics, but I would be honored to offer my take on them. "One More Body," to me, is about standing up for yourself. It's about declaring yourself a person; not a function. In life, it's easy to forget that each one of us has something to offer the world beyond what social convention conditions us to believe. Once you realize your own true power, you become empowered. Some people live their whole lives without coming to that realization. So, for me, this song is about being alive and summoning the will to rise to any challenge that comes your way, despite those who question your ability to do so.
Review Fix: How is this album like you guys rediscovering your roots?
Benge: What we did on this record was incorporate a style similar to bands who have influenced the the bands who have influenced us. When you dig that far back, you get a broader perspective on the progression of music over the decades. Furthermore, you begin to examine your own playing in a different way by getting to the core of your approach to your instrument. From there, you have not only reached your roots, but you have transcended them. At least, that's how it seems from my perspective.
Review Fix: How do you want this album to affect people?
Benge: I can only hope that it will inspire and enrich people's lives. What we do is relatively simple. How can it not be? But, what comes from it can be amazing. So, if someone is going through a difficult time, as we all do, perhaps they can play one of our songs and feel a little better about themselves or their situation. It's not asking much, but I know the benefits of using music to get me through, and if our music can play any part in that for someone else, so much the better.
Review Fix: What are your goals for the rest of the year and the future?
Benge: We're just going to work on spreading the word. The album Evolution is out July 22nd. We're going out for a two week run in July, leading up to The Gathering. We have a national run in August with Powerman 5000. Then, we go to Europe/UK in October with Soil and American Head Charge. From there, we'll continue playing our asses off like we usually do. We'll be playing for our old friends and hopefully make some new friends, as well.