Review Fix chats with Baris Tarimcioglu Project Lead & Lead Level Designer for Solarix, a crazy futuristic looking-first-person shooter looking for a home via Kickstarter. With shades of Fallout, Unreal Tournament and Half-Life, it's a game that'll keep you in the shadows, but will force you to come out and shoot as well.
Tarimcioglu, a fan of the genre and "Thief: Deadly Shadows" and "Unreal Tournament" modder and level editor for years, has definitely created a labor of love in Solarix.
But before you read our Q & A, check out the development team's Kickstarter Video:


For more information on the game, head here.

Review Fix: What was the inspiration for the game?
Baris Tarimcioglu: The story and design are influenced by a wide variety of sci-fi/horror games & films such as 2001: A Space Odyssey (1968), Alien (1979), Half-Life (1998) and System Shock 2 (1999). However, the original Solarix movie by Andre Tarkovsky would deserve a special mention in our influences because the sense of isolation and the psychological aspect and depth of that movie inspired us when writing the story for Solarix.
From modern games, I'd say we got influences from "Dishonored" and the "Dead Space" Series.
Review Fix: What games did you play growing up? How do you think they influenced this game?
Tarimcioglu: We grew up playing games like the "Unreal" series and the "Quake" series. That's the real hook for us about "sci-fi" level design. We tried to capture that old school sci-fi level design feeling in Solarix. I have been level designing since Unreal 1 days, so that chips in for me, roughly speaking, 15 years of experience in level design. Back in the day, the joy would be to hunt for games based on unreal engine, of which released mod tools for us to salivate over. By then, downloadable content would mean "free maps & missions", capitalism had not set its gloom over business of game development in those years. Everyone was freely exchanging mods made by the modding tools by the ever-inspiring modding communities and the term "shelf life" meant something special for both publishers as well as developers during that era. Throughout those adventures, I enjoyed mostly making levels for "Thief: Deadly Shadows" game and Unreal Tournament series.
Review Fix: What makes the story cool?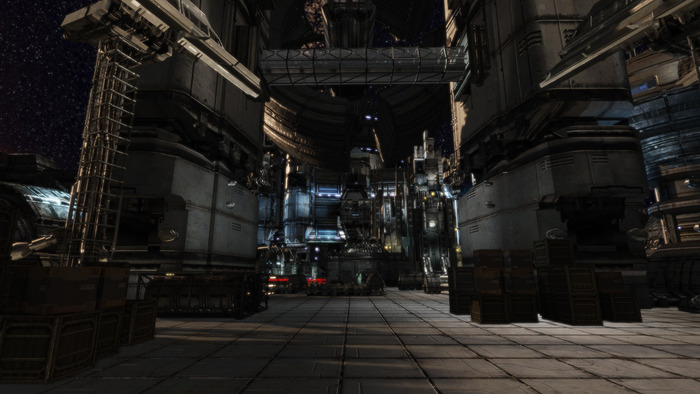 Tarimcioglu: Our story is deeper than an average zombie-survival-horror game. There is a strong psychological aspect to it and that would mean, we have lots of room to experiment if we want to expand the Solarix universe, and we really want to…
Review Fix: What's your favorite feature/gameplay element of the game?
Tarimcioglu: We're really excited about the way we integrate the HUD with other gameplay elements. It's meant to be this unreliable, dying machine you're wearing, which fails at inopportune moments and leaves you stranded with your wits and scrambling to repair it all. It's your only link to the NPC characters in the game. And also our AI is important…. I love our stealth-AI as my favorite gameplay element.Because in many horror games you can't do much about monsters, you always have to kill them. But in Solarix, you can avoid or sneak around them or use the environment to your advantage. We also know stealth is a very difficult medium to master, especially with AI programming. I believe our AI is already one of the highlights of our project. It gives you freedom. Traditionally, you outrun the enemy, you outgun them, but in Solarix you have the freedom for both of these and more. You can outwit your foes, sneak around them, or use the environment in a clever way to your own advantage. I love this aspect mostly.
Review Fix:Â WHo Will enjoy the game the most?
Tarimcioglu: Old-School stealth gamers and survival-horror fans will enjoy this game mostly. I hope people would love that "old school" feeling of lighting and shadows bases gameplay. Also our levels are non-linear so that's also another interesting point about our game.
Review Fix:Â Anything else you want to say?
Tarimcioglu: Solarix, the very game that I've been leading for the last two years, is the absolute epitome of "story and single-player driven atmosphere." Though, strangely enough, I find myself pondering for some moments as if I'm making "death-match" levels, while making levels for Solarix. I don't think game-play mistake or delusional impulse… Besides, I've realized and acknowledged it, so it is under control. I let this "trick" intervene when I'm designing the levels on purpose. I let the death-match-arena-maker inside of me to pop-up his head from time to time and let that monster "whisper" remarks over a single player mission-level.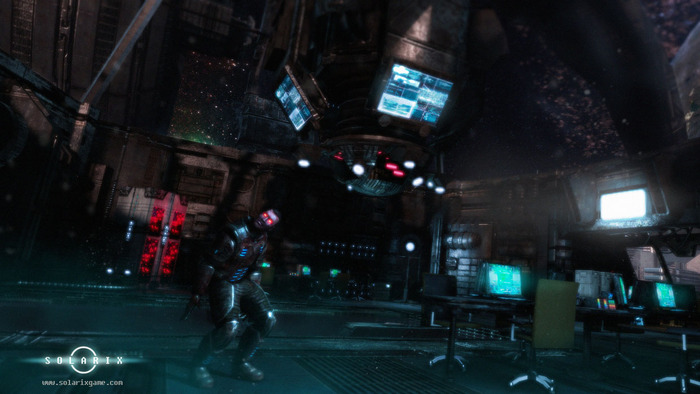 Level design is all about flow, regardless of story. And the best teaching method for a level designer, I believe, to master making the perfectly-flowing level without any "story-elements."
And I economize my experience of death-match level design skills in this way. I observe the mistake of making levels that "do not flow" in many modern games.
Even the game might have several layers of deep story, we don't have the luxury to make levels that don't have natural flow.
So to sum, our story and level design is very unique, I can guarantee that.