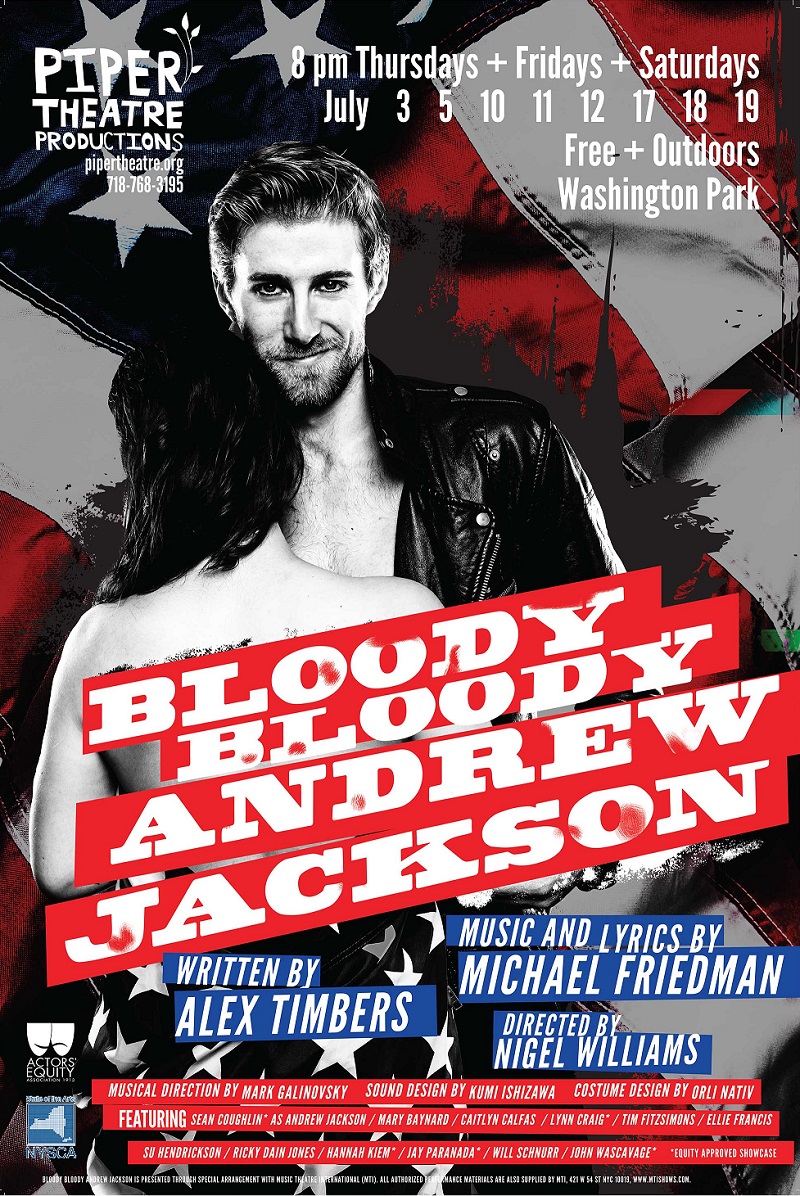 Review Fix chats with director Nigel Williams, who discusses Piper Theatre Productions run of "Bloody Bloody Andrew Jackson," currently running in Washington Park in Park Slope, Brooklyn.
For more information on the production, click here.
Review Fix: What has it been like working on this production?
Nigel Williams: It's been a complete privilege and pleasure working in this production with thirteen young professional American actors I am so impressed with the intelligence, diligence and industry that these young actors bring to rehearsal and to the text. I'm trying to tap in to their creativity and ideas through rehearsal process and they are making valuable, exciting and key contributions to the understanding and staging of a difficult text. This play is a fusion of comic and serious, history and topicality, stylization and naturalism. It has to walk a fine line between these seeming dichotomies in order to engage and not offend the audience and yet still carry potency and be entertaining. It has all the feel of an episode of South Park and a PBS Broadcast and that's a difficult combination to handle and make work.
Review Fix: What has it been like adapting a Broadway to an outdoor production?
Williams: The challenge of outdoor work is making the action, characters and message large, loud and clear without losing the subtlety of the writing and the characters and the moments. Large and loud in theater can be achieved in terms of the style of the piece and we have worked a good deal on pictorialism, gesture and tableau work in the early part of the show where the comic book nature of the writing lends itself to that style. The second half of the play is inhabited by characters portrayed with greater depth and realism and this will be a challenge to communicate in an outdoor venue.
Review Fix: This is your second time working with Piper Production. What has been your favorite part of working with the company/ summer theatre series?
Williams: I love the idea of creating work that is pertinent for the local community. I love working with young professional actors who are willing to take risks, try anything and work incredibly hard to achieve work that is different, challenging and excellent. I love a production company like Piper that feels that theater makes a difference and matters to the actors involved, the audience watching and the local community. I love the intensity of the rehearsal process where you have to create a full bodied, finely tuned and highly crafted, professional piece with high production qualities in just under three weeks. That heaps a pressure upon all involved and is a crucible for our character and our acting craft, where the way we deal with each under pressure and they way we use our craft to create clarity and excellence is tested. I love the friendships and camaraderie that happens a result of the fire of that crucible. I am still great friends with the company that I worked with on the ghost story Nocturnes four years ago. Whenever we meet we know we have that shared experience in us and the empiricism of those three weeks can never be taken from us but it formed and forged a special bond that is invoked and remembered but just uttering the word Nocturnes.
Review Fix: How does music play a role in it?
Williams: Music is a vital an integral part of this show. It's a rock musical. It's a musical that tells a historic biopic with music that's better suited to a rock gig. It's that fusion of events past and music present that really jars and makes you see an old story through new eyes and ears. The music forces you to have a different perspective and view on events and most importantly the man himself: Andrew Jackson
Review Fix: You need a special cast to pull this off. Tell us about your leading players and why they rock.
Williams: I have an amazing cast of young professional performers who are all knocking on the door of musical theater and their stardom here in New York. This is a real opportunity to see some names in the making.
However, the key to the success of a show like this is building an ensemble that understands and want to tell the story. This is such a cast with an amazing range of performance and musical theater talents.
Sean Coughlin as Andrew Jackson brings an authenticity, vulnerabiryu, arrogance, clarity, intelligence and rock star quality to the part. Having seen Benjamin Walker in the original performance I can assure you that Sean brings something else. He really shows through his characterization that although Jackson was responsible for some terrible and heinous actions that he was a tremendously troubled, charismatic and engaging man. That's so hard to do and yet Sean brings an amazing range and freshness to his performance.
We are also blessed with some tremendous comic performances from the likes of Jay Paranada. He is a theatrical tour de force and has a wonderful and intelligent approach to parts and moments and a touch of comic genius. He really knows how to read and deliver moments and relationships onstage and is able to communicate those moments to an audience. The audience love him and he is a gifted performer with a wonderful work ethic.
Review Fix: Who do you think will enjoy the production the most?
Williams: This show will hopefully reach out and engage a whole range of people. The younger audience will really engage with the humor of the piece, which is a mixture of South Park, SNL and Monty Python at times. It's dark, satirical, slapstick but at all times intelligent and with a point. I think it is also show for a thinking audience who has a mind and view about the world past and present. Those that like SNL, Jon Stewart and John Oliver will love the style and content of this piece. They need to see past the comic anarchy, the brazen arrogance of Jackson, the intention to offend with language and the nature of the story telling and connect with a very clever and open-minded telling of Jackson's life that tries to ask questions rather than give them.
Review Fix: What are your goals for the production?
Williams: The Goals are very simple but grand:
·      To thoroughly entertain the audience.
·      To engage the audience throughout using comedy, music and theatrical style and staging
·      Most importantly to offend for good reason. To offend in order to get the audience to re-think their stance on Jackson, treatment of our Native Americans, traditional American history and on politics today
Review Fix: How do you want it to be remembered?
Williams: History and the characters from history are a thing of the past but this show buts the rock back in to story-telling and the relevance back in to the past. I would love it to be remembered as an amazing night out that made the audience think that America's history is rich, ragged, raw but so relevant in helping us understand who we are as a nation so that we can embrace our diversity and move forward. Its message and politics are as relevant now as they ever were.
Review Fix: Bottom Line, Why should someone check out the play?
Williams: This was and still is a landmark show in terms of its approach to theatre style, it content and treatment of history and fact. It makes the boring stuff entertaining and important again. For that alone the play should be checked out. It has an awesome in your face rock score with some beautiful melodies sneaking in there. Most of all come and see this cast. They ere awesome and there are names here that are going to emerge as big musical theater stars. Check them out. And… it's free.