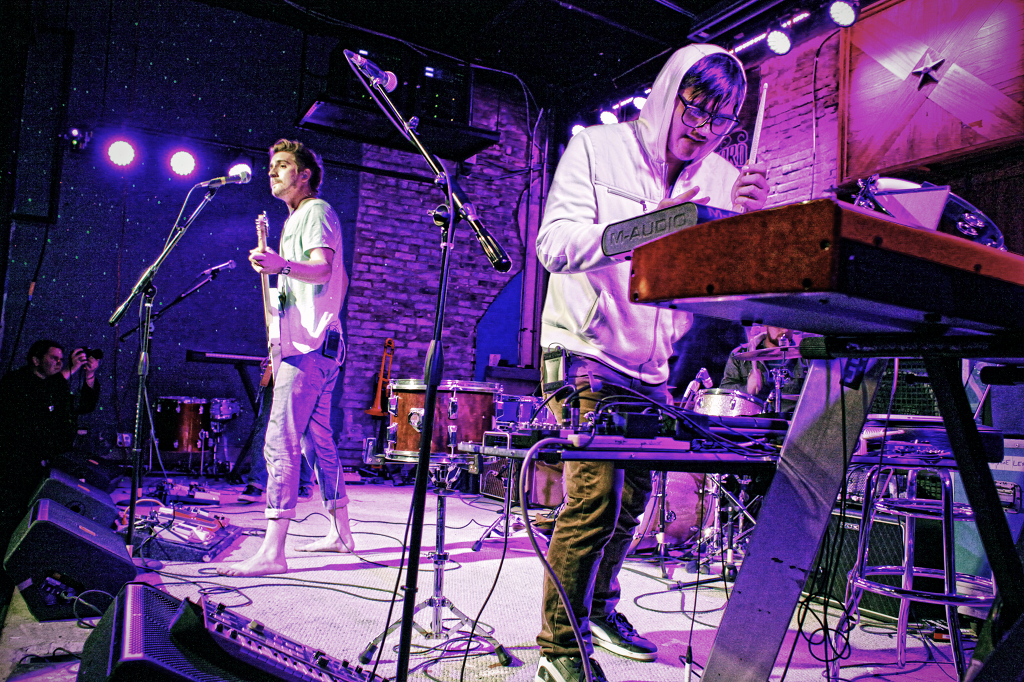 Review Fix chats with Scientist's Jesse Schaefer who discusses the band's new EP, "World EP: Mobile Lab Remix Edition." Schaefer also breaks down the band's obsession with everything pop culture and their goals for the future.
Get your gameboys ready, this is going to be fun.
Review Fix: What was the creation process like for this album?
Jesse Schaefer: Gameboys. Well, gameboys and pop music. We grew up loving both, and wanted to incorporate the things we loved about fun pop music with the catchy and unique sounds of Gameboys we all grew up playing. Concerning the remixes, we have an element on our website called The Experiment, where we encourage nerds to cover one of our songs in their own style in a video, and we'd do the same in return. That sparked an interest in us to hear what some of our favorite artists' takes would be on our songs. Thus, the Mobile Lab Remix EP was born.
Review Fix: What do you think you've learned through the production of the album?
Schaefer: We've learned to continue to work on and improve songs. When we were 14 year old kids and writing songs in our room, when it was finished, it was finished. Constant evaluation and improvement on a song not only makes it better, but it keeps it fun and fresh for us as the band. Come to a live show and you'll hear slight differences in the songs, as well as seeing us run around like idiots switching instruments and throwing drums at each other.
Review Fix: How has the band's older work influenced this album?
Schaefer: One song in particular, "Forest," has been around for years before this album came out. It was one that never quite clicked and then in the process of writing for this album, it all came together. And directly, the remixes were influenced by the original versions of the songs BUT even more so, we can already see the remixes influencing new songs we're writing now. It's an endless cycle!
Review Fix: Is there a song on the album you're particularly proud of? One you feel must be listened to?
Schaefer: As a pop music fan, "Coming Up" is my favorite on the album. It just makes you feel happy. That being said, it changes day to day. Forest is one of the more emotionally transparent songs on the record and musically reminds us of a movie score. We wrote it as such. Life is full of ups and downs, excitement and tranquility, and we wanted the dynamics in the song to reflect that.
Review Fix: What's the band's creative process like?
Schaefer: Voice memo, after voice memo, after voice memo. We send ideas for melodies, lyrics, riffs, everything back and forth constantly. It's a community effort to improve and piece together a song. Sometimes a song will come all at once; lyrics, melody, the whole thing. Other times, just one line will come, or a melody, and you build on that over time. We could show you 6 different versions/stages of almost every song we've ever written.
Review Fix: What do you think you have to do to get to that next level as a band?
Schaefer: We've challenged ourselves to get more personal in our writing; lyrically and musically. We're working on a few songs right now that are some of the most direct lyrics we've ever written about our thoughts and lives. More than anything, we want people to be happy and have fun. The fact that we're even alive is reason to be joyful, and we want our new music to reflect that. Let's have a party, y'all. We deserve it.
Review Fix: How do you want this album to affect the music scene?
Schaefer: Scientists change peoples perception on how things work and should be. IE – the world's view of communication changed with the telephone, and furthermore with the internet. The same can be said about the lightbulb. THAT is why we called ourselves Scientist. We want to change the worlds perception of what pop music look and sounds like. We area always looking for ways to incorporate different instruments and cool sounds in to our songs. We want to change what live shows look like. Come see us on the road and we'll be switching instruments, coming out in to the crowd, all sorts of stuff; high energy, Gameboys, danger, it's all there.