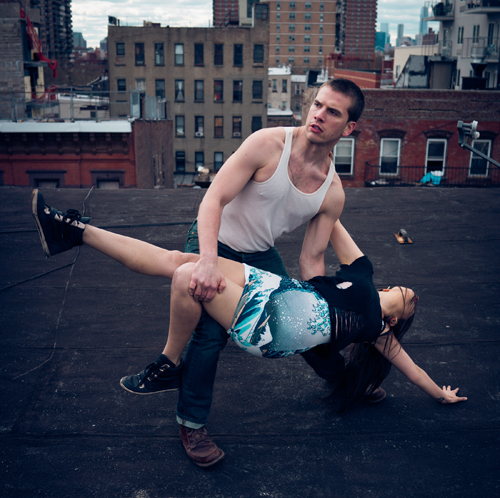 We have all been in a place where we get complacent, hoping things will happen for us.
Very few people go out and make things happen, Clay Von Carlowitz and Asta Paredes did with their crowd-funded rendition of John Patrick Shanley's play, "Danny and the Deep Blue Sea."
Caged in by the small, but intimate Robert Moss Theater, the audience is taken on an emotional-thrill-ride amplified by the two actors' performances.
A story of two broken characters that fall in love over the course of one night, a night of pushing and pulling between the two until they find solace in each other's love for one another.
Stars of the B-movie, "Return to Nuke 'Em High Vol. 1," from independent production company Troma, Carlowitz and Paredes met on set of the film and instantaneously fell in love.
Flash forward two years and now they have put together their very own production.
It is hard to believe just two months ago we sat down with the young couple to talk about the crowd-funded project.
It has been a hard, albeit rewarding journey to "Danny and the Deep Blue Sea."
"Its not about the stress, its about the story," said Carlowitz. "What's best is when you finally get there and all the work you've done falls into place."
Fitting the two decided to use a play with only two characters to showcase their talent as the couple found themselves going through, as Parades puts it "baptism through fire."
Producing, rehearsals and pouring not only their hearts into it, but putting every bit of money they could into the project.
Although they reached their goal of 3,000 dollars, Carlowitz and Paredes put 2,000 dollars of their own money into the project.
"We donated a good amount," laughed Paredes.
The extra money put into the play was to enhance their show.
"It was stuff we had to do," said Carlowitz. "It wasn't a question, it was just what can do to make this work." And boy did it work.
On the first night of their two-night engagement, the actors were greeted with applause, praise and even a bottle of champagne from legendary filmmaker, Lloyd Kaufman.
Kaufman, the actors' director on the film "Return to Nuke 'Em High," in an exclusive interview with Review Fix described Carlowitz, Paredes and the entire cast of the film as "the most enthusiastic, hard-working, and creative cast" he's ever had.
That hard work and enthusiasm Lloyd was referring to is fully displayed in "Danny and the Deep Blue Sea."
Carlowitz and Parades showcased their passion for storytelling and deep understanding of characters with this show; a level of passion they pride themselves in.
"That is something you can always control, the degree of passion you have for a project and how you show that," said Carlowitz. "You want to show that you are there to play ball."
As much effort as Carlowitz and Paredes put into this project, it was not to pat themselves on the back.
"We're not here to say 'oh, we did this work,'" said Carolowitz. "We're here to say 'come to see the show, we think you'd enjoy it.'"
The two were not alone in their efforts.
Outside of the support of their donors, they had a director in Meg Grujon, there to check them. Unabashedly gave the two actors direction in how to fully realize their characters.
Grujon forced the young couple to de-familiarize, so that every moment the two got on stage, they earned, described Paredes.
Earned indeed, one audience who approached Paredes after the show did not even realize the actors were together when praising their onstage chemistry.
The five month process to bring the couple's "Danny and the Deep Blue Sea" to life was a learning experience, one that broadened their gaze.
"As stressful as it was, I loved producing," said Paredes. "I do have plans to do this again."
"We certainly learned a lot," emphasized Carlowitz.
Like their experience with Troma, this crowd funded play has instilled immense confidence Carlowitz and Paredes.
With a busy summer ahead of them, they both return to Tromaville to shoot scenes for "Return to Nuke 'Em High Vol. 2," Carlowitz goes across the pond to the UK, he nabbed a lead role in the crowd funded horror film "Banjo," and the couple's two year anniversary; this project was the acting exercise the two young thespians needed.
"You know how some people they work out all the time, they go to the gym, and then every now and then they train for a marathon and then they do that marathon and feel good about themselves? This was that marathon for us acting wise," Paredes enthused. "We realized its good to check in and do work that you are passionate about."
Because the show was well received does not mean Carlowitz and Paredes are looking to rest on their laurels.
"We originally didn't intend on this being more than a one time thing, but now we are thinking about doing another show because people did receive it so well," said Paredes. "The day after we're done working, we start talking about the next production."
"You know it was great. No matter what we were doing, we had to work really hard to make it work and that we delivered," said Carlowitz.
With a crash course in producing your own work, the two are now dedicated to making their next joint project bigger and better.
They now have a team of fellow creatives and supporters that allows them to make a worthy successor to their performances in "Danny and the Deep Blue Sea."
"From this experience now we have people who know how hard we work. We have a team now," said Paredes. "I'm much more optimistic then I was before we did this project. I didn't know how much was possible."
To find out more about "Danny and the Deep Blue Sea an Apache Dance"  Click Here
Photo by Brooke DiDonato
"Danny and Deep Blue Sea an Apache Dance" logo by Lauren Nicole Hom