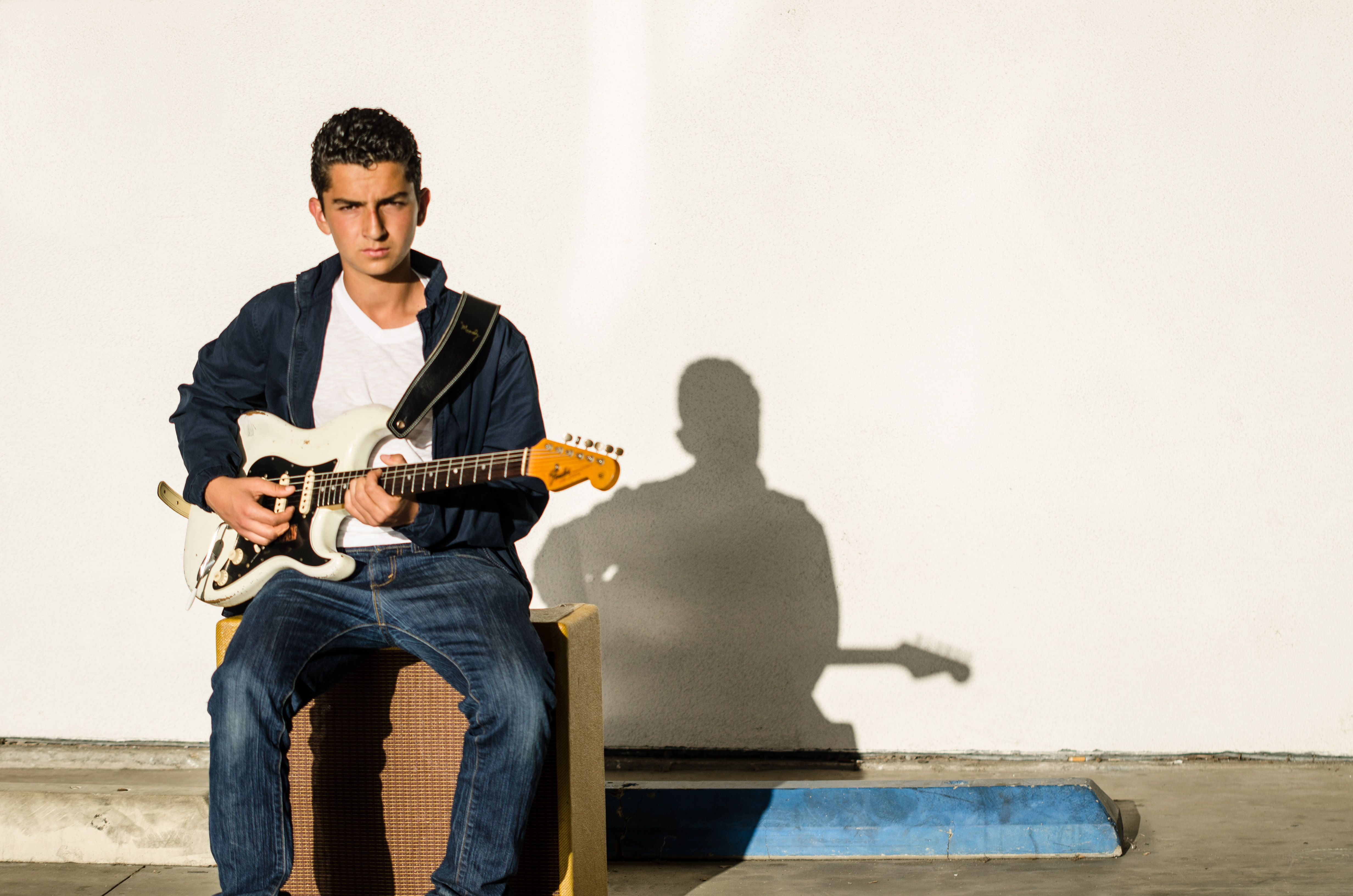 Review Fix chats with 14-year-old singer/songwriter Ray Goren about his new EP, "LA Sessions."
Not even old enough to drink, Goren has already been compared to John Mayer, thanks to his sultry guitar work and heart on a string vocals.
Review Fix: What was the inspiration for the EP?
Ray Goren: I am always inspired to write songs. Usually each song has its own source of inspiration. It can be something I see on the news, something I hear or experience, or even just a random thought.  I've been writing for years that way. When we decided to actually record the EP, I sat with Eddie Kramer and we reviewed some songs. We then picked the five songs for the EP because we felt that they can live well together.
Review Fix: What do you enjoy doing when you're not playing music?
Goren: I love spending time with my family and friends. Just sitting around and talking. I also like to play basketball but I stay away from that because I don't want to jam my figures and not be able to play guitar or piano.
Review Fix: How is your life different from other 14-year-olds?
Goren: I spend a lot of time around music, I practice, I write, I listen, I rehearse with my band, I perform and I spend time in the studio. Because music takes-up so much time I don't have time to do many other things like play video games or watch a lot of television. I'm not complaining. I love my life and I feel that I am doing what I love. I can't think of anything that I want to do more than what I've been doing with music.
The other thing that I would say is different is I spend a lot of time with adults of all ages. I spend most of my time hanging out with people who are at least twice my age. But thats kinda cool, in my opinion that I get to so many different experiences.
Review Fix: What song do you think provides listeners with the best example of what you are capable of?
Goren: I don't really see music in terms of capabilities. It's not a competitive sport. For me it is about connecting with the listener so that we can all have some type of emotional experience. I use the guitar, keyboards and my voice to do that. It's totally possible to do that with just four chords and a simple melody. It's also totally possible to miss that with 40 chords and complicated runs. So is not about capabilities. It is about expressing my emotions with the music and some message through lyrics
Review Fix: What was it like to work with Eddie Kramer?
Goren: Working with Eddie Kramer is amazing. He is a master of sound and vibe.  He has a way of bringing out the best in everyone around him while making sure every note is just right. Also, he is not afraid to share his knowledge, and not just knowledge of the controls. During breaks, he tells studio stories and shows pictures that he took from the past. It's an incredible experience. It actually feels like he brings all the history of Rock & Roll right into the studio. But maybe above all, Eddie is simply nice and hilarious. He was constantly cracking everybody up all the time. He does great imitations of people and really funny accents. I can go on and on about Eddie. He's a legend for a reason.
Review Fix: What song do you think people may originally pass on, but redeems itself or grows on you with multiple listens?
Goren: It think "Weight of the World." It is one of my favorites on the EP. But some people don't get it after just one listen. Maybe they are looking for the big guitar solo. I don't know. For me a song is a song. Not every song needs a solo and that one did not.
Review Fix: Do any of the songs have unique stories behind them? Can you share one?
Goren: Each song has a story behind it. Usually I don't like to share them because I don't want to influence the listeners, but I will share one.  "Stop Waiting" was written because I've been very disturbed by all the violence and senseless killings lately. I want my generation to learn from the past and find a solution. I don't have the solution, but I just felt that I want to inspire others to "Stop Waiting." We each do what we can. I am sure there are people out there that can find a solution if they are inspired to do so. Even if my song inspires only one person to act, I made a positive difference and it was all worth it.
Review Fix: What's your creative process like?
Goren: I have an idea or a feeling and I just sit down and play and think about it. The more I get into it the playing the more inspired I get and then things just happen, the melodies and words just come to me. I have to remember to catch them, record or write down. IÂ  use a simple recorder to capture just not to interrupt the flow. Sometime I use my phone and sometime just a small digital recorder that I keep with me.
Review Fix: How do you want this EP to affect people?
Goren: I want people to feel an emotional connection to my music. I want the songs to speak to them. I want people to listen to the EP and take something away from it.
Review Fix: What do you think is your most marketable quality?
Goren: It is hard for me to think in those terms. I know it is important, but one of the best things about being 14 is the luxury to not have to work for money. I can just create and express myself and learn and grow. This is my time to grow and I am doing my best not to waste it and to develop.
Review Fix: What are your hopes and goals for the rest of the year?
Goren: I want to release the EP and to tour with my new band. I'd love to also complete the next EP (which I am working on now) and to constantly improve while writing new music.
Check out the Lyric Video for "Save My Soul" below: