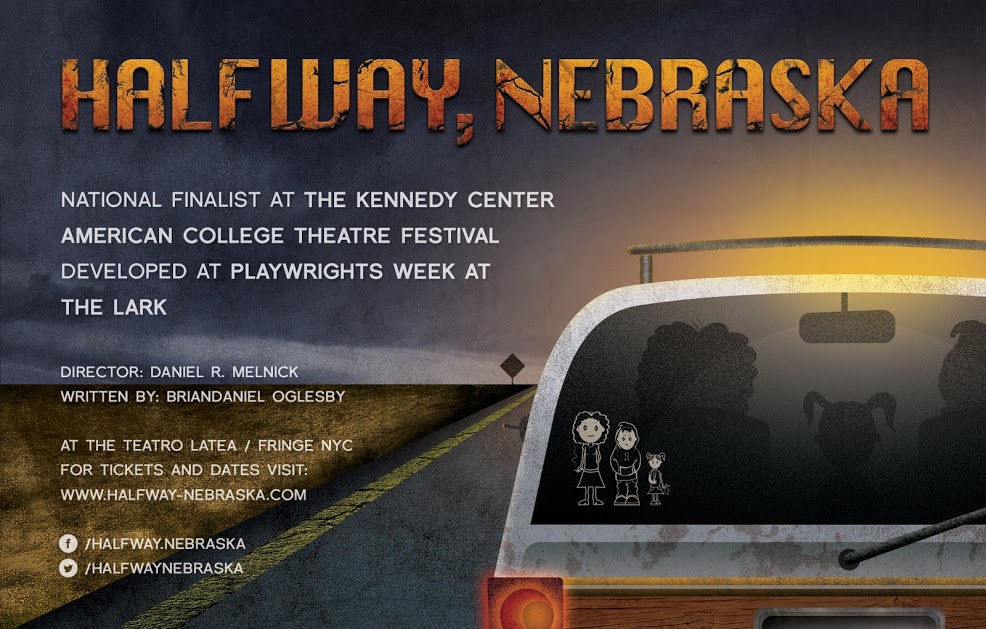 Review Fix chats with Director Daniel Melnick & Playwright Briandaniel Oglesby about "Back to Halfway, Nebraska," their newest production, currently playing at the New York International Fringe Festival Through August 22 at Venue #4: Teatro LATEA at the Clemente (107 Suffolk Street between Rivington and Delancey).
Synopsis:

"HALFWAY, NEBRASKA" follows Sheila, and her two adoptive children, Nate and Miri, as they roadtrip across the country from California to Nebraska. Nate's deeply troubled, and at times, explosively violent, and Sheila plans to take advantage of a loophole in Nebraska's Safe Haven law that would allow her to abandon Nate at a hospital without any legal penalty. As the miles tick away, the bonds that hold this fragile family together strain and eventually break.
Check out their Kickstarter for the production here as well.
Review Fix: What was the inspiration for the production? How did it all come together?
Briandaniel Oglesby: Back in 2010, I wrote a one-act titled Nebraska by Noon, which went to the Kennedy Center American College Theatre Festival. The director of the reading (Irwin Appel) handed the play to his UCSB student Daniel Melnick, who in turn directed it at UCSB, directing and producing the level of production seldom seen for University productions of one-acts. I turned the one-act into the full version Halfway, Nebraska, and developed that at Playwrights' Week at the Lark Play Development Center.
The play is about a family as they unravel – it's about a mother driving hundreds of miles to abandon her disturbed kid. The people are complicated. They are wonderful and terrible to each other. That's why I turned the one-act into a full-length play, why I've never abandoned this story.
Daniel Melnick: Yeah, just adding to what Brian's already said, I've been nurturing a desire to continue working with these characters ever since we finished our production of Nebraska by Noon at UCSB. After working as a designer on a couple different fringe shows last season, I came to feel that fringe would be a perfect venue forHalfway, Nebraska. I got in touch with Brian, he agreed, and the rest is history.
Review Fix: What makes this show different?
Oglesby: The play centers on a middle-aged mother and her two adoptive children. I may be wrong, but I can't think of another play with this makeup. It isn't two adults deciding on what to do about a troubled kid – it's a single mother going through her private hell.
I also think it's a play that's built out of emotional Legos, instead of plot points, unwrapping the characters and their situation from scene to scene.
Melnick: One of the things that really sets Halfway, Nebraska apart is the delicacy and honesty with which it approaches its characters and the challenging circumstances that they face. In a less brilliant script, it would be all too easy for either Nate or Sheila to become a monster, a caricature of the violent adolescent or the bad mother. Not so in Halfway, Nebraska. Though each of the characters (even 8 year old Miri) do some things that are hard to empathize with, they're all portrayed as full people. Flawed? Unquestionably, but not evil or even malevolent at core.
Review Fix: Who do you think will enjoy it most?
Oglesby: Anyone who went on uncomfortable road trips when they were younger may identify with it.  I think that parents, particularly mothers, will be most affected by the play, though I suppose anyone who has had a difficult family situation – who has had a troubled sibling or has been a troubled sibling – will find it familiar.
It's carried on the backs of the actors, and so I think that it will appeal to people interested in watching great actors you don't frequently see in these kinds of meaty roles.
Folks looking for emotional experiences. Folks looking to feel less alone in dealing with the fucked up things that we do to each other.
Melnick: I think Halfway, Nebraska has a really broad appeal. One of the things I've noticed while working on the show in it's various forms, is that audience members and cast members alike tend to build deeply personal connections between their lives, and Nate, Miri, and Sheila's experiences. At it's core, the play deals with the question of how one proceeds when their love for someone is eclipsed by the harm that person may cause. Though not everyone's traumas and and life experiences are as intense as Sheila, Miri, and Nate's, I think many (perhaps most) people can relate to the challenging family dynamics that exist in the piece.
Review Fix: What do you think you've learned about yourself through this whole process?
Oglesby: Six years ago, playwriting was the thing I did in my spare time – I was a fiction writer, working through UC Riverside's MFA program for Creative Writing, publishing short stories in lit journals. Every summer I'd hollow out a barn to produce new plays with my theatre company, but playwriting was my second, neglected child. Halfway, Nebraska and the one-act Nebraska by Noon turned me into a playwright – it let me live and breathe with characters as actors embodied them. It's why I applied to graduate school a second time. I wantedplaywright to be my primary identity.
Melnick: When I first started work on Halfway, Nebraska (then, Nebraska by Noon), I was planning to pursue a career as a musical theatre composer. I had been accepted to Berklee College of Music and planned to matriculate there following my graduation from UCSB. In fact, my initial impulse to study directing was in service of my interest in musical theatre composition.
My experience directing Nebraska by Noon convinced me that I had to continue to pursue directing, that Berklee would have to wait. Working with such a beautiful and raw script really energized me, and I was consumed with a desire to do more. So, I deferred my admission to Berklee, moved to New York, and began an internship at The Ensemble Studio Theatre. Three years later, I'm still in the city, working as a designer and director, and loving every minute of it. In a very real way, working on Nebraska has profoundly influenced the course and direction of my life.
Review Fix: Tell me about the cast. What makes them so special?
Oglesby: These actors are amazing. Both of the young people previously played siblings in a Johnathan Tutturo film titled FADING GIGOLO, a happy coincidence that meant they came into the rehearsal room knowing each other. Ted, the seventeen-year-old, is Equity, and both are SAG AFTRA, and they are professional and talented.
It's not just that they have these credits and that they are young that makes them special though. They're incredibly intelligent and willing to give themselves over to the play. They disappear into the parts.
Yvonne, who plays Sheila, is also a treat to watch. Along with the wealth of talent and technique she brings to the table, she brings a rawness to the role.
Melnick: Casting is always such an important part of the theatrical process, and in a three handed piece, getting the right actors is crucial. We were fortunate to have the help of a wonderful casting director, Michael Cassara C.S.A, and we've found a truly stunning cast.

This is a three-hander, and two of them are minors. Miri is played by a nine-year-old. Nate, who is 15, is played by a seventeen-year-old. It's rare to have such a difficult play, one laden with curse words and adult themes, and also to have age-appropriate young actors, particularly one who is nine. Usually you see tiny twenty-somethings in these roles, which isn't bad, but it is different. It's a rare gift for the playwright, and an intense experience for the audience to see age-appropriate actors.
Working with such young actors is something new for me, and with different actors, could have been a daunting aspect of the process. One of the things that really set Delphina and Ted apart, was the way in which they both walked into their auditions, and immediately made me feel at ease directing them. They're both consummate professionals, who think like actors. One can give them direction based on intention and tactics, and they get it. It's been thrilling working with them.

Yvonne Perry, our Sheila, brings an incredible amount of talent and skill to her role as well. She's a veteran of both the stage and screen, and it really shows. Sheila is a tough character to play, tougher still if one is to preserve the audience's empathy for her. Yvonne brings a nuance and delicacy to the role that's truly breathtaking.
Review Fix: What's the rehearsal environment like? How does everybody get along? How have these relationships played a role in the production?
Oglesby: The cast are bonding into a tight, strange theatrical family. I've never seen a cast get so close. Yvonne ("Sheila"), who is also a teacher, often takes downtime to talk shop with the younger performers. I love walking into rehearsals and seeing Ted and Delphi playing catch.
Most of the time, we have either Ted or Delphi's mother in the rehearsal room. As the playwright who wrote a play with something like a hundred curse words, about a family tearing apart, not only does their presence make our rehearsal room a safe space to take risks, their contributions to the discussion have been invaluable.
Melnick: Yeah, building on what Brian said, the familial feeling that the cast have developed was something I very much hoped to foster. The closeness of the cast feeds the familial feeling in the play. That Ted and Delphi act like siblings means that Nate and Miri (whom they play) have a love for each other in their bodies even as they hurt each other.
Having Ted and Delphina's parent's in the room has also been a huge benefit for the show. The contributions the've made to our table-work discussions (and throughout the process) have invaluable in the ways they've moved our collective understanding of the text forward.
Review Fix: What's your favorite element of the show?
Oglesby: That it's complicated and uncomfortable and challenging. That every time it's read, I end up chatting with people about their personal experiences with troubled family members.
I love the characters, which sounds strange for me to say. I created these characters, after all, so naturally I love them. But a character is only a sketch until actors add themselves to the play. I think these characters become canvases for the actors to paint themselves on – a collaboration that I love. My favorite element is what the actors give of themselves to the play.

Melnick: For me, it's the characters, and the actors who embody them on the stage. I love each of the characters deeply, and watching them come to life, and grow and develop in the rehearsal room is incredibly gratifying.
Review Fix: Bottom Line. Why should someone see this show?
Melnick: Because it's an intense story about a family dealing with what it means to be broken and human.
Review Fix: How do you want the production to be remembered?
Oglesby: I want people to remember this play as the one that caught you in the throat. Maybe it made you uncomfortable. Â Maybe it complicated your world. Dear god, I want you to leave having felt something.