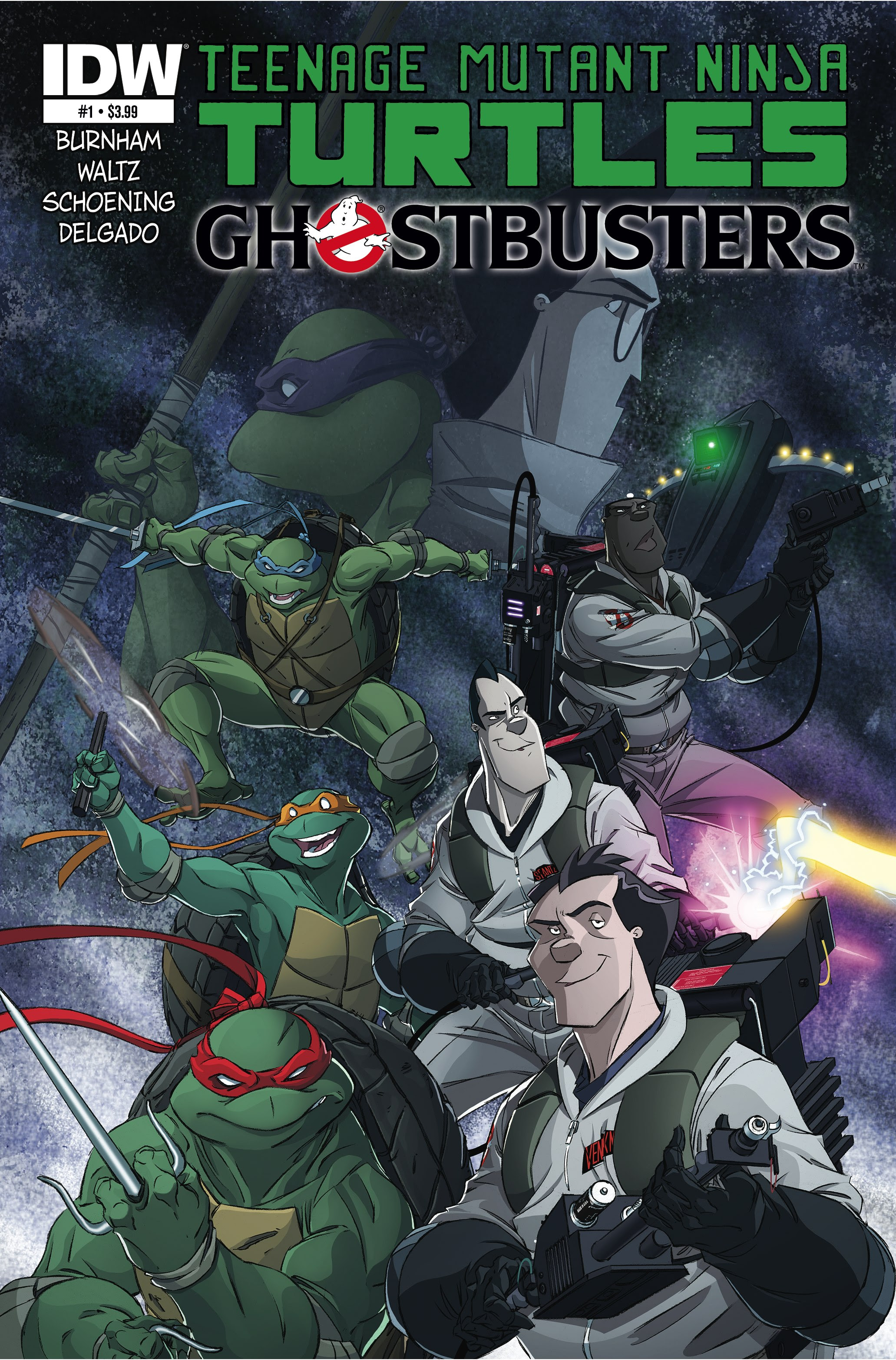 Review Fix chats with IDW writer Erik Burnham who discusses the company's upcoming four-issue Teenage Mutant Ninja Turtles/Ghostbusters crossover event, due to hit comic book stores this Fall. Combining two of the coolest factions in '80s and '90s pop culture animation, IDW Comics may have the most talked about series of 2014 on their hands.
Review Fix: How did the idea to have this crossover come to be?
Erik Burnham: Tom and I have been friends for a long time, and we each have a foot in both series' worlds… so naturally, one late night at the 2012 San Diego Comic Con, we started talking – as fans! – about how much fun a crossover would be. We were spitballing for years because we knew we wanted to do it, and knew if we ever got the chance to pitch the story, it'd have to be something that worked for both teams. When we got the okay to put a story together, we were ready.
Review Fix: What kind of goals did you guys have before hand for the series and how have they been realized?
Burnham: Our goals were to make the overall story feel like a TMNT story for the Turtle fans, a GB story for the Ghostbuster fans, and something that mattered in the overall tapestry of both series. We've managed to do that with our villain (who has ties to the Turtles' past) and the way he – and they – appear in the Ghostbusters' New York.
Review Fix: What was the collaboration like?
Burnham: We have an easy working relationship anyway; but this is our first time working directly on the same story, and it was easy. We talked over the plot until it was hammered out (with input from TMNT editor Bobby Curnow) and then set to it. I do the first draft, then Tom does a pass, and then I take care of any tweaks not related specifically to the threads connecting this to the ongoing Turtle plans. That's how it's worked so far!
Review Fix: How do you want this series to be remembered?
Burnham: As pure fun. This crossover is something fans of both groups have wanted for a while, and we want it to be worth the wait.
Review Fix: How was it working with Dan Schoening on this project?
Burnham: Dan Schoening and Luis Antonio Delgado are both a dream to work with. They consistently add more than you'd expect to every panel. I've worked with them for three years on Ghostbusters, and have enjoyed the process immensely. They come loaded with great ideas and skill. In fact, if I praise them too much more, someone will take them away. Pay no attention to their wizardlike powers, other writers.
Review Fix: How do you feel looking through the finished initial issue for the first time?
Burnham: As of this writing… the first issue hasn't been drawn yet! But I can react to the covers and character concepts Dan and Luis have turned in, which are gorgeous.
Review Fix: How do you think fans will take to seeing these characters working together?
Burnham: If they enjoy reading the book one tenth of the amount that Tom and I are enjoying working on it, it'll be a smash hit.
Review Fix: Both series have had plenty of crossover appeal, in films and video games especially, even cartoons. Do you think this series has that capability as well?
Burnham: It'd be a different animal anywhere else. Would it work? It could work. The common similarities do pop up in most iterations of the respective franchises, and if Sony & Viacom built it, I expect that I would be there. That said, I kind of like the comic being unique.