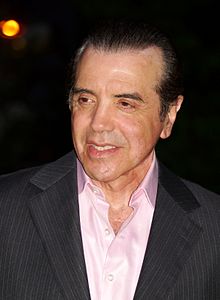 Sunday, November 23, 2014 at 3pm
Brooklyn Center for the Performing Arts at Brooklyn College continues its 60th Anniversary Season with Academy Award® nominee Chazz Palminteri, who brings his acclaimed one-man play, A Bronx Tale, to Brooklyn on Sunday, November 23, 2014 at 3pm. Tickets for this one-night-only event are $30-$40 and can be purchased at BrooklynCenter.org or by calling the Brooklyn Center box office at 718-951-4500 (Tues-Sat, 1pm-6pm).
"Brilliant! Stunning, seething theater!" – Jerry Tallmer, New York Post
In A Bronx Tale, Palminteri brings a cast of 18 colorful characters to life as he tells the semi-autobiographical story of a young boy from a working class family who witnesses a murder and is introduced to the world of organized crime. This classic coming-of-age story premiered in Los Angeles in 1989, moving to New York City for a critically and commercially successful off-Broadway run. The stage production attracted the attention of Palminteri's idol, Robert De Niro, who offered to make the film as his directorial debut. After refusing seven-figure deals that cut him out of the picture, De Niro knew that he needed to keep Palminteri on as a screenwriter and actor in the film. After the film's worldwide success, Palminteri brought the show back to New York for a Broadway run in the 2007-08 season with four-time Tony® Award-winner Jerry Zaks as director.
Bronx-born and raised Chazz Palminteri was a natural choice to continue the long line of prominent Italian American actors in the film industry. In the tradition set forth in the 1970s by such icons as director Martin Scorsese and actors Robert De Niro, Al Pacino, and Joe Pesci, Palminteri has brought grit, muscle and an evocative realism to the sidewalks of his New York neighborhood, violent as they are and were.
Born in 1952, Palminteri grew up in a tough area of the Bronx and it gave young Calogero (Palminteri's given first name) the life lessons that would later prove very useful to his career. He started out pursuing his craft by studying at the Actor's Studio with Lee Strasberg. He appeared off-Broadway in the early 1980s while paying his dues as a singer in his own band.
Well known for A Bronx Tale, Palminteri originally wrote the script for the stage and performed it as a one-man show in Los Angeles. It became the hottest property in Hollywood since Rocky. Palminteri was offered over a million dollars to walk away from the project, and with $200.00 left in the bank he refused. He wanted to play Sonny and write the screenplay. One night Robert De Niro walked in to see the show and, as they say, "the rest is history." He then moved the production to New York, where it played for four sold-out months and earned him nominations for the New York Outer Critics Circle for both acting and writing. While in New York he completed the screenplay of A Bronx Tale and soon found himself starring opposite Robert De Niro, who chose the script for his directorial debut.
Palminteri has more than 50 movies to his credit including The Usual Suspects, Bullets over Broadway (Academy Award® nomination), Analyze This, Hurlyburly, Mulholland Falls, Faithful (screenplay also written by Chazz Palminteri), Poolhall Junkies, The Perez Family, Jade, Diabolique, Down to Earth and A Guide to Recognizing Your Saints. Recent films include Final Recourse, Mighty Fine starring Andie MacDowell, Yonkers Joe, Jolene and The Dukes. He has also directed the HBO series Oz (episode, "Unnatural Disasters"), Showtime's Women vs. Men, and the feature film Noel, starring Susan Sarandon, Penelope Cruz, Robin Williams and Paul Walker. He appeared on the New York stage in the play The Resistible Rise of Arturo Ui starring Al Pacino, John Goodman, Steve Buscemi and Billy Crudup. Palminteri is a member of the Actors Studio in NYC.
Palminteri received the 1996 Leadership in Entertainment Award from the Coalition of Italo-American Association, Inc. and was honored by President Clinton with a Special Achievement Award for the Performing Arts from the National Italian American Foundation in Washington, D.C. He currently resides in Westchester County, NY with his lovely wife, Gianna and their two children, Dante and Gabriella.
Multibuy discounts (four or more shows) save 15% off individual ticket prices (not applicable for all 60th Anniversary Season performances). 50% discount for children ages 12 and under. Discounts also available for seniors, students, Brooklyn College faculty/staff/alumni, and groups. $10 student rush tickets available day-of-show.
Brooklyn Center for the Performing Arts
Walt Whitman Theatre at Brooklyn College
2/5 trains to Brooklyn College/Flatbush Avenue
Online orders: BrooklynCenter.org
Box Office: 718-951-4500 (Tues-Sat, 1pm-6pm)
Groups of 15 or more: 718-951-4600 ext. 3331