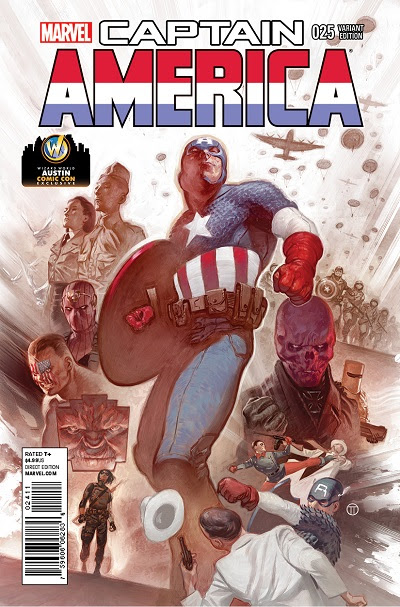 VIP Attendees Receive Free Copy At Austin Convention Center, October 2-4; Continues Year-long Series In Which Marvel Offers Exclusive Books At All 16 Wizard World Shows

Marvel Comics and Wizard World, Inc. (OTCBB: WIZD) today revealed the latest edition of the 2014 series of exclusive variant covers of the best Marvel titles with the unveiling of Captain America #25, drawn by Argentine artist Julian Totino Tedesco. VIP attendees at the Wizard World Austin Comic Con, October 2-4 at the Austin Convention Center, will receive a free copy of the limited-edition book at registration.
Totino Tedesco is scheduled to be on site at the event to sign copies of Captain America #25 (autograph fees may apply). Leading professional comic grader CGC will also be on hand to accept books for grading and Signature Series.
The exclusive version of Captain America #25 will be limited to 3,000 copies and provided free at registration to all Wizard World Austin Comic Con VIP attendees, including any celebrity VIP packages.
Totino Tedesco's work follows the first 12 entries in the Wizard World variant cover series: Miracleman #1 and Miracleman #2, both drawn by Eisner Award Hall of Famer Neal Adams for Portland Comic Con (Jan. 24-26) and New Orleans Comic Con (Feb. 7-9), respectively; Wolverine #1, illustrated by noted cover artist Greg Horn, for Sacramento Comic Con (March 7-9); Daredevil #1 by Michael Golden for Louisville Comic Con (March 28-30); Wolverine & The X-Men #1 by David Mack for St. Louis Comic Con (April 4-6); Hulk #1 by Mike Grell for Minneapolis Comic Con (May 2-4); John Tyler Christopher's Amazing Spider-Man #1 for Atlanta Comic Con (May 30 – June 1); Amazing Spider-Man #1.2 by J.G. Jones for Philadelphia Comic Con (June 19-22); 100th Anniversary X-Men Special #1 by Jorge Molina for San Antonio Comic Con (Aug. 1-3) and Guardians of the Galaxy #17 by Alvaro Martinez for Chicago Comic Con (Aug. 21-24). Christopher has completed a variant of Death of Wolverine #1 for the upcoming Richmond Comic Con (Sept. 12-14); Tom Raney has done so for God of Thunder #25 for Nashville Comic Con (Sept. 26-28).
"Julian Totino Tedesco is one of the best cover artists in the industry," says Marvel SVP David Gabriel. "Seeing each of his covers for Original Sin come in each month was a joy and we couldn't be happier with his Wizard World exclusive variant cover to the final issue of Captain America."
The Eisner-Award nominated Totino Tedesco is a native of Buenos Aires who began working on American comics about five years ago. He has drawn covers for many titles, including Marvel books Season One, Uncanny X-Force, Thunderbolts, John Carter: Gods of Mars, Original Sin and others.
"We see as many fans cosplaying Captain America at our shows as just about any character," says John Macaluso, Wizard World CEO. "That shows the enduring popularity of 'Cap,' and Julian Totino Tedesco has certainly brought that to life with this exciting cover."
Who is the All-New Captain America? The conclusion to the story that began in Dimension Z as Zola strikes in unison with The Red Skull! The final fate of Jet Black! Rated T. Writer: Rick Remender; Artists: Carlos Pacheco, Stuart Immonen.
Morena Baccarin ("Homeland," "Stargate SG-1"), Evan Peters (X-Men: Days of Future Past, American Horror Story), WWE Phenom The Undertaker® and Katie Cassidy ("Arrow," "Gossip Girl") are among the celebrities scheduled to attend Wizard World Austin Comic Con. It is the 13th of 16 events in the 2014 series produced by Wizard World, Inc. (OTCBB: WIZD) and will also feature a top-drawer collection of well-known comics artists and writers and a variety of activities, exhibitors and special attractions.
In addition to Totino Tedesco, superstar comics creators scheduled to attend include Neal Adams ("Batman," "Green Lantern"), Kaare Andrews ("Astonishing X-Men," "Iron Man"), Bob Layton ("Avengers," "Captain America"), CAFU ("Earth-2," "Trigon – Villains Month"), Ethan Van Sciver ("Green Lantern," "Flash"), Ramon F. Bachs ("Infinity: Heist," "Red Robin"), Rob Prior ("Heavy Metal," "Spawn the Impaler"), Kevin Maguire ("Justice League," "Batman Confidential"), Greg Horn ("Walt Disney," "Guardians of the Galaxy"), Michael Golden ("Spider-Man," "Hulk"), Arthur Suydam ("Marvel Zombies," "Army of Darkness") and many others.
For more on the 2014 Wizard Austin Comic Con, go to www.wizd.me/AustinPR.