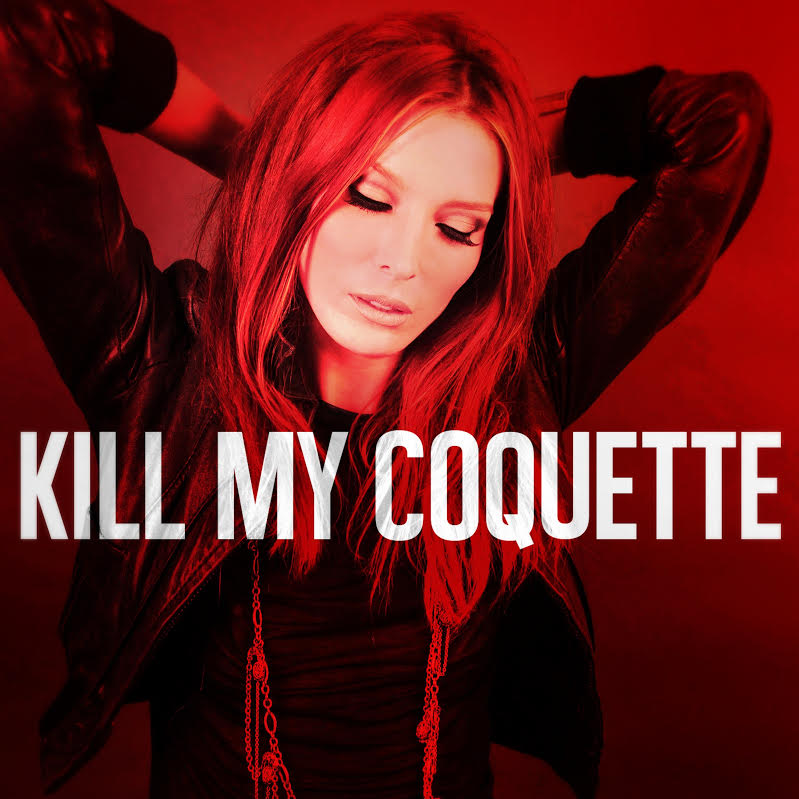 Review Fix chats with Kill My Coquette frontwoman Natalie Denise Sperl, who discusses the band's debut EP. Discussing her inspirations and creative process, the model and actress turned singer songwriter talks about her hopes and desires in music and her relationship with the EP's producer, Danny McGough.
Review Fix: How did you get your start in music?
Natalie Denise Sperl: I grew up listening to Bob Dylan, Bruce Springsteen and Neil Young – my Dad played them every day before school. I hated it at the time. It seemed so dated. Listening to it now though, I get it. There was so much to be angry about back then. So much was changing so fast. Still is now. These guys, and the females like  Joan Jett, Janis Joplin, etc, were the trailblazers out there, the leaders championing their cause. I took note.
Flash forward to the present. The acting roles I was being offered just weren't fulfilling enough. I was aching to do something deeper. More raw, exposed. A music fan all my life, I went to so many concerts, but it was at a particular Social Distortion show that I witnessed the real power of performance. Mike Ness has a way of getting to the point with eloquence and swagger. His lyrics hit your heart and guts, all at the same time. I decided, "I wanna do that. I'm gonna try." I looked over at my friend and said "I'm not waiting anymore." The next day I hit the local Guitar Center and bought a crappy guitar and shitty amp and started learning a few three chord songs.
Review Fix: How is Kill My Coquette special?
Sperl: Well, how many model/actresses do you know that front rock and roll bands?  I'm up for more criticism, an easy target. "Why is she playing music? She's just a model," yadda, yadda, yadda.  It's also a tough job. It's dirty. It's messy. Guitars are heavy. It's easier to be a fan enjoying the music, living vicariously through the band. It would be a lot less messy if I played solo with an acoustic.
Review Fix: What's your creative process like?
Sperl: There's no rhyme or reason, really. I'll think of something I think is poignant and run with it. Sometimes, just the idea of "I wanna write a cool song about (fill in the blank)," and go from there.  I read a lot. I'll think of passages I've read, quotes I've admired, points I want to make, etc, and demo it. Then I'll sit with it for a moment and go back to it a few more times. Can I make that line better? Do I want to add a bridge here? What about back up vocals? Harmonies? I'll layer it more until I'm ready to share it with the band.
Review Fix: What song on this EP do you think is most indicative of your sound?
Sperl: That's a tough question since Kill My Coquette's forthcoming EP (due out January 20t is my first release  I'm still finding my sound, but I think "Festival Boy" and "3rd & Bonnie Brae" are close. I haven't written the definitive Kill My Coquette sounding track just yet. It's in here (points to herself), fermenting and gestating.
Review Fix: Is there a story behind any song on the EP that you think your fans would like to hear?
Sperl: I found an old cassette recorder in my garage and demoed each song on it before recording them.
Review Fix: What was it like to work with producer Danny McGough?
Sperl: Danny is the guy you want to work with on your first record. He's patient. He's whimsical, yet serious. He knows his way around all instruments like no one I've ever seen. His ear is impeccable. He is the consummate professional. Also, he likes weird music, like me.
Review Fix: What did you learn about yourself through this EP?
Sperl: That it's never too late. Something you want to try? Go out and do it. Life is short. This ain't no dress rehearsal. You may fail. You may succeed. Anything can happen…
Also I learned you're only as good as your band. I'll bring the song to the table, the band brings it to life. I have a group of talented guys in my band who bring it each time we play. I'm lucky.
Review Fix: What's next for you and Kill My Coquette?
Sperl: I'm writing more songs, living more life, racking up experiences. I have a slew of new material I'd like to record. It's a process. It costs money. We're setting up gigs around SoCal for the next couple months. Check our website:  www.killmycoquette.com for show dates.