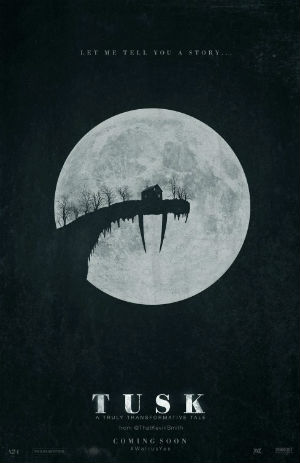 In 2014, director Kevin Smith tried his hand at psychological horror based on a Smodcast called "The Walrus Carpenter" – and it worked.
In a nutshell, Tusk is one of the most bizarre horror movies since Peter Jackson's "Dead Alive."
Justin Long plays Wallace Bryton, nice guy turned jerk from internet fame due to him and co-star Teddy Craft's (former child star Haley Joel Osment) podcast. He cheats on his girlfriend (Genesis Rodriguez), exploits people less fortunate than him and has a terrible moustache. When one of his podcast plots falls through, he finds himself in the company of a strange paraplegic old man (Michael Parks) who is not at all what he appears to be.
The result is one of the most shocking films in cinematic history.
It should also be noted that Johnny Depp has a small role that almost goes completely under the radar. The only way to tell that it's Depp is do a double-take.
Tusk is not for the weak at heart, the easily distressed, or those with weak stomachs. Combined with traumatic creature effect visuals, an intriguing story and witty dialogue that only Smith can pen, "Tusk" is a horror movie for the current generation to talk about. Though it does have plenty of freak outs and twists, "Tusk" also has a lot of tongue in cheek humor cleverly strewn throughout its gritty edges.