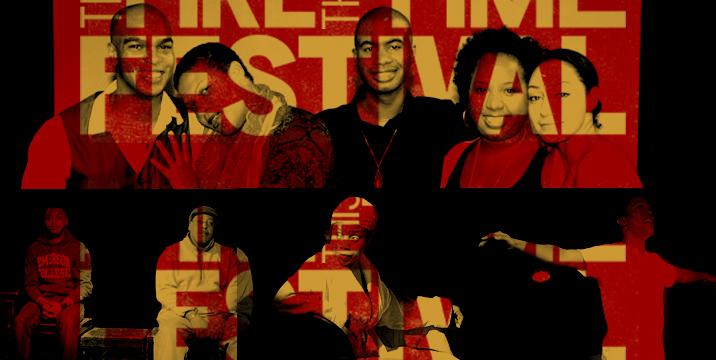 SEVEN WORLD PREMIERE SHORT PLAYS INSPIRED BY THE PHOTOGRAPHS OF ALEX HARSLEY
SCHEDULE OF EVENTS ANNOUNCED! 
JANUARY 19 – FEBRUARY 8

@ THE KRAINE THEATER
Now in it's sixth season,
The Fire This Time Festival
will welcome seven new playwrights into the family,
January 19-February 8
at
The Kraine Theater
(85 East 4th Street between 2nd Avenue and Bowery). These playwrights will present an evening of ten-minute plays, each inspired by one of Alex Harsley's original photographs. This year's festival will also feature the World Premiere of Nathan Yungerberg's play
Pousada Azul
, directed by Russel G. Jones (
Father Comes Home from the Wars
at The Public). Special events will include a play reading series, an open mic night, a movie screening, and a panel discussion on art and activism. Tickets to
Pousada Azul
and the 10-Minute Play Festival
($15)
are available for purchase in advance at www.horseTRADE.info.
All special events are Pay What You Can.
Pousada Azul
World Premiere Production
Written by Nathan Yungerberg, Directed by Russell G. Jones
Pousada Azul is the story of rebirth, transformation and love among two African American expats and one elusive traveler, whose lives intersect over one rainy season, at a guesthouse overlooking the Atlantic Ocean in Salvador Brazil.
Tue 1/20 @ 7pm

,

Wed 1/21 @ 7pm

,

Thu 1/22 @ 7pm

,

Sat 1/31 @ 7pm

,

Sun 2/1 @ 3pm

,

Thu 2/5 @ 7pm

,

Fri 2/6 @ 7pm

,

Sat 5/7@ 7pm

, &

Sun 5/8 @ 3pm
10-Minute Plays
Fri 1/23 @ 7pm

,

Sat 1/24 @ 7pm

,

Sun 1/25 @ 3pm

,

Thu 1/29 @ 7pm

, &

Fri 1/30 @ 7pm
A Military Habit
Written by Aziza Barnes, Directed by Dennis A. Allen II
Identical twin sisters Spencer and Ellis pump fake, twist and confess the lies told to them by family and the lies they tell each other, while simultaneously shooting the shit and dissing boys from high school.
The Sandbox 
Written by Azure D. Osborne-Lee, Directed by Jamal Jordan
June stands along in the broiling desert sun. Jelly hunts a tiger deep in the wildest of the jungles. Two sisters struggle to bride the gulf between them in The Sandbox.
Not in the Room
Written by Daaimah Mubashshir, Directed by Kimille Howard
Abdullah, a faithful and devoted family man, comes home from his honeymoon, and everything, absolutely everything has changed. How can family still be family when they abandon what holds them together?
Easy to Fall in Love
Written by Larry Powell, Directed by Tonya Pinkins
It's Bobby's first time ever getting his shoes shines and it's Greg's last time shining. The truth spoken here can change the course of their entire lives… Will they tell it?
Coal Run Road 
Written by Julienne Hairston, Directed by Tasha Gordon-Solmon
A young man returns home for a celebration to find personal and racial tensions have built to a festering heat beneath the surface of Coal Run Road.
Dolphins and Sharks
Written by James A. Tyler, Directed by Charlotte Braithwaite
When Yusuf Nwachukwu catches his annoying co-worker breaking employee policy he must decide if he will tell the manager or keep quiet about it. Dolphins and Sharks explores how disadvantaged people function and collide in a capitalistic society.
The Marriage of Zoltar, or Rollercoaster: Your Love
Written & Directed by Rod Gailes OBC
A Coney Island fortune telling booth and a glance in the wrong direction threaten to derail Adam's best laid plans for an elaborate 5th Anniversary marriage proposal.
Special Events
Alex Harsley Movie Screening
A one night only special screening of one of Alex Harsley's rarely shown films, Time Machine!!!!!. Don't miss it!
Open Mic Night
41 Bullets and Still Counting: Our Art/Our Activism Panel Discussion
Wednesday, January 28 @ 7pm
In the aftermath of recent injustices The Fire This Time puts together a panel to speak on how our art can influence our activism on a daily basis. Come and have your voice heard, share resources, and collaborate with the community.
Play Readings
In Communion 
Written by Lori Elizabeth Parquet
Tuesday, January 27 @ 7pm
A couple in love faces a new year's "revelation" and must redefine their relationship as a result.
The Sting of White Roses
Written by Angelica Cheri, Directed by Reginald Douglas
On the verge of welcoming their first child into the world, David and Mina arrive at the one place they feel safe enough to deliver their child: Thea's Kitchen. But as they welcome this brand new life, the life begins to drain out of Mina's body, and for the first time ever David meets and illness that he's not sure his anointed voice can heal.
Gravity
Written by Josh Wilder, Directed by Reginald Douglas
Tuesday, February 3 @ 7pm
This new play by the current Jerome Fellow is a full-length rumination on the 10-minute work he presented in Season 5 of The Fire This Time Festival.
Poor Richard 
Written by Jonathan Payne
Wednesday, February 4 @ 7pm
Hopeful Eddie wants a wife. Barren Opal wants a child. Jokingly, Eddie presents her the stump of a tree. Unbelievably, Opal adopts it as her child. The weight of isolation and the longing for community come to play in this loose adaptation of Czech fairy tale.
Playwright Kelley Nicole Girod founded THE FIRE THIS TIME FESTIVAL in 2009 to provide rising playwrights of African and African American descent a platform to write and develop new work. The festival was conceived as an opportunity for playwrights to write and produce material that reflects diverse perspectives as 21st century theater artists.
Following the success of the first year, TFTT has continued to grow, with input from participating playwrights and other collaborators. The Festival has evolved into an annual January event, expanding upon its core short play presentations to offer panel discussions, staged readings, and other programs. With ongoing momentum, TFTT has quickly become a destination for diverse audiences, producers, and artists seeking new possibilities and opportunities in contemporary theater. The Festival has launched the careers of notable playwrights such as Katori Hall (The Mountaintop, Hurt Village), Dominique Morrisseau (Detroit '67),Marcus Gardley (The Box), Radha Blank (Seed) and Zoey Martinson (Ndebele Funeral).
HORSE TRADE THEATER GROUP is a self-sustaining theater development group; with a focus on new work that has produced a massive quantity of stimulating downtown theater. Horse Trade's Resident Artist Program offers a home to a select group of Independent theater artists, pooling together a great deal of talent and energy. It is also the home of FRIGID New York – the first and only festival of its kind in New York City. In 2011 Horse Trade received the New York Innovative Theatre Ellen Stewart Stewardship Award for demonstrating a significant contribution to the Off-Off-Broadway community through service, support and leadership.