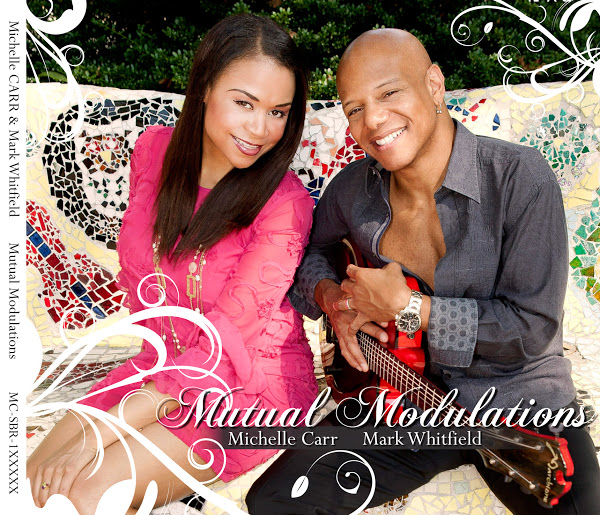 Review Fix chats with singer/songwriter Michelle Carr who discusses her newest album, "Mutual Modulations," with guitarist Mark Whitfield. Discussing their creative relationship and hopes for the album, Carr, a Grammy nominee in the past, gives us an inside look at the creation of her latest work.
Review Fix: What makes "Glass Houses" a special track?
Michelle Carr: The juxtaposition of the chorus, consisting of long beautiful phrases, against the verses with harder edges & complex rhythms. The story accompanies this musical juxtaposition.
Review Fix: How was it written?
Carr: I have always loved the phrase: "those who live in glass houses shouldn't throw stones at their neighbors."  I wanted to explore and expanded this phrase, based on some of my experiences.
Review Fix: How does Mark Whitfield impact your sound on guitar?
Carr: Mark Whitfield is a brilliant musician. When he plays the acoustic guitar, it inspires me to dig deeper into my classical roots for more sophisticated and beautiful melodies.
Review Fix: What inspires you to perform?
Carr: Everything inspires me to perform. Performing is a way for me to share my experiences with the world, on the purest level.
Review Fix: Make makes you different from other artists?
Carr: I have used my classical training and apply it to every day sounds that the mass can relate to.
Review Fix: What did you grow up listening to? How has it affected your creativity?
Carr: I grew up listening to everything. Everything from James Taylor, Joni Mitchell and Barbra Streisand, to Nancy Wilson, James Brown, Diana Ross Leontyne price & Luther Vandross.
Review Fix: Where do you expect to be in a few years?
Carr: Writing  more Hit songs, using my voice to create unity and compassion in the world, touring with my band, educating other Musicians and raising more social awareness through my music.
Review Fix: What do you do when you're not performing?
Carr: Teaching, practicing, vocalizing, composing music & watching THE HAVE AND THE HAVE-NOTS on the OWN Network.
Review Fix: What is your creative process like?
Carr: My creative process is always changing. Sometimes I wake up at 2:00 Am and began writing a song. Other times, A Melody will just come to me in a dream. I usually begin most of my songs at the piano. However, that too, changes. It is imperative for me to listen to other musicians. Go to their concerts and become inspired by their brilliance.
Review Fix: What are your hopes for 2015?
Carr: Being a joyful and productive billionaire.
Review Fix: How do you want to affect your audience?
Carr: I want them singing my songs and clapping their hands after every show.  I'd like  them to feel more of their truth, through my music.