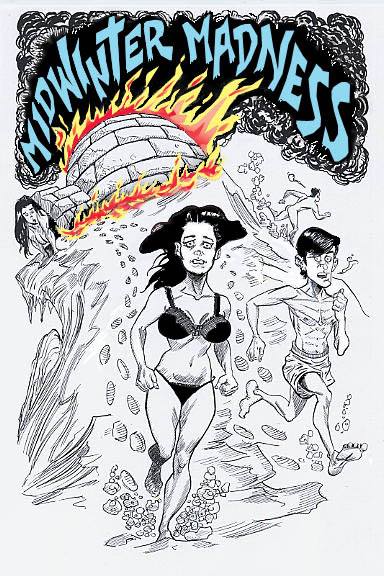 Review Fix chats with playwright Doug DuBrin about his newest production "Needle Anna and Adam" currently running at this year's Midtown International Theatre Festival in New York City. DuBrin also discusses his creative process, his excitement at producing his own work and what he hopes people get out of the production.
Review Fix: What was the inspiration for this production?
Doug DuBrin: I was actually doing some writing and people watching in Washington Square Park this past summer while in town for two of my shows at the MITF, and a group of ostensibly troubled, doe-eyed youth caught my eye. They, in concert with so many other wounded doves I have known (many substance-addicted), morphed into the character of Adam. Anna is a combination of multiple wonderfully humane, visionary, truly Christ-like nuns I have come to know and adore over the years.
Review Fix: What's your creative process like?
DuBrin: A tumultuous marriage between Beelzebub and Hester Prynne; that is, as a  husband, father of four, and a full-time English teacher at an all-girl Catholic school, I fit my "process" in wherever and whenever.
Review Fix: What makes you different from other playwrights?
DuBrin: I was born on one of Saturn's moons (Hyperion, specifically). It's true –check my birth certificate. Supposedly, in 1966, immigration regulations from other planets were quite flimsy.
Review Fix: Is this what you always wanted to do?
DuBrin: I've written plays since my early twenties and been around the theater and its lunacy most my life.
Review Fix: What makes this production special?
DuBrin: Of all my dramatic writing, it is distinct in its unifying gravity. My go-to place has usually been the murky-dark comedy or the bouncy philosophical farce.

Review Fix: How does it feel to be a part of this festival?
DuBrin: This is my fifth play with the MITF, and I have appreciated and consumed a bit of sagacity (I hope) from every lily pad I hopped upon across the Festival pond (I know, what a pathetic metaphor).
Review Fix: What are your goals for the production?

DuBrin: Perhaps above all, I want to see if I have the chops for such heavy-limbed theater. I also want to assess if the play should remain a one-act or be expanded.
Review Fix: Who do you think will enjoy it the most?
DuBrin: "Enjoy" is an odd word for a tale about a smack addict's friendship with a nun who runs a medicinal-heroin clinic. That said, I do believe the story appeals to any of us who struggle with shame and self-loathing and consequently yearn for unconditional validation and nurturing.
Review Fix: What's next?
DuBrin: For one, I will be submitting a few works to MITF for consideration for this summer's program. I have a few theater opportunities in Chicago I'm currently pursuing as well. I also need a strong cup of Joe, so I think I'll stop by Mickey D's on the way home.