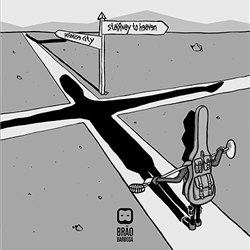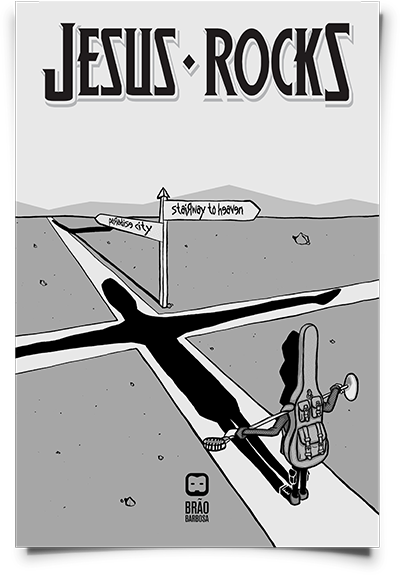 Review Fix chats with independent comic book writer and artist Brão Barbosa, who breaks down his two titles "Jesus Rocks" and "Happy Anniversary," as well as his hopes and goals for the future.
A fan of Bruce Timm's work as a kid, Barbosa's unique art style and penchant for solid storytelling make him a multi-faceted double threat in comics.
Review Fix: What did you read as a kid?
Barbosa: I was always curious about superheroes. I spent many hours of my childhood watching the X-Men cartoons, Spider-man and sure, Bruce Timm's Animated Series for DC, but I can't remember reading many superheroes comics as a child. Of course, I read the classics like "Watchmen," "The Dark Knight," "Red Son," "Wolverine" by Chris Claremont and Frank Miller, but I had never had the habit of reading the periodic stories. So, by the influence of my grandpa, I read a lot of Disney and the Brazilian "Mônica's Gang" by Maurício de Sousa. That's maybe why I'm more a conversation/relations/everyday stories reader/writer than a superhero one.
Review Fix: For people who haven't read them, what are your stories about? What makes them special?
Barbosa: As I said above, I like reading and writing about the "plus" that ordinary life may have more than fantastic things. I think I chase the opportunity of planting the doubt "could it happen to me?" or "could I be one of those characters?" in the readers mind.
Review Fix: What was the inspiration behind "Jesus Rocks"?
Barbosa: "Jesus Rocks" tells the life of Christ if He were a rock star. And these two worlds have always been part of my universe. So, when a friend of mine wrote what became the initial idea of "Jesus Rocks," we talked and he let me adapt it to comics.
Review Fix: What about "Happy Anniversary"?
Barbosa: Unlike JR, "Happy Anniversary" was totally born in my head. I was wondering what wold be the consequences a crazy/deep/insane/blind/selfish/vindictive love could have if taken to its ultimate consequences.
Review Fix: How do both accomplish different things for you?
Barbosa: I have a special affection for "Jesus Rocks" because it was through producing it that I could see it's something I really can do and like doing it. And "Happy Anniversary, My Beloved" I can feel a huge progress in my storytelling and drawings ability. Also, the comments about both of them give great pleasure and makes me wanna keep going.
Review Fix: How would you describe your art style?
Barbosa: I seek transfer as much emotion I can to the drawing table. That's my biggest concern. And I go for it every day. Also, I like having a positive and fun view of everything. I think this leads me to a simple trace and some unusual drawing solutions.
Review Fix: How do you want these stories to be remembered?
Barbosa: Sure. Â I want to bring moments of entertainment and fun for those who are reading my stories.
Review Fix: What are your goals for these series this year?
Barbosa: I'm working on some titles that I'm dividing tasks. In some, I'm writing- I'm drawing others. But I can promise good stories with all of them.
Review Fix: What's next?
Barbosa: I'm also developing an idea for a story much longer than the others I've made. And because it's something different than I have done, I'm being careful with language to do a good job.