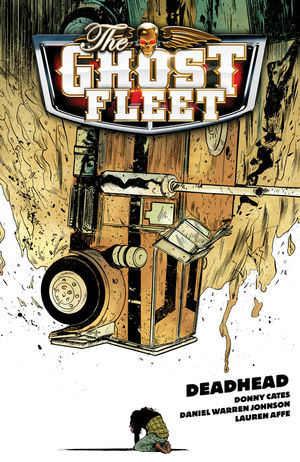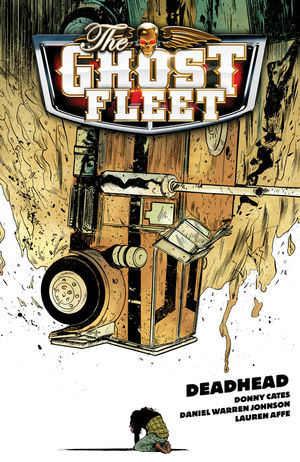 Anyone shown with a bow and arrow has a tremendous amount to live up to. Automatically there is a badass skill level that the wielder must have. After all it's the 21st century and the mental tenacity to use that in battle, well takes guts. From the first page of "The Ghost Fleet" by Donny Cates you get the sense that this is no ordinary story. It begins in prologue with President Andrew Jackson and how a general called Lafite helps him create a "ghost fleet," essentially they're people who move in the shadows and through hidden tunnels. The origins of a secret society is just the place to delve into why a group in the present day is trying to obtain an 18-wheeler.
With each panel there's a series of maneuvers in an attempt to not have the contents of the truck get into the wrong hands. The action is tight with concise dialogue which gives the story tension. You want to know what happens next.
Betrayal and desperation are the worst combination. They can make you compromise your humanity. In the case of Trace he is deceived in the worst possible way, at the hands of his partner, for something that is so unspeakable that there is off-panel violence involved. Violence when the reader comes back to it is best seen from far away. As Cates tells it, the story truly begins from a place of a cowardice act. Perhaps that's the best place to start a story, one with human foibles that can be clearly understood.
In "The Devil Himself," the fleet is now being used by some secret senate to escort questionable items across the country. Ward the man who betrayed Trace and who is now the director doesn't seem the worse for wear, but he's not exactly thriving. Problem is that not asking any questions, much less the right ones leave you vulnerable. Now a vigilante Trace does everything he can to usurp the fleet's power, which means killing everyone in his wake. Fundamentally when a sentence starts off with "they're all dead" that just can't be good. Yet it's some great storytelling. As in the first comic in this series the dialogue is economical. You can see the action being played out on the big screen with Kurt Russell in his "Escape From New York" mode playing the lead.
Which brings you back to the bow and arrow. Where a man steals a truck, takes apart a highly sophisticated, well trained convoy all with a bow and arrow. We then see him chilling out with a dog he rescued (more off-screen violence). That dog shows how Trace has kept his humanity and how Ward has lost his. It's these small moments where Cates emphasizes that a secret society cannot maintain itself when it erases the human element. But that doesn't mean it has to be boring. You don't need a sermon to learn a lesson.
The desire to know what happens next makes for a successful comic book series. Just who is Roland Cohle, and why does he strike fear in a dead man? A multitude of questions go unanswered which means you'll be willing to put up your money for the next installment of this series. It will surely be cash well spent.