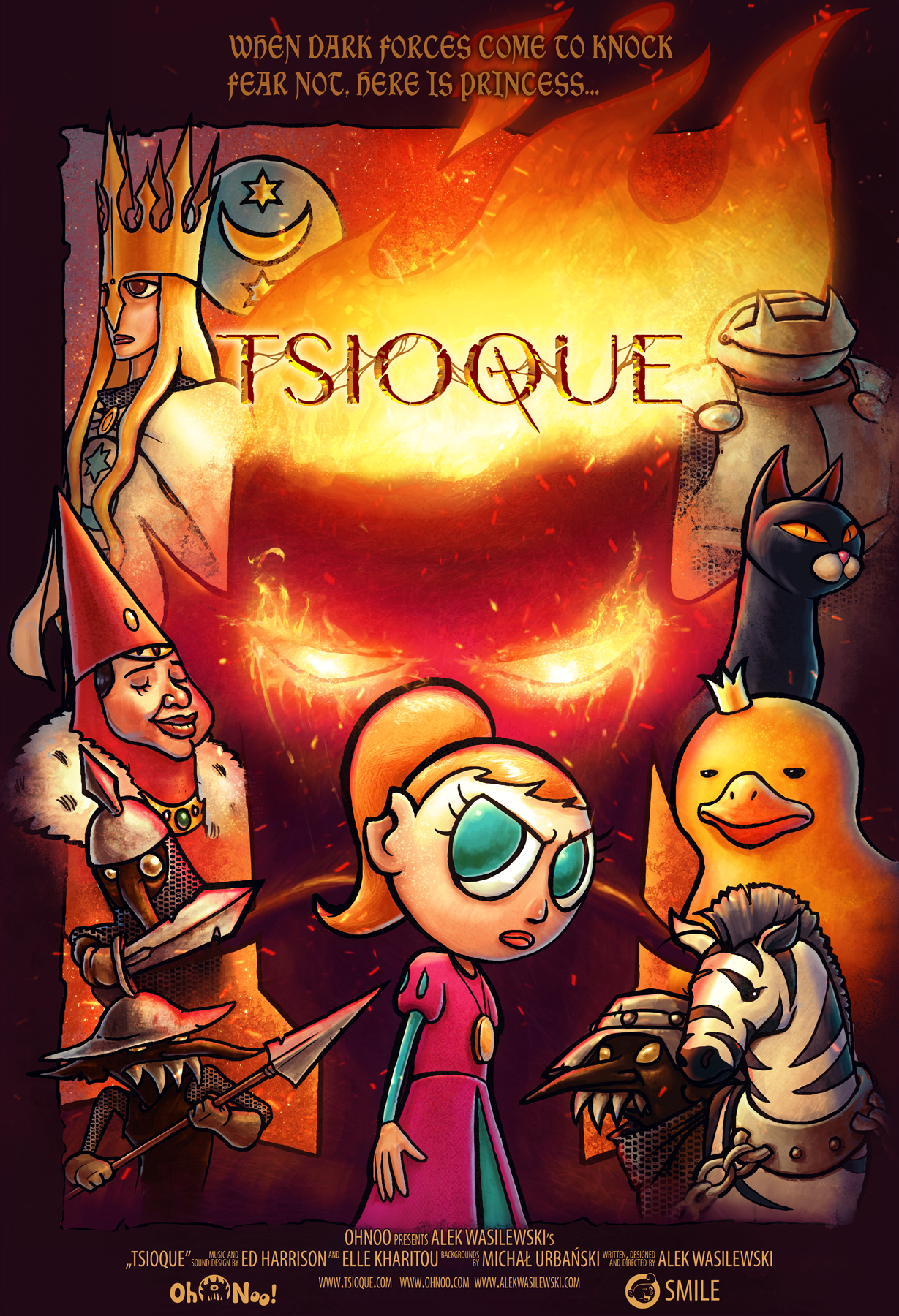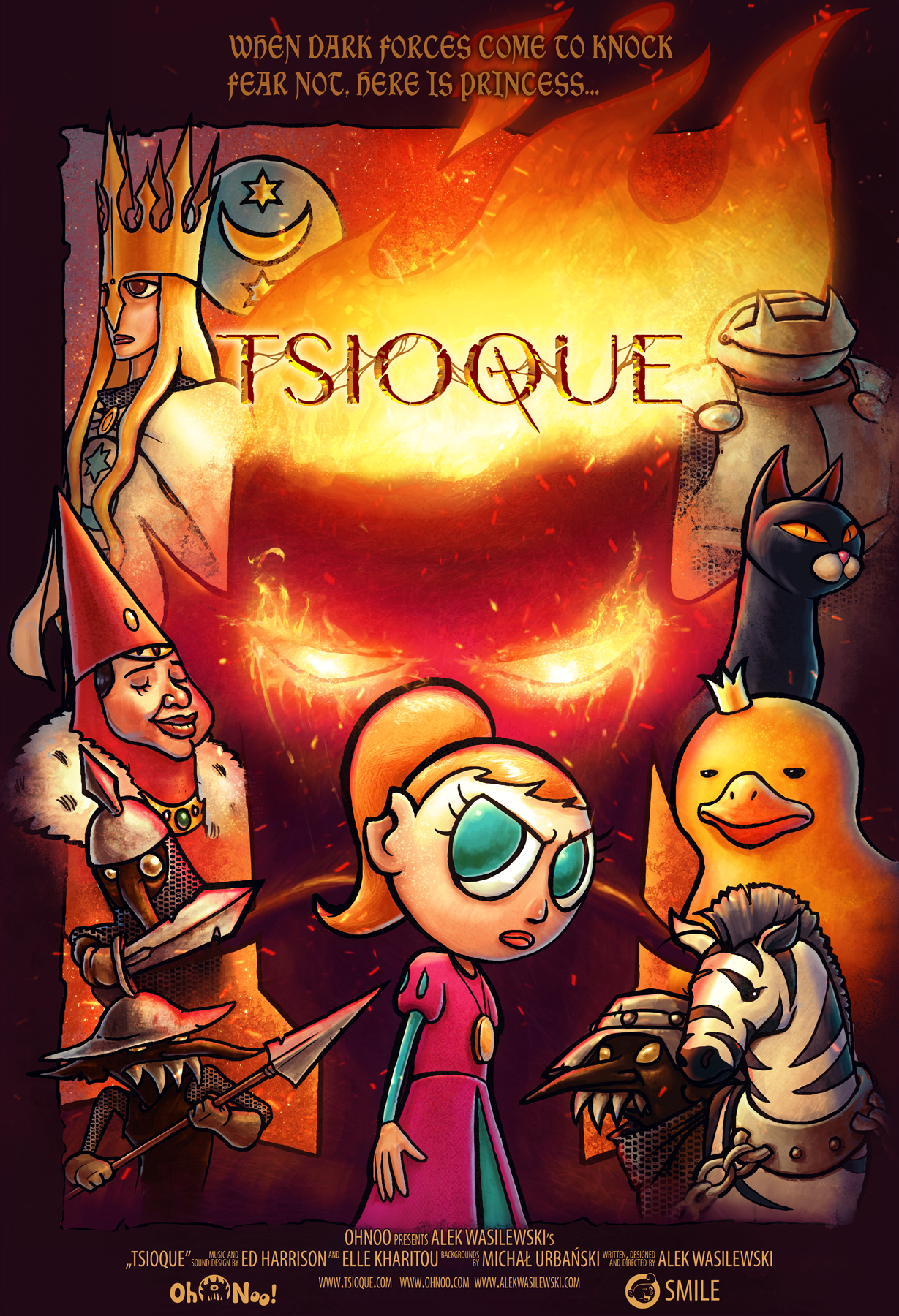 Review Fix chats with Alek Wasilewski, the creative mind behind the unique point-and-click adventure "Tsioque." Currently looking for funds via Kickstarter, Wasilewski discusses the inspiration behind the game, the beautiful soundtrack and the awesome 2D animation. Inspired by some of LucasArts classic titles from the '80s and '90s, "Tsioque" is drenched in polish and allure.
For more information on the game, click here.
To Check out their Kickstarter, click here.
Review Fix: What was the inspiration for this game?
Alek Wasilewski: There were a number of inspirations that led to what eventually became TSIOQUE. One thing that we make very clear – and put big emphasis on when self-marketing our game – are childhoods spent on playing classic adventure games – notably Lucasarts games, but also point and clicks by Sierra or Ron Gilbert's Humongous Entertainment. We hope that by throwing names of games we couldn't help but think of when designing our own game like Day of the Tentacle, Pajama Sam or Indiana Jones and the Fate of Atlantis, gamers will have a clear idea what to expect in terms of feel and gameplay of TSIOQUE.
Then there's the part we stay quiet about, which is the inspiration for the story. It's in fact, personal, and comes from my experiences of parenting, being a father to my daughter Ola. I've constructed the fantasy tale setting in the game in a way similar to how some early 20th century authors constructed worlds for their own fairytales… and I'll stop here in fear of spoiling anything.
Let me just say the princess-in-castle fairytale is just the beginning, and what happens next hasn't to my knowledge been seen in games for a while.
Review Fix: What has the development process been like for this game?
Wasilewski: If I had to put it in one word, it would be – long. Ever since OhNoo Studio and I met and we somehow "clicked", TSIOQUE went a long way from its conception. It began its life as an idea for a rather simple storybook, not unlike OhNoo's Amelia and Terror of the Night, which OhNoo Studio was just putting finishing touches on when we first talked.
As we got to work, however, it became clear TSIOQUE will be more than that. Like many projects – if not all, from my experience – it began living its own life, grew, branched and evolved into what it is now – a deep, richly animated 2d adventure game.
That growth came at a price, however. We suddenly had a real adventure game on our hands and we were working with no budget, in our spare time. For most of the development, it was just three guys – me writing, designing and animating, Grzegorz programming, and Luke doing all the dirty work necessary to make sure the two come together and the game is actually playable.
The load was getting really heavy. Even when I dedicated myself to work on TSIOQUE full time – and beyond, even when we had some part-time assistant animators to help us out, two years have passed until we've finally decided that if we want to finish it this decade, we need more help.
Review Fix: What do you think makes it special?
Wasilewski: I'm having a terrible time bragging about why what I'm doing is so great. It's part of the reason why we waited two years before looking for help – I prefer to spend an obscene amount of time just doing what I think will work instead of spending some time trying to convince people it will.
Now that we have the Kickstarter campaign running, I have no choice but to solicit so I'll try.
I like to naively think it's the heart put to it that makes it special, and – judging from early reception – it may actually work. I read articles in the press and comments from players that try the demo, and everything I personally wanted to achieve with this game seems to have made it: a recognizable style, the mix of darkness and humor, cuteness and fear, animated film and adventure game, the story that you get immersed in right away and doesn't insult your intelligence… I'm delighted to read that people who don't normally like or play point and click adventure games enjoy TSIOQUE, because it means we've already succeeded – I hate shelves, and I wanted to make a game like the games of old when it was all about the experience, not the genre.
Review Fix: Who did your soundtrack? What do you think it adds to the game?
Wasilewski: The soundtrack is made by two awesome Australian musicians Edward Harrison and Elle Kharitou. I've already worked with Ed a number of times – first on my short film Lucky Day Forever, then on a Splinter Cell short I did for Ubisoft. He's a great guy to work with, and you should totally check out his soundtrack work for other games – his music for Neotokyo is what made me contact him in the first place. I have total confidence in Elle's talents as well, proven by all the work we've done so far.
For TSIOQUE, something quite special is brewing. We've developed a dynamic music system, following the player's action. It pretty much means every single move or action you make has a soundtrack of its own. Workload-wise, it's total overkill but it really makes a difference, and it shows in reactions of people who have played the demo.
Review Fix: Who do you think will enjoy it the most?
Wasilewski: I like to think that everyone! I wrote the script with the intention of my daughter playing this game when it's finished. She's three and she loves it already. However, it's also a game I always wanted to play as a kid, and a game that treats me seriously as an adult. As described in the Kickstarter campaign, it's a game to be experienced on multiple layers, for each age group to appreciate on their own level. It's not really about pleasing everyone, but creating with respect. Kids are not stupid, and if it's smart and compelling, it shouldn't be boring for adults as well.
Review Fix: What makes your Kickstarter unique?
Wasilewski: We have an awesome project that's worth funding. And also one that really needs the funding, you'll find no celebrities with all the money in the world looking for an extra buck here.
But the campaign most certainly doesn't count on charity. We offer a wide range of cool rewards, a lot of them physical – from signed boxed editions of the game, posters, hardcover artbooks to hand-sewn beautiful plushies of different shapes and sizes. You also have a chance to immortalize yourself in a painting in the game somewhere on the castle wall – either as one of the characters in a large epic composition, or a have a huge portrait of your own, which will then be delivered to you also in real life on canvas.
Review Fix: Any thoughts on a release outside of Steam?
Wasilewski: Yes. We have plans to release through the Humble Bundle, and also on iOS, Android, Ouya, and perhaps also Linux if a stretch goal is reached.
Review Fix: What's next?
Wasilewski: We're too focused on the "now" for the moment. First we reach our funding goal, then we may have time to think what's next.
Screenshots: