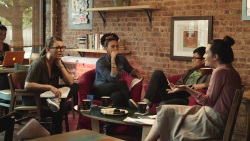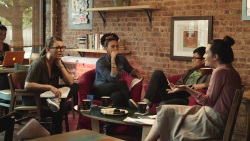 Review Fix chats with sisters Kim Spurlock and Mai Spurlock, the minds behind the new web series, "Livin' the Dream." Breaking down their inspiration, creative process and goals for the series, the Spurlock sisters lets us know what to expect from this pop culture-infused and charming new series.
Review Fix: What was the inspiration for this series?
Kim Spurlock: I had recently graduated from NYU Grad Film School and had been making the rounds with our first feature, KIN, which is the basis for "Blood into Tears" in LTD, and the script had gotten a little heat – we had interest from some very exciting talent for the leads. And then almost as quickly as the script had gained momentum, it evaporated, and I began to understand how difficult it is to get a first feature off the ground – especially in the financial climate at that time.  After another year or two of writing and developing and growing increasingly frustrated, my sis called me excited about a web series she was watching called The Guild. She was excited about the content (she's a fan of Joss Whedon, Felicia Day appeared in a couple of Whedon productions) but also about the production itself.  I was skeptical- I didn't even know what a web series was!  But then I watched The Guild and understood what she meant.
So I pitched Mai an idea about three lady filmmakers who have just finished film school and are trying very hard to make their first features – and she turned around and wrote a first draft of 5 episodes based on me!
I then joined her in the writing process, fleshing out characters and storyline. We like to say that certain characters are combinations of our public selves and our secret selves. I think Kit is a combination of me and my sister – she isn't a pleaser (Kim) and she is sarcastic and not easily mortified (Mai).
Emily is like Kim's secret voice obsessed with all things anal. We wanted her to be British, because saying perverse things with a posh accent makes it more fun.
Jonah is Mai's secret fangirl voice obsessed with all things fantasy and sci-fi. We also wanted his character to be influenced by a lot of John Hughes characters – Ducky and The Geek.
Brad is inspired by every douchey but charming guy we ever dated. And also we wanted to play around with the white male writer giving a minority character a "voice" as in Dingo Runner. A cliché that still continues to this day.
Yvonne we just wanted as the voice of reason, and also as that super successful friend that you simultaneously cheer on and eat your heart out over their success.
Leslie is Mai's voice on a good day, lecturing Kit on the sofa (Kit in this scene is Mai on a bad day!) Â Solipsistic, you say? Perhaps!
Dean Winters – we just wanted to represent that faculty member that never notices you no matter how well you do and always seems to pick favorites at random.
The film school awards scene is derived from my experiences at NYU, but definitely fictionalized. I really had some of the best times of my life in film school and felt a huge amount of support from the faculty. I loved my time there. But that doesn't really make for good drama!
We also wanted to incorporate a love triangle, a cliffhanger, and infuse the screenplay with a references to other films and TV shows, as well as to several of our own screenplays, including Kin and Marcus Frost, Teen Necromancer!
Review Fix: What makes it special?
Kim: I haven't really seen a satire of filmmaking from a female point of view – you know, you have films like The Player or Living in Oblivion or State and Main, and they are all awesome, but I haven't really seen this sort of thing where the struggling Writer/Director is a woman.
Mai Spurlock: The topic matters – a female's pursuit of a career that you don't see much about. She's not a lawyer, detective or doctor and the ladies careers in the series are not just window dressing – like with Monica and Rachel. The main focus of the story is how these ladies are doing in their careers, but in a funny way.
Review Fix: Who will like it the most?
Kim: Ambitious women, cinephiles, nerds. Ambitious nerdy women who love movies!
Review Fix: What shows do you think it borrows from?
Mai: Mary Tyler Moore, Episodes and maybe a little bit of Curb Your Enthusiasm – a prickly human being going around in the entertainment industry and getting involved in awkward social situations, etc.
Review Fix: What are your short and long-term goals for the series?
Kim: Our short term goal is to maximize viewers, our long-term goal is for the series to perpetuate itself and further our careers as a filmmaking team.  We would love to see LTD picked up as a half-hour serial comedy.
Review Fix: How do you want it to be remembered?
Kim: As a work of true genius! Or – Â an incisive and funny look at what it's like to be a lady filmmaker at the beginning of the 21st century – a time when, counter-intuitively, women's standing in the filmmaking world is sub-par and organizations like Sundance and the ACLU are questioning the dearth of female directors.