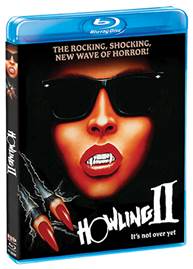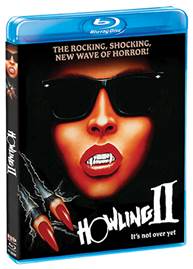 HOWLING II
A Film by Philippe Mora
Starring Christopher Lee, Annie McEnroe, Reb Brown, Marsha A. Hunt and Sybil Danning
ARRIVES ON HOME ENTERTAINMENT SHELVES EVERYWHERE JULY 14, 2015
FROM SCREAM FACTORYâ"¢
Pre-Order This Definitive Edition Today!
After countless millennia of watching, waiting and stalking, the unholy creatures known as werewolves are poised to inherit the earth. Legendary horror icon Christopher Lee (The Lord of the Rings, Count Dracula) faces off against sexy cult favorite Sybil Danning (Battle Beyond the Stars, Chained Heat, Grindhouse) in this terrifying descent into a world of nightmares that turns out to be all too real! Fans of the popular HOWLINGS movies rejoice as the long-awaited Blu-ray edition of HOWLING II hits home entertainment shelves everywhere on July 14, 2015 from SCREAM FACTORYâ"¢. This high-anticipated release contains extensive bonus content, including all-new interviews with actor Reb Brown, actress Sybil Danning, special make-up effects artists Steve Johnson and Scott Wheeler, audio commentary, behind-the-scenes footage and much more! A must-have for movie collectors and horror enthusiasts, HOWLING II Blu-ray is priced to own at $24.97 SRP.
Pre-order is available now at:
https://www.shoutfactory.com/film/film-horror/howling-ii-your-sister-is-a-werewolf

After newscaster Karen White's shocking on-screen transformation and violent death (in the original THE HOWLING), her brother Ben (Reb Brown, Yor, the Hunter of the Future) is approached by Stefan Crosscoe (Lee), a mysterious man who claims that Karen has, in fact, become a werewolf. But this is the least of their worries… to save mankind, Stefan and Ben must travel to Transylvania to battle and destroy Stirba (Danning), the immortal queen of all werewolves, before she is restored to her full powers!
Also starring Annie McEnroe (The Hand) and Marsha A. Hunt (Dracula A.D. 1972), directed by Philippe Mora (The Marsupials: The Howling III, Communion, The Beast Within), and driven by a pulsing punk-y soundtrack, this film is a no-holds-barred horror-fest that'll rip your heart out… and you'll like it.