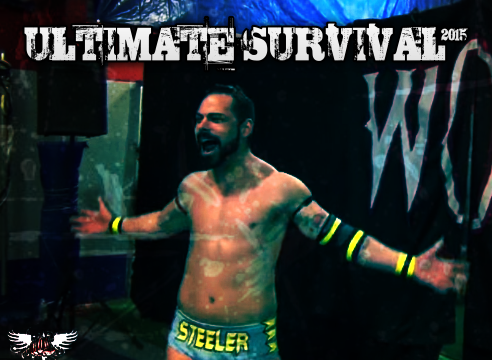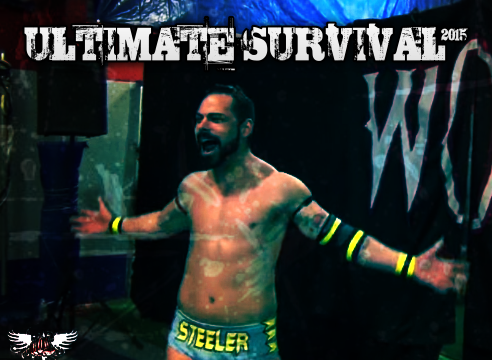 With the Summer beginning to heat up, Staten Island's premier wrestling promotion Warriors of Wrestling are starting to as well. On Saturday, July 18, the Staten Island Fun Station hosted another action packed event called Ultimate Survival. The event featured many of the talented members of the WOW roster, former WWE, and current TNA superstar Drew Galloway and a Royal Rumble styled main event. The small, but always crowded venue was once again filled to capacity with its regular loyal and devoted fans of the WOW product, which the whole roster came ready with their A game to put on another solid showing.
Hostile Collective (Abdul Nasir, Darius Carter, and "Just Neph" formerly Nephtali Rodriguez w/Harley) vs. Jessie Brooks, TJ Marconi and Benjamin Quinn: In what has been months of wrestling stable story-telling at it's finest with this feud, each month cause you to look forward to the next encounter with the groups. Last month saw Brooks and Marconi pick up wins over Carter and Nasir, but Quinn lost to Just Neph so this month would be like a return match with all members in a six man tag. Another great stable match which saw Brooks, Marconi, and Quinn come out full of energy trying to steam-roll through the Collective early on, with Brooks introducing the Collective to Suplex City. Midway through the match the Collective was able to get Quinn isolated, but Quinn was able to stay strong and keep from letting the Collective get the win. The match ended with Marconi nailing Neph with a Big Boot followed with a Fire Thunder Driver for the three count victory.
Magic vs. Mike Donovan:  Magic who has been in the business for over 20 years showed that experience can help you keep up with the younger up and comers, which he used to dictate the match to the pace he favored. The match was a very solid wrestling match which the crowd was fully invested in. For those who are used to seeing the more flashy side of S&F against EYFBO, were able to see Donovan's technical and chain wrestling side. Donovan was able to pick up the win with a corner low blow which the ref didn't see and a Running Knee to the face of Magic followed by a pin.
Aristeyes vs. Jasin Karloff: After last month's sneak attack and dismantling of the WOW Champ Rude Boy Riley, Karloff came into this match full of rage and ready to dominate his opponent. Aristeyes tried to put on some offense, but Karloff just proved to be too strong of a force in WOW. Karloff used Riley's Lights Out finisher which he followed up with a devastating Brainbuster for the three count victory. After the match, Karloff announced that until Joey B grants him a title shot the body count of injured wrestlers would rise, which he then hit Aristeyes with another Brainbuster.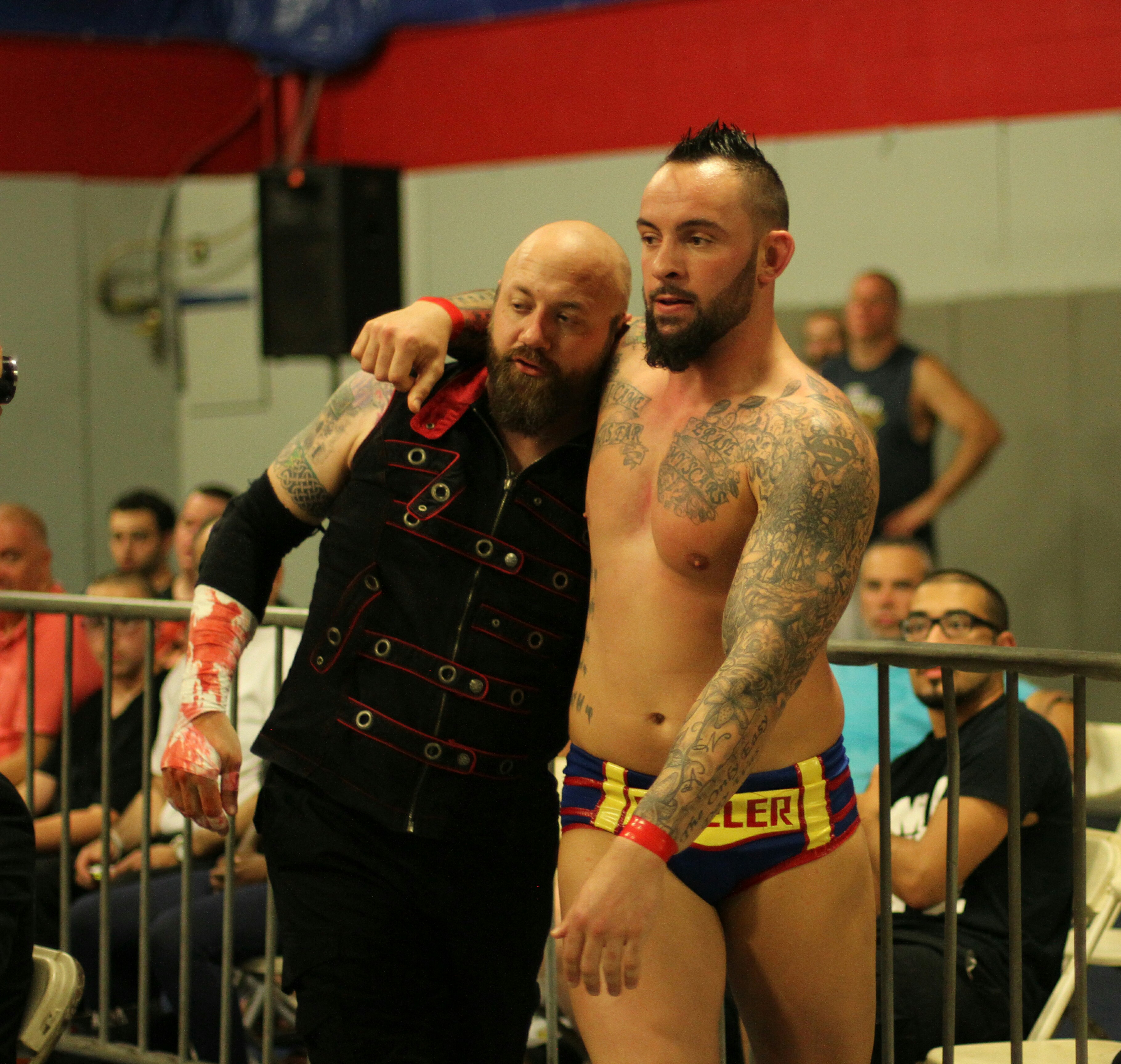 One Night only (Gangone and Marq Quen) vs. Smiley & Mike Law: This match was a solid up-tempo, athletic and high flying match. Both teams had a solid round of back and forth offense, which saw Smiley and Quen put on their usual captivating athletic move set respectively. This match was most likely the most unpredictable match of the night since neither team was able to get a clear upper hand or go on a solid offensive run for the win. By the end of the match One Night Only was able to get the pinfall after Quen sent Smiley to the outside and Gangone leveled Mike Law with a strange must see Standing Knee Strike to the face variation.
John Cannon w/Abdul Nasir v Chris Steeler: Cannon took on Steeler in a regular one fall match, which was pretty evenly contested. Both competitors came out ready to fight by trading punches early, but Steeler's tough hard nose wrestling style gave him the advantage when the action spilled to the outside. When the action returned to the ring, after a couple of exchanges between the men Cannon got control and was able to get Steeler into the Tequila Sunrise submission hold. Steeler looked close to tapping out but was able to get himself out of the hold. Steeler would eventually get the upper hand after a hard Super Kick to Cannon, but sensing the end was near Nasir decided to get himself involved and cause a distraction for the ref and Steeler. The distraction allowed Cannon to gather himself and use a retractable baton to knock out Steeler and walk away with the pinfall victory.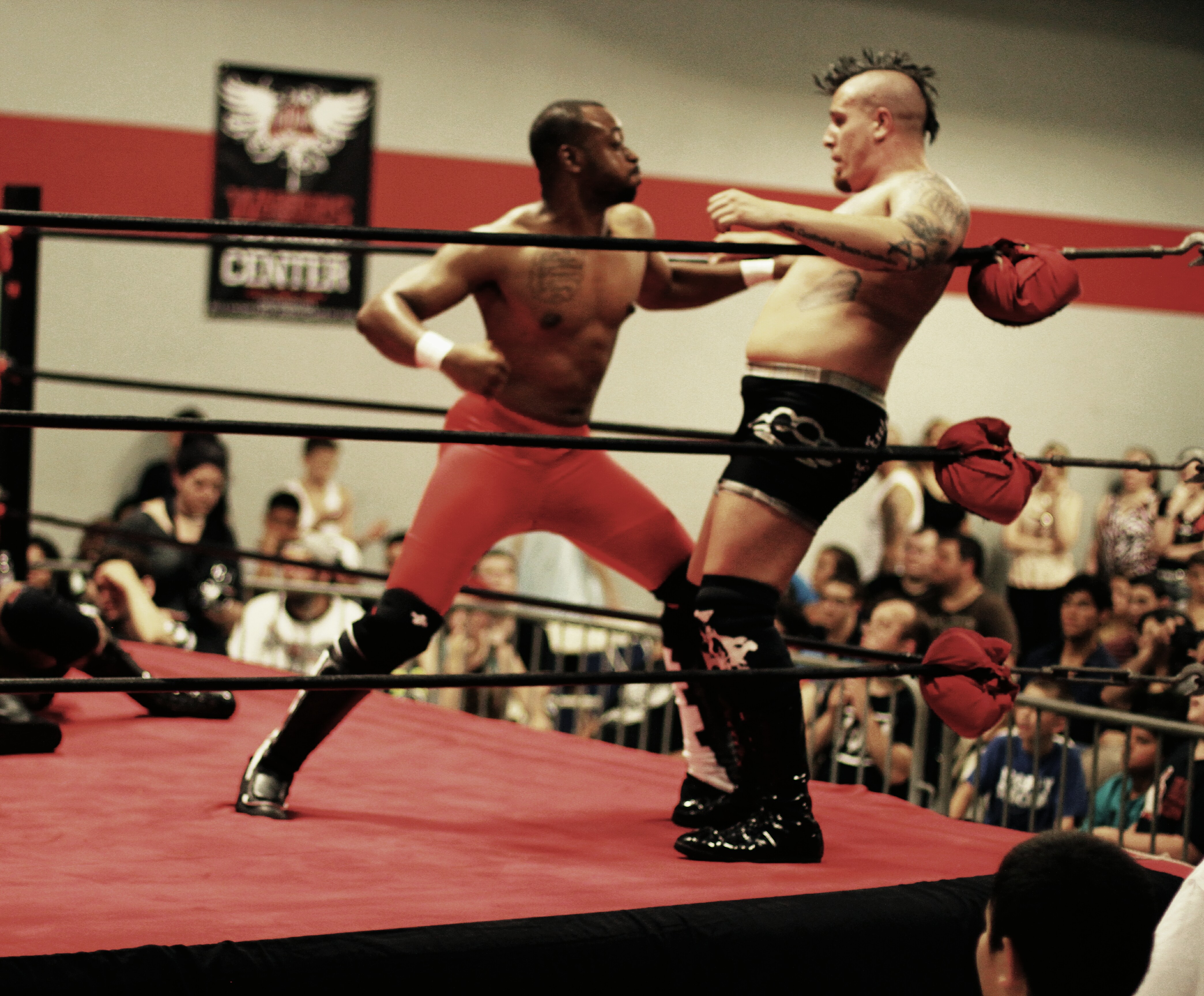 Macintosh vs. Login Black vs. WOW No Limit's Champion Joey Ace vs ICW World Champion Drew Galloway (Two-Fall title match): This match was a two falls title match for both the WOW No limit's title and ICW World title. The first Fall would be for the No Limit's title and the second fall would be for the ICW title. The last time Macintosh, Black and Ace met, these three competitors put on one of the best matches this year in Warriors of Wrestling so adding former WWE superstar, current TNA talent and ICW World Champion Drew Galloway to the mix only made things even more dynamic. The match started with the isolation and expelling of Macintosh to the outside. The 6-foot 5-inch Galloway towered over his opponents and dominated early, but Ace, Black, and Macintosh were able to get back into the mix with some solid offense of their own. Ace was able to capture the first fall and retain his No Limit's title after delivering the Savage Elbow Drop to Macintosh after a corner three man suplex combo from Galloway, Black and Macintosh whom took most of the damage. The match continued further building momentum as all four men battled it out on the outside. Galloway took Macintosh into the crowd and got the fans involved by having them hold his arms while delivering some hard knife hand chops to his chest. When the action finally returned to the ring Black and Galloway was eventually the only two left standing. The two battled it out until Black got the advantage over Galloway. When Black was ready to put Galloway away with a top rope maneuver, J George came out and nailed him in the head with a speakerphone and retreated to the back. Gallowayunaware of what had happened then used his signature Double Arm DDT for the win to retain his ICW title.
The Ultimate Survival Match (WOW Number One Contender's match): The main event of the show was the Ultimate Survival, which was a WWE Royal Rumble style match. Much like the WWE Rumble, the Ultimate Survival was exciting, eventful and entertaining with a number of comedy spots which included a Dusty Rhodes tribute spot by Scotty Priest and Dirtbag Dan. The final two in the match were the number one entrant Darius Carter and Joey B who entered at number five. Joey B was able to win the rumble to the crowd's surprise by giving Carter two Stunners and a Clothesline over the top ropes for the elimination , making him the new number one contender for the Warriors of Wrestling Heavyweight title. After the match his victory was short lived when Jasin Karloff came out to assault Joey and gave him a Brainbuster onto a chair much like he did Riley the month before. The assault left Joey laying in the center of the ring motionless until the medical staff was able to come in and give him medical attention
Photos by Sulaiman Larokko