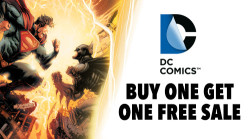 The holidays are upon us, so, you know what that means: Deals.
Hopefully you survived the zombie apocalypse that is Black Friday shopping and didn't blow all of your money on home appliances that'll sit on top of the kitchen shelf until you decide to give them away when you buy the updated one at next year's human stampede – if you did not waste all of your coin, comiXology has some pretty dope deals going on Cyber Monday.
The digital comics platform is having a buy one, get on free sale on all DC and Vertigo titles released digitally before Sept. 1st of this year. Use the code DCBOGO to cash in on the sale.
comiXology's Cyber Monday deals do not just end at DC titles, the platform will also have  30 Dark Horse trades for $2.99 each, $2.00 off 10 VIZ titles and Marvel X-Men & the Black Vortex  on sale.
Here is a full rundown of comiXology's Cyber Monday:
Cyber Monday:
DC Comics Buy One, Get One Free Sale – Use promo code DCBOGO at checkout
Dark Horse Sale – 30 trades for $3.00 each
Alien vs. Predator: Fire and Stone
Aliens: Fire and Stone
ApocalyptiGirl: An Aria for the End Times
Avatar: The Last Airbender – Smoke and Shadow Part One
Archie vs Predator
Big Guy and Rusty
Conan Red Sonja
Courageous Princess Vol 1
Drug and Drop Vol 1
EI8HT Vol 1: Outcast
Ghost Fleet Vol 1 Deadhead
Green River Killer
Halo: Escalation Volume
Heart in a Box
Hellboy and the B.P.R.D: 1952
How to Pass as Human
Lady Killer
Predator: Fire and Stone
Prometheus: Fire and Stone
Plants vs. Zombies: Bully For You
Rat God
           
Rexodus
Serenity: Leaves on the Wind
The Goon Vol 14: Occasion of Revenge
The New Deal
The Witcher: Vol 2 – Fox Children
Tomb Raider Vol 1 : Season of the Witch
Veda: Assembly Required
Buffy: Season Ten Vol 1 : New Rules
BloodC Vol 1
VIZ Sale – 10 volumes for $4.99 each
My Hero Academia Vol 1
Assassination Classroom Vol 1
Ultraman Vol 1
Twin Star Exorcists Vol 1
Tokyo Ghoul Vol 1
Time Killers Vol 1
Demon Prince Momochi House Vol 1
Kiss of the Rose Princess Vol 1
My Love Story! Vol 1
Spell of Desire Vol 1
Marvel X-Men & The Black Vortex Sale 
The Black Vortex Alpha #1
Guardians of the Galaxy #24-25
Legendary Star-Lord #1-11
All-New X-Men #38-39
Guardians Team-Up #1-3
Nova #28
Cyclops #12
Captain Marvel #14
The Black Vortex Omega #1