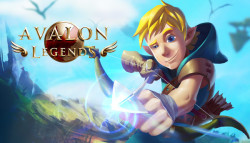 Review Fix chats with the developers from Kick9, who discuss the development process behind their new mobile action-RPG "Avalon Legends." After a ton of success in China, the game is primed to make its debut in the United States, with feature and updates to take the rich character-customization to even more unique levels.
Review Fix: What has the development process been like?
The development process has been both an incredible experience and challenging at times. As a team being able to work together to create a solid game with so many fun and engaging elements was no easy task. We put in many long days and nights on the project and came across many challenges but in the end we all really love the final product and are proud of how it turned out and we hope the players all love and enjoy the game as much as we do.
Review Fix: What inspired the game's art style?
We are big fans of role playing games and Japanese anime which really came across in the art style of Avalon.
Review Fix: What games did you play as a kid and how did they impact this one?
We were all big fans of role playing games when we were younger. Being able to take all the best elements of the games we loved and put them together into one single gameplay experience has been a great experience.
Review Fix: Did the success in China make it easier to bring the game elsewhere?
I'd like to think that the game stands by itself as a strong action RPG although the success in China definitely helped.
Review Fix: What do you think makes this game so special?
The deep character customization really makes the game special. Being able to customize your hero as many ways as you can really give the player the ability to play their hero as they want, which is very unique. Most games in this genre really guide the players along their characters growth tree but in Avalon the player really has the choice of how they want to build their hero. No two heroes are the same.
Review Fix: How would you like this game to be remembered?
We would like the game to be remembered for its multiplayer raid system. We love what we have built and the ability to allow players to take the heroes they have customized and battle with each other against greater foes is a very immersive, fun, and engaging experience that will hold up to the test of time.
Review Fix: Bottom Line, Why should someone pick this up?
If you're a fan or action RPGs then this is definitely the game for you. Our team's favorite feature is the multiplayer boss dungeons and challenges. They are a ton of fun and a great challenge for even the most hard core of gamers.
Review Fix: What's next?
There is a lot in store for Avalon. We're working hard on releasing new features, events, story content, raids and other content for our players and can't wait to be able to share them with our community.
This slideshow requires JavaScript.