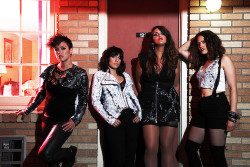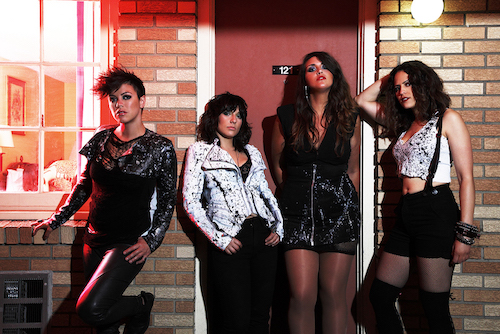 Review Fix chats with Kiyomi Valentine and Laura Petracca of Hunter Valentine, who discuss the band's new EP, "The Pledge." Chatting about their origin and goals for the future, Valentine and Petracca give us an inside look at what makes the band special and how 2016 could be their breakout year.
For more information on the band, click here.

Review Fix: How did the band get together?
Kiyomi Valentine: Laura always has the more accurate answer when it comes to timelines, but I think we are 11 years and running.
Laura Petracca: There's a long and a short version. The short version is that  Kiyomi and I met in a dark bar back in 2003 and after a year of playing music with the boys, we became an all-girl rock outfit in the spring of 2004 and haven't looked back.
Review Fix: What's the band's creative process like?
Valentine: It's pretty different for every song. I like to write a lot on my own and then bring songs to the table for the band to arrange. Laura is a great writer as well and even better arranger. There was a big writing collaboration this record between Lisa Bianco and I this time around. I enjoy using working with other people because it keeps you on your toes to try fresh ideas and different perspective.
Review Fix: What are your goals for this EP?
Valentine: To Bring out the biggest crowds yet for our last tours. We would also love to get it in the hands of whoever dug Hunter Valentine over the years and for new fans to buy this record and have them end up buying every record we ever made.
Petracca: My goals are to get this album in the hands of everyone that's been an HV fan, in the hands of people that have never heard of HV and to play to the biggest crowds yet. I really want to go out with a bang.
Review Fix: What's the standout song on the EP? How was it written?
Valentine: My favorite song is the title track, "The Pledge". This process was really unique to us. Bianco and I wrote the song on acoustic guitars and then brought it to our producer Tom Thacker. Tom had the idea of breaking the entire song down with just piano. It changed the whole direction of the song and really showcased the melodies that were written.
Petracca: My favorite is also The Pledge. Once Lisa, Kiyomi and Tom worked their magic, I stepped in and helped arrange drum parts, added harmonies and a few strings… what a heart wrencher, the song made my roommate cry the first time she heard it.
Review Fix: How do you want this EP to be remembered?
Valentine: We want it to be remembered as our final masterpiece! Kidding. We want people to listen to this e.p and think, "wow, this band really loved what they did for the last 11 years and are going out on a high." Some bands wait until things get stale and they can't stand what they are doing anymore. We love the music, we love other and we love Hunter Valentine. We just know that there are other things for us to explore right now. This band will always be a part of us.
Review Fix: What's next?
Valentine: I am going to be focusing on my solo project and just write my ass off in the next year. My favorite thing to do is songwriting, so I'm going to continue to write for me and other artists. Laura is going to go back to her roots and focus on her career as a chef. Leanne is playing with a bunch of different bands already and lives for touring as a bass player. Lisa is still stuck with me writing songs and is always out and about playing the guitar, keys, flute or accordion!
Petracca: Everyone else is staying in the music business and are going to make another mark, and I'm almost 100% positive, I'll be playing their music loud in my car! I, on the other hand, am going back, with a vengeance, to the food industry. I hope to be the next best, wherever I end up.