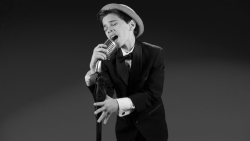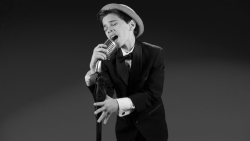 Review Fix chats with 12-year-old musical sensation Christian Lalama, who discusses his future in the industry and love of everything music. A YouTube sensation, Lalama is now working with acclaimed producer David Kahne and has more than a handful of original tracks set for release early next year.
More About Christian Lalama:

Lalama began playing the piano at 4 and from that age has performed solo and as a member of various bands.  At 10 he won the keyboard position in the Q107.1 radio contest for the Kid Mitchell Band and was featured on YTV & has been recording non-stop ever since.  From covers that you can find on YouTube, to a full album of originals that you can find on SoundCloud. he's been working with producer extraordinaire David Kahne (Paul McCartney, Sublime, The Strokes, Sugar Ray, Stevie Nicks, Tony Bennett, Miley Cyrus, Kelly Clarkson and many more.)
Review Fix: How did your love of piano begin?
Christian Lalama: I don't remember not playing the piano. I've been taking lessons since I was 3 or 4 and I jam every week with my uncle Mark. He's amazing. He was the piano player for Canadian Idol and a bunch of great bands. He shows me the really fun stuff that I don't learn at piano lessons.
Review Fix: How have your parents played a role in your success?
Lalama: My dad and his entire family are musicians so we always had lots of instruments around. My grandfather is 86 and still does gigs playing sax in an orchestra. My dad records me in his studio. My parents used to take me out of school for drums & guitar lessons. Our house is loud.
Review Fix: What are your goals in music?
Lalama: To keep getting better.
Review Fix: What are your original tracks like?
Lalama: Some are fun and happy and some are very sad and emotional.
Review Fix: Who are your musical idols?
Lalama: Billy Joel, Paul McCartney, Elton John and Bruno Mars.
Review Fix: How do you think your life is different from the average 12-year-old?
Lalama: I definitely spend way more time practicing and playing music than all of my friends and I definitely get less time playing video games. Â I do get to miss more school though recording and shooting videos.
Review Fix: How does it feel to work with David Kahne?
Lalama: Pretty cool. He produces Paul McCartney. It doesn't get any cooler than that.
Review Fix: What's next?
Lalama: I did a cover and video for the Beatles song "Oh Darling." That should be coming out next week sometime. Then I'm heading to Miami to shoot a video for my original song "Gimmie Gimmie."
Check Out Lalama's Cover of Adele's "Hello" Below: