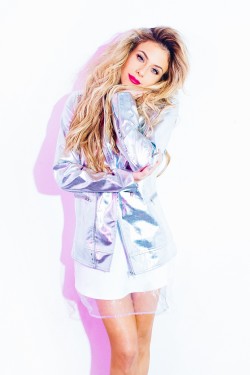 Review Fix chats with singer and dancer Mandy Jiroux, who discusses her new single "Fade Away" and more.
About Mandy Jiroux:
Mandy got her start by choreographing and dancing behind her best friend Miley Cyrus, and the partnership eventually led to the launch of the groundbreaking YouTube channel, "The Miley & Mandy Show."  An immediate sensation, the channel helped solidify the standard vlogging format on YouTube. Their friendly dance competitions led to online battles between their M&M Cru and "Step Up!" director Jon Chu and Adam Sevani's ACDC dance troupe, creating "The Biggest Online Dance Battle," always with a who's who of special guests.
Review Fix: What was it like to work with Duo Reez?
Mandy Jiroux: It's a pleasure working with Reez.  Renze and Siem are great guys who are very passionate and driven. They are super talented, especially for how young they are.
Review Fix: What was your creative process for this track?
Jiroux: Reez had sent me a few tracks to write to and I picked my favorite.  I wrote to it, recorded it, sent it back to them and we all ended up loving the song.
Review Fix: What bands have influenced you and this track the most?
Jiroux: I didn't have a particular band in mind when writing the song. I had a particular experience in mind which is what made the song come to life.
Review Fix: What's the LA music scene like? How do you think it influences your sound?
Jiroux: I'm not influenced by a particular LA music scene sound.  I just know what I like and what I don't like.  When the song I'm recording makes me feel a certain way… a feeling I get in my gut, that's when I know it's right. Sounds corny, but it's true.
Review Fix: What do you think makes this song special?
Jiroux: I wrote the song about someone special.  I wrote it about a particular night that I had experienced just the night before I wrote it.  Every time I listen to the song, I flashback to that particular night and that's what makes it special to me.
Review Fix: What's next?
Jiroux: I'm recording, dancing, traveling, filming for different types of shoots.  I will also be releasing more music soon, features and originals.  I have a lot to look forward to and I'm thankful for that.