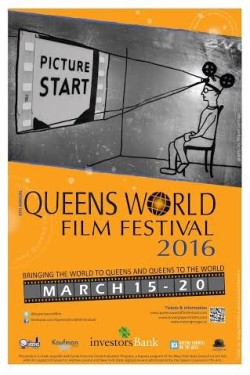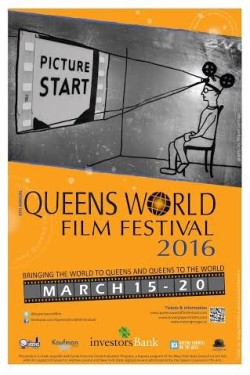 Review Fix chats with Queens World Film Festival director Katha Cato, who discusses this year's event and what makes it a special one for film lovers from not only Queens and New York City but in the North East as well.
Review Fix: What makes this year's festival different?
Katha Cato: We are bigger! We have expanded our relationship with Museum of the Moving Image and will be screening films there all week long. We are opening there on March 15 with an excellent taste of what is to be expected from QWFF festival week, then we follow up with Sweet Sweetback's BadassSong with the legendary Melvin Van Peebles on hand to discuss this incredibly challenging, groundbreaking work that he produced in 1972 and end the week with Smithereens from Susan Seidelman, the first indie film that was invited to Cannes in competition and she pioneered the way for women to direct on TV and went on to direct the pilot of Sex and the City.
We have also expanded into Sunnyside this year, giving us a footprint in that wonderful community for the first time. We are in MoMI (Astoria) the Secret theatre (LIC) PS 69 (Jackson Heights) and the All Saints' Episcopal Church (sunnyside)
We have more films – last year we screened 117 films, this year we are doing 144 films from 23 nations and we have fallen in love with all of them. We are happy to tell you that we are screening 29 films from local filmmakers, and 40 films were directed by women. We are inclusive and when you look at the faces of the volunteer Festival Associates and the roster of films, you will see that we represent the global community.
Review Fix: How have the past five festivals played a role in this one?
Cato: The thematic programming that our Artistic Director Don Cato has perfected really creates a great screening atmosphere. By grouping films together around a theme creates an event that attracts all the right people to the films screened within the block. This year we have grouped the films in over 50 themed BLOCKS, they are all named and they all have a Moderator who will host the screening and we think that this year we have really hit our stride on that element.
We have built up a group of projectionists, moderators, venue managers who are committed to making this a festival that everyone in the borough can be proud of. We have a strong, seasoned group and we are ready to welcome the world to queens and to make sure that everyone has a great experience with us.
We have also built a strong reputation with the international filmmakers who send us their work, their art. They have so many festivals all over the world that they could submit to, so when they choose ours, it is an honor. The films this year are incredible and reflect a fine degree of craftsmanship, skill and professionalism. We like to believe that is because we have developed a reputation for honoring good work and screening it well to appreciative audiences in a welcoming borough!!
Review Fix: What has the prep been like for this year's festival?
Cato: We work year round. Every day, all day. We host encore screenings all over Queens, building audiences, introducing the festival to new neighborhoods, finding new filmmakers. We open submissions in May and as the films come in, we log them in, have them screened, log in the comments, the scores. We hold screening sessions with our screening committee. When the selections have been made – and this year we had 551 submissions and took 144 films – the real intense work steps up: programming, digitizing the films, creating the drives, the reels, the loops, the press releases, the website with a page for every single film and then producing the show, producing all of the screenings with signage, programs, tablecloths, tables, projectionists, people, the films, the filmmakers and YOU!!!  It is a lot of work.
Review Fix: What are some of the films you're really excited about?
Cato: I can honestly say that all 55 Blocks have something that is worth the experience. I am particularly knocked out by the Animated films – no matter what block they are in you will not be disappointed.
I would have to say that I am particularly proud of the films included in the Family Friendly block of films on Sunday, March 20, 12:30 at PS 69 in Jackson Heights, featuring 6 films that take you literally around the world from Singapore to Germany to Buenos Aries to Australia and back to the USA. There are two references to the street name of Dog Poop in the piece from Buenos Aries, so we caution parents about that, but the films are wonderful and we hope families will come out to experience an alternative to the loud and noisier films about gigantic robots or magical princesses that could never ever really exist.
Here is a code to reduce the adult tickets for all films at PS 69 only – taking them from $12 to $10:Â QWFF6
http://www.brownpapertickets.com/event/2494107
Review Fix: How does it feel to be honoring Melvin Van Peebles?
Cato: He is a maverick, a brilliant, brilliant artist who has walked his own path. He has always been aware and respectful of the responsibility of his talent….he produces great work in no matter what medium he works in – paint, music, short story, film – Â he taps into this extremely real and truthful place and takes everyone else with him. It is gigantic that we are bringing his work to MoMI and sharing it with young filmmakers. It is a flat out honor and we are thrilled.
Review Fix: Anything else you'd like to add?
Cato: This is an incredible event and we are so lucky to be involved. The experience of presenting these films, these blocks, these filmmakers is heady and exciting. The entire week will have parties, gatherings, conversations and screenings from incredible work from around the work….and around the corner.