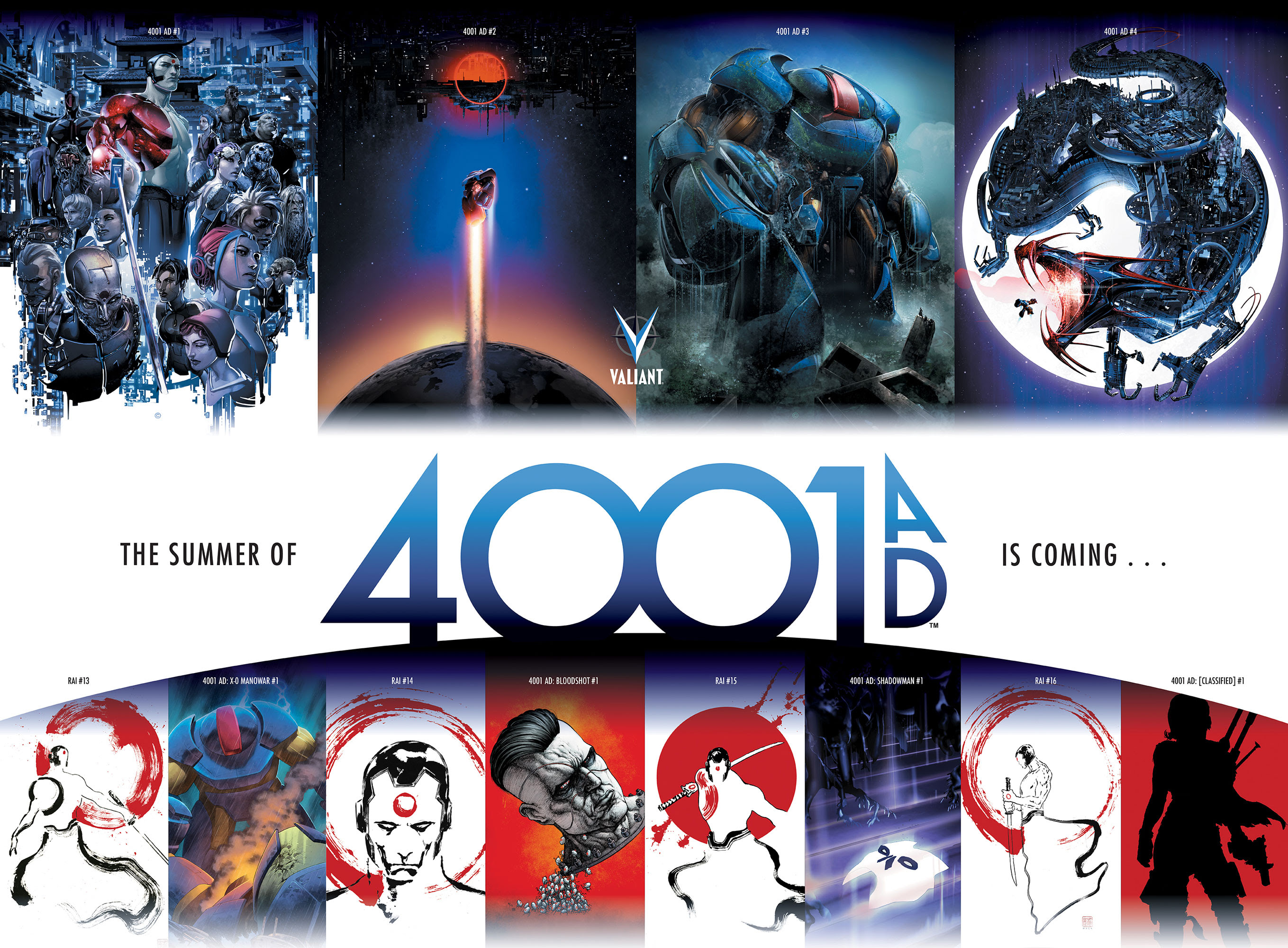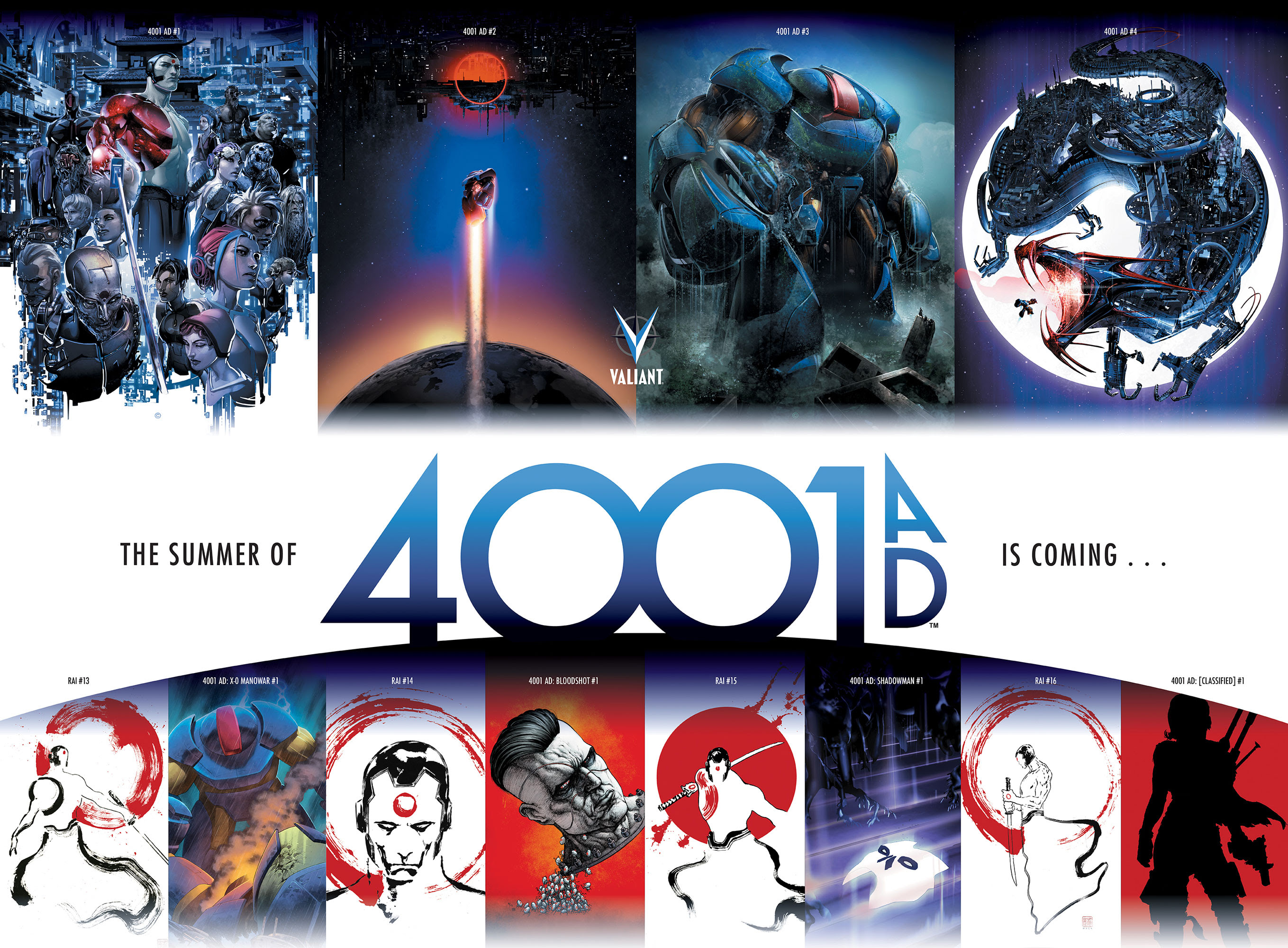 Valiant is proud to announce "THE SUMMER OF 4001 A.D." – a blockbuster new slate of series and one-shots expanding out of the year's most ambitious crossover event! Encompassing the core 4001 A.D. event, the return of Valiant's acclaimed RAI ongoing series, and four all-new one-shots revealing the future incarnations of the Valiant Universe's most iconic heroes, "THE SUMMER OF 4001 A.D." is the biggest and most visionary Valiant event to date – and a perfect introduction to the largest independent superhero universe in comics today.
"From HARBINGER WARS to ARMOR HUNTERS and, most recently, BOOK OF DEATH, Valiant has quickly earned a reputation for producing some of the best and most accessible event comics anywhere in the industry. Now, with 4001 A.D., our writers, artists, and editors has made it their mission to not only match our previous successes in event-level storytelling, but surpass them entirely," said Valiant Editor-in-Chief Warren Simons. "Matt Kindt and Clayton Crain have done a wondrous job of making 4001 A.D.a complete world unto itself – one that is packed with lost heroes, 100-foot-tall suits of sentient alien armor, and city-sized robots floating on the edge of space."
The fight for the future begins on May 4th in 4001 A.D. #1 (of 4) – the FIRST ISSUE of the all-new, standalone event series following Rai and the 41st century's most formidable heroes into the fight against New Japan from New York times best-selling writer Matt Kindt (DIVINITY II) and superstar artistClayton Crain (RAI)!
Then, "THE SUMMER OF 4001 A.D." explodes out of the pages of 4001 A.D. #1 (of 4) with the return of Rai's award-winning ongoing series in RAI #13 – the FIRST ISSUE of an ALL-NEW JUMPING-ON POINT revealing the origin of New Japan and its very first guardian! Discover the secrets behind 4001 A.D. here as New York Times best-selling writer Matt Kindt (Mind MGMT) and acclaimed artistCAFU (UNITY) unearth the answers that have eluded mankind for nearly two millennia. How did New Japan come to orbit Earth?  Who created Father? And what happened to the nine previous Rai that once swore allegiance to his empire?
Plus: "THE SUMMER OF 4001 A.D." escalates even further as an all-star cast of superstar talents come aboard to reveal what the 41st century holds for Valiant's most iconic heroes in a new series of four indispensable one-shots! Featuring X-O Manowar, Bloodshot, Shadowman, and the debut of an all-new, top-secret character with a crucial tie to the present and future of the Valiant Universe, "THE SUMMER OF 4001 A.D." erupts into full force here with four new chapters from Valiant's most acclaimed creators:
4001 A.D.: X-O MANOWAR #1
Written by Robert Venditti (BOOK OF DEATH); Art by Clayton Henry (HARBINGER WARS)
Coming in May
4001 A.D.: BLOODSHOT #1
Written by Jeff Lemire (BLOODSHOT REBORN); Art by Doug Braithwaite (ARMOR HUNTERS)
Coming in June
4001 A.D.: SHADOWMAN #1
Written by Jody Houser (FAITH) & Rafer Roberts (A&A: THE ADVENTURES OF ARCHER & ARMSTRONG); Art by Robert Gill (BOOK OF DEATH)
Coming in July
4001 A.D.: [CLASSIFIED] #1
Written by [CLASSIFIED]; Art by [CLASSIFIED]
Coming in August
Each of chapter of "THE SUMMER OF THE 4001 A.D." is designed for maximum accessibility and can be read in concert with the core 4001 A.D. series or stand on its own for a centuries-spanning vision of the future.
"The Valiant Universe has always spanned multiple time periods, not just the present. But perhaps more so than anywhere we've explored thus far, the future of 4001 A.D. is loaded with exciting developments for Valiant's most beloved characters – many of which we've been planning for years," said Valiant CEO & Chief Creative Officer Dinesh Shamdasani. "Now, for the first time, 'THE SUMMER OF 4001 A.D.' is giving us the opportunity to build on the revelations at the heart of last summer's BOOK OF DEATHevent and reveal the true and lasting impact that our heroes' modern-day exploits will have on the course of human history. From RAI to X-O MANOWAR to BLOODSHOT to SHADOWMAN, each of these new installments of 4001 A.D. will cover a sometimes shocking, sometimes poignant, but always vitally important milestone moment that informs the ongoing narrative behind Matt and Clayton's epic series. Which is to say nothing of the top-secret new character that will appear in the fourth and final4001 A.D. one-shot – they are truly something special and are going to leave our longtime fans speculating for a long, long time."
One hundred years from today, Father – the benevolent artificial intelligence that governs the island nation of Japan – will gain sentience. To defend its borders, Father will take drastic action by launching Japan into space…where its people can thrive in isolation, away from the overpopulated and resource-deprived planet below. Over the centuries, as New Japan orbits our increasingly unstable world, it will become a model society – one built on peace, prosperity…and Father's control.
A thousand years from today, Father will create the first Rai, founding a lineage of technologically enhanced heroes engineered to defend New Japan and sworn to protect it from all enemies. For hundreds of years into the future, the Rai will single-handedly enforce New Japan's justice well…and serve Father without question.
Now, at the dawn of 4001 A.D., the latest Rai is about to inherit the dark truth behind the origin of his kind…and discover the sinister secret at the heart of Father's existence. For New Japan to live, Earth must die…and as Rai challenges his former master for the first time in more than a millennium, the lone guardian of New Japan will be cast out of his own Father's kingdom…
Exiled from the only realm he's ever known, Rai now walks the ravaged world of 4001 A.D. in search of forgotten heroes like himself…on a mission to collect the last surviving legends of a broken planet…and to forge a rebellion with the power to bring the most advanced civilization in history crashing back down to Earth.
Earth must rise. Father must fall. Rai! Eternal Warrior! X-O Manowar! Bloodshot! Shadowman! Geomancer! And more! The war for the ultimate fate of humanity begins in 4001 A.D. #1 (of 4) by superstar creators Matt Kindt and Clayton Crain – and continues in May and beyond as "THE SUMMER OF 4001 A.D." rages on…and changes the future of the Valiant Universe for all time!
For more information, visit Valiant on Facebook, Twitter, Tumblr, Instagram, and at ValiantUniverse.com.