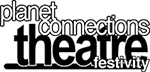 At The Paradise Factory, 64 East 4th Street
Planet Connections Theatre Festivity, New York's premier socially-conscious, eco-friendly arts festival, is back for its eighth season with an exciting lineup featuring 27 plays and 9 staged readings, as well as several special music & film events – including an evening of documentary films.
"We are delighted to once again be presenting a socially topical and eclectic lineup at Planet Connections," said Brock Hill, the Festivity's Producing Artistic Director. "With a slate that includes comedies, classical works, short plays, musicals and one-person shows, we hope to make audiences laugh, touch their hearts, and above all, raise awareness of the many important charities and organizations that our artists support."
Among the shows presented at this year's Planet Connections will be Ambition, a musical about three female serial killers; Father/Daughter, a life or death conversation taking place during a mass shooting; The Pink Hulk, a touching and comedic look at one woman's fight against breast cancer; and The Renaissance Dueling Plays, where short plays and swordplay meet. Off-Off Broadway companies returning to this year's Festivity include Ego Actus, Nylon Fusion Theatre Company, and Rising Sun Performance Company.
All Festivity events will be presented June 13 – July 10, 2016, at The Paradise Factory, located at 64 East 4th Street, between 2nd Avenue and The Bowery. A complete lineup of shows will be released shortly.
Planet Connections Theatre Festivity is designed to invoke the power of art in motivating philanthropy, community outreach and social change. Within the Festivity are multiple theater, film and music festivals. The Festivity is also the country's first eco-friendly arts festivity as their participating artists work to create eco-conscious art by revising their marketing, design and rehearsal techniques. Planet Connections artists are introduced to a community of like-minded theater makers, film makers and music makers as they raise awareness for an organization or cause of their own selection. The relationships formed during the Festivity allow artists to find new audiences and forge new partnerships.
Since its inception, Planet Connections has presented 233 full theater productions and 86 staged readings. 300 charities have benefited from Planet Connections artists. The Festivity has been featured on the Sundance Channel, NY1, The New York Times, and NBC.
Tickets to all Planet Connections shows are $18.00 and can be purchased through the Planet Connections website at www.planetconnections.org.