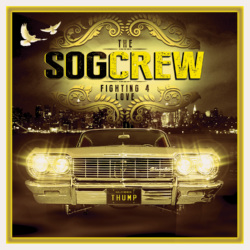 Review Fix chats with Dr. Robert Ornelas , who discusses the S.O.G Crew's new album and track "Fighting 4 Love."
About the S.O.G. Crew:

The S.O.G Crew (Sons of God) is a Hip-Hop group based out of Anaheim, CA that has been around since the late 90's. They have performed at schools, prisons, rehabs, churches, night clubs, community events, featured in movies and so much more while on this journey of musical revolution inspiring the masses along the way in just about every major city and Native American community in the United States. Of late they have worked in Los Angeles county promoting academics thru creative expressions program successfully using live Hip Hop performances in schools and community presentations to capture the interest of students while delivering positive messages thanks to Thomas Heck and Los Angeles Mayor Eric Garcetti. By cooperating in a joint effort they have managed to reduce the crime in communities with high crime and violence. When they are not rescuing communities from the hard urban issues you can find them empowering and sponsoring young ladies in pageantry thanks to Miss NOHO Productions Inc. Amanda Lee Wasvary and Tara Rice founder of the Miss West Coast Pageant.
Review Fix: What was the creative process of this album?
Dr. Robert Ornelas: We brought in Greg Leonti to create dance music for us. The Los Angeles Unified School District had opened up to us in a huge way so we needed the dance music to capture the younger generation within a few minutes of our performance getting entire schools to jump up and down. Tito Rodriguez (Snoop Dogg) was brought in as an anchor to help give us the strength and support that we needed to make this project solid for a long time to come. Geoff Gibbs (The Game, Bone Thugs-n-Harmony, Michael Jackson) has mixed some of the biggest names in the industry and having him work with us was a complete honor. Big Bottom Bob Lanzner (Bob Marley, Snoop Dogg, Michael Jackson) from Technovoice Mastering added his style to our project. I recently got word that Big Bottom Bob Lanzner just finished working on Dr. Dre's new project. 
This album took five years to make. We have been touring for years averaging 150 events throughout the country each year. We wanted to take our time making music that had meaning for us. God had given us the ability to paint a picture with our music of things that we have been experiencing of late. The challenge was to be clear of our ideas of principles and values over relevant music with the purpose of expressing our statements of faith. This album has Hip Hop, Rock, Reggae, Latin and Dance styles making this a fun project to work on. 
Review Fix: What kind of music did you grow up on? How did it influence you?
Ornelas: I grew up enjoying many different styles of music. As a kid in Long Beach I grew up with strong Hip Hop, Oldies and Funk influences. My dad always had Classic Rock playing in the car with groups like Led Zeppelin, Beatles, Elton John, Steve Miller Band and Eagles. My uncles would cruise their Lowrider Cars bumping Reggae Music full blast in my ears with Bob Marley and Steele Pulse as my favorites. Wow, those were the days. I used all those styles of music to help me win numerous talent shows growing up. 
My mother remarried into a family out of the North Orange County. That entire family was involved in a local band named Placer that would perform every weekend at weddings, birthdays, quinceañeras and most events in our community. They would play popular Latin songs including songs from Texas Tornados. That band inspired my little brother and I to start our own garage band with our friends that we grew up with. 
Review Fix: How was "Fighting 4 Love" written?
Ornelas: We started writing Fighting 4 Love in 2012 the year that I ran for Vice President of the United States. One song at a time was our formula because of our heavy travels, political involvement and community advocacy. Above everything I was involved in, God and family were my top priorities. It took commitments from our entire team and producers to make music during hours when most people are home sleeping. We would make the beat, write to the words, record vocals then send to get mixed. We would finish songs before starting new ones.
For years we always had original members Johnny Diaz, Lyrical Shine, DJ Siren, Krista Rocha, Lezette Garza and Robbie "Little Battle Ax" Ornelas in the studio working hard. Towards the end of finishing this album new SOG members Esther Escobedo, Dez Lewis, Joshua Lopez, Ray Speakmoore, Hapizzez, J Biz, Arlizzy, J5, Justin DeWolfe and Big Smooth Luis Cruz helped push this project over the hump to make sure deadlines were met. 
Review Fix: How is the sound here different from your previous work?
Ornelas: We are finally at a place where we can reach all people with our set. We strategically created music for the islands, the west, east, south, urban and mature communities. Our sound is different because our new album is aligned with a new message. Rise 2 Get Down (2003) was our message of rising from the ashes. Up That Game (2007) was a message to ourselves to take it to the next level or not to do it at all. Where Legends Are Born (2011) was a reminder for us to be the servants of all. Our Fighting 4 Love (2016) is definitely a message of hope to all our faithful S.O.G. Crew following and to all of our recent fans. 
Review Fix: Bottom line, why should someone check out this album?
Ornelas: People should check out our music because of the consistency. We have committed our lives to presenting the best possible music to music lovers that are hungry for a fresh journey. We have been spending years developing the next generation of S.O.G. Crew music. With almost 20 years in the music game it looks like our family will have the opportunity to entertain fans for many more years to come. People should check out our new album because I believe it will inspire all to create a legacy of their own. 
Review Fix: What's next?
Ornelas: Our new Fighting 4 Love Album will be released on may 20, 2016 distributed through Thump Records/ Universal Music Group digitally with hard copies at 7-Eleven franchise and wherever Lowrider Music is sold.
Pursuant to state law, Secretary of State Alex Padilla released list with Robert Ornelas as a recognized candidate placed on the June 7, 2016, Presidential Primary Election ballot in California.
Upcoming Events:
May 14­ – Battle Ax and EliteTV News – Denver, CO
May 15­ – Battle Ax and EliteTV News – Denver, CO
May 20 – Dez Lewis Event – Pima Nation
May 29­ – Jaycob Ornelas Graduation ­ Orange, CA
Jun 4 – East Lake Juvinile Hall – Los Angeles, CA
Jun 7 – Presidential Primary Election
June 11 – Ruby Martinez Event – Pueblo, CO
June 24 – Memorial Event – Sisseton, SD
June 25 – Memorial Event – Sisseton, SD
Jul 9 – Victory Outreach Car Show – Riverside, CA
Jul 15 – Jim Felix Honoring – Whiteriver, AZ
Jul 23 – Camp Meeting – Redding, CA
Jul 24 – Camp Meeting – Redding, CA
Jul 25 – Camp Meeting – Redding, CA
Jul 29­ – S.O.G. Crew at Heaven Fest at Bandimere Speedway ­ Morrison, CnO
Jul 30­ – S.O.G. Crew at Heaven Fest at Bandimere Speedway ­ Morrison, CO
Aug 5 – Victory Outreach – Sacramento, CA
Aug 6- Battle Ax Concert and Outreach – Oroville, CA
Oct 15 – Dez Lewis, Battle Ax and Big Smooth at Lowrider Gospel Fest – Phoenix, AZ