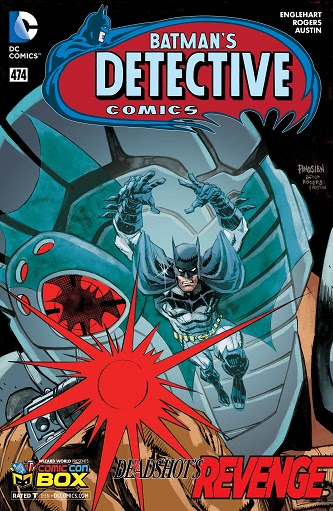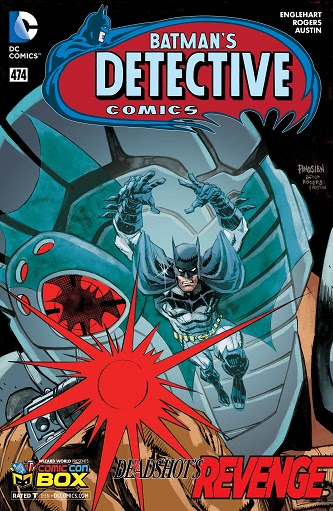 Wizard World, Inc. (OTCBB: WIZD) and Marvel have announced that the "Detective Comics #474″ with variant cover by Dan Panosian, an issue which marks the first appearance of "Deadshot," will be included in the July ComicConBoxâ"¢. Monthly subscribers will receive the color variant cover while new subscribers can select a virgin cover edition as a gift, available only through ComicConBox.
After the Batman and Robin have put the Penguin behind bars, they split ways as Robin goes back to college. In prison the Penguin brags to Floyd Lawton/Deadshot how he is about to escape again. He is about to demonstrate with his laser lens monocle, when Floyd suddenly grabs it from the Penguin and cuts a hole in his prison cell wall and escapes. The Batman visits Boss Thorne to end the "cease and desist order"put on him. Then the Ghost of Hugo Strange visits Boss Thorne for a second time.
Bruce Wayne and Silver St. Cloud have a lunch date and bump into Commissioner Gordon at Gotham's Exhibition Hall (where Silver works) when they learn of Deadshot's escape and is bent on killing the Batman. That evening while the Batman is on patrol a bullet whizzes by just missing him. The Batman chases Deadshot which ends at Gotham Exhibition Hall and captures him in a giant typewriter there.Silver is still there working late and witnesses the battle. She calls out to the Batman. He turns and they have a moment of recognition. Silver then realizes that Bruce Wayne is the Batman.
Panosian is a graphic designer who specializes in comic books, advertising and storyboards based in Los Angeles. He has worked on dozens of titles, including Marvel's Thor, Uncanny X-Men, Wolverine, Iron Man, Incredible Hulk and many others, and Image Comics books WitchBlade, Prophet, Cyberforce and more.
ComicConBoxâ"¢ packages will be sent to U.S. members on or around the first week of each month.
Fans can join ComicConBoxâ"¢ at http://ComicConBox.com and can interact with the service on Facebook, Twitter, Instagram, Pinterest and other social media outlets as well as via email at Support@ComicConBox.com .
About Wizard World Presents ComicConBoxâ"¢
Wizard World Presents ComicConBoxâ"¢ (http://ComicConBox.com ) is a premium subscription-based monthly box service, featuring collectibles, exclusives, toys, tech and gaming, licensed artwork, superior comics and apparel, Wizard World Comic Con tickets, special VIP discounts and more. Boxes ship to U.S. members on or around the first week of each month and also feature Epic Grand Prizes in random packages.
About Wizard World (OTCBB: WIZD)
Wizard World, Inc. (www.wizardworld.com ) produces comic cons and pop culture conventions across North America that celebrate the best in pop-fi, pop culture, movies, television, cosplay, comics, graphic novels, toys, video gaming, sci-fi, gaming, original art, collectibles, contests and more. A first-class lineup of topical programming takes place at each event, with celebrity Q&A's, comics-themed sessions, costume contests, movie screenings, evening parties and more. Wizard World has also launched Wizard World Store (www.shopwizardworld.com), CONtv, a digital media channel in partnership with leading independent content distributor Cinedigmâ"¢ (NASDAQ: CIDM), and ComicConBoxâ"¢ ( www.comicconbox.com), a premium subscription-based monthly box service. Fans can interact with Wizard World on Facebook, Twitter, Pinterest, Instagram and other social media services.