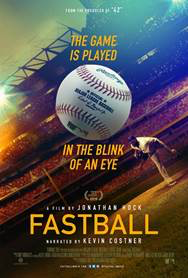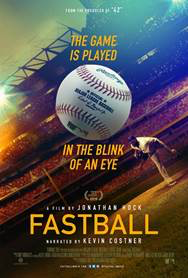 Don't be fooled by the title: there's nothing fast about Jonathan Hock's "Fastball."
The film fades into a hundred-year-old quote from Baseball magazine, which sets the stage for a depiction of the lively debate over the spectacle of the speed of fastballs that we expect will get rolling early on. The viewer will wait ninety minutes to find out that the film is more conversational than informative and more fluff than juice.
When our field of view is sitting shotgun to 2011 Cy Young Award recipient, Justin Verlander, he is driving down a road discussing the time in his life when he started throwing 100mph fastballs.
As he turns into the parking lot, Verlander gets into the idea of sizing himself up against the greats who have come before him. As they pull into the lot on the side of the lake, the viewer is left to wonder what he's there to showcase.
Oh… nothing. Cut to: some ancient tape of a fastball racing a motorcycle.
The one thing the film does have is instant credibility. We see quick flashes of interviews with today's big names like Derek Jeter, and some players of yesteryear, like Rich Gossage, whose fastballs have earned him a place in the hall of fame.
Tales of Gossage's October 2, 1978 playoff face-off with the Boston Red Sox at the fabled Fenway Park finally gives us something to sink our teeth into and restore our patience as we approach the seventh minute.
"[It] was the biggest game I've ever played in," says Gossage. "I remember going to bed the night before the game thinking that I'm probably going to be facing Yaz for the final out."
Illuminating another downfall of "Fastball," you truly need to know some detailed sports history to catch the significance of some of the moments that are described. As it turns out, "Yaz" is Red Sox hall-of-fame left fielder Carl Yastrzemski and a member of the 3,000 hit club.
It probably would have been ideal to explain who "Yaz" was in the documentary, but when you're focusing on reaching a specific audience, perhaps it isn't necessary.
Message received Jonathan Hock.
Mentioning the conversation that followed his secure of the win that day with Thurman Munson, who is still a household name in American households today, puts a little gas in the viewers' tank to get them through.
It inspires a false hope that there will be something relatable in the near future. Even in documentaries, there needs to be some sort of heartbreak. There needs to be something more tangible than a fastball to be debated.
In fact, the majority of the film was about the standoff between a pitcher and a batter. There was minimal mention or anecdotes about the pitch itself. There was no chronological story of tribulations that challenged fastballs.
A half an hour in, our hearts finally break for Bob Gibson, a nine-time all-star pitcher and two-time World Series champion with the St. Louis Cardinals. He discusses racism as a way of life during his time as a pitcher and using that adversity to project intimidation into his batting opponent.
His tale is gripping, heart-wrenching, and brings to mind the 2013 film "42," which shows the journey of Jackie Robinson, an African-American Brooklyn Dodger who faces a separate set of challenges than his predominantly white teammates both before and during his time as a professional baseball player.
It's too bad that the film cuts to some more unchronological, thoughtlessly placed babbles about mindset at the plate and the batters' box.
There are some interesting statistical factoids throughout the final half-hour, especially for the select sports fan who enjoys statistic comparisons.
In the end, while the film is engaging and smart, even for those that don't follow baseball as much as they want or should, the documentary's storyboard should have gone in reverse order. The small stories should have told a bigger a story. The story should have a different title. Or maybe the viewer has to learn to love baseball a little more first.