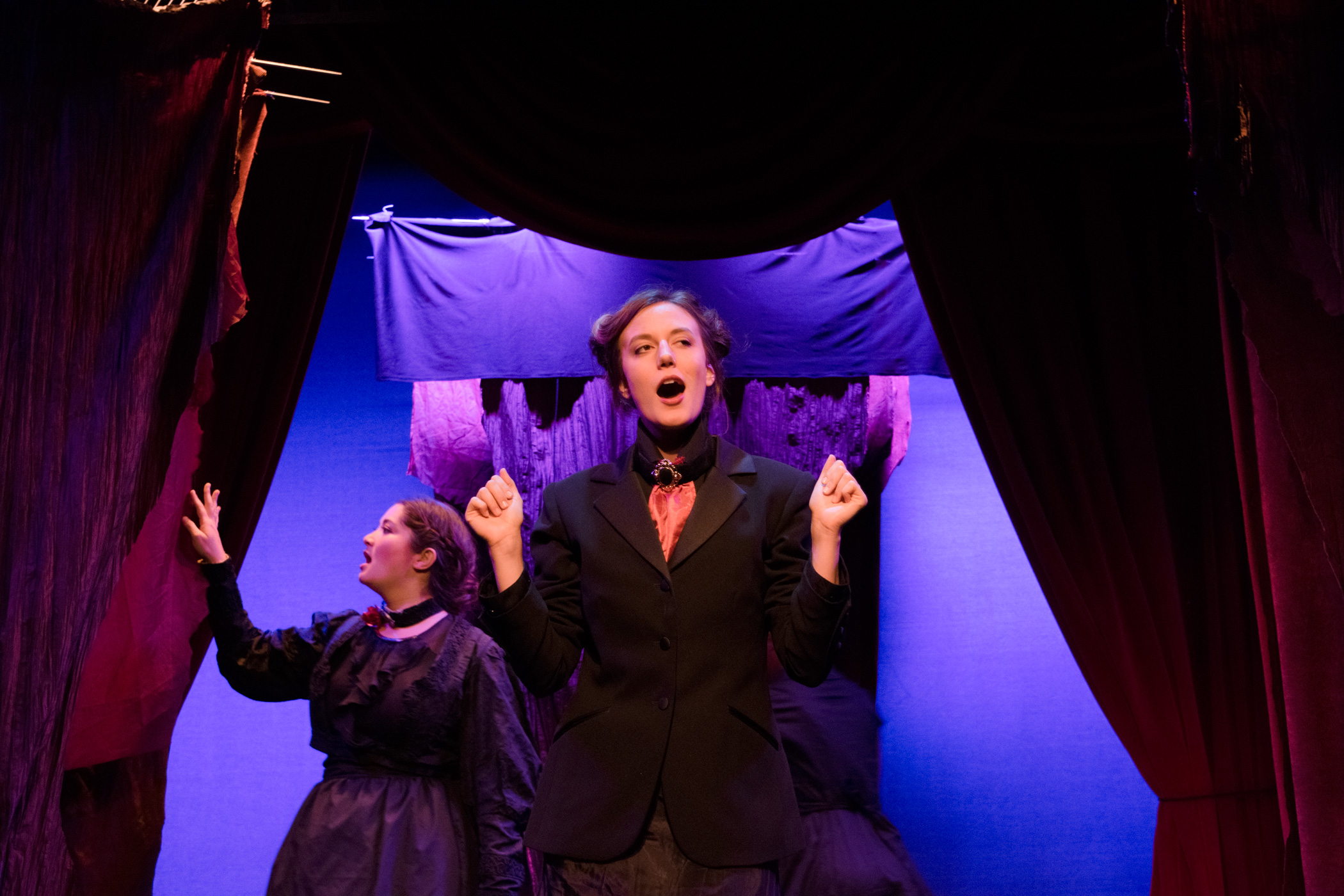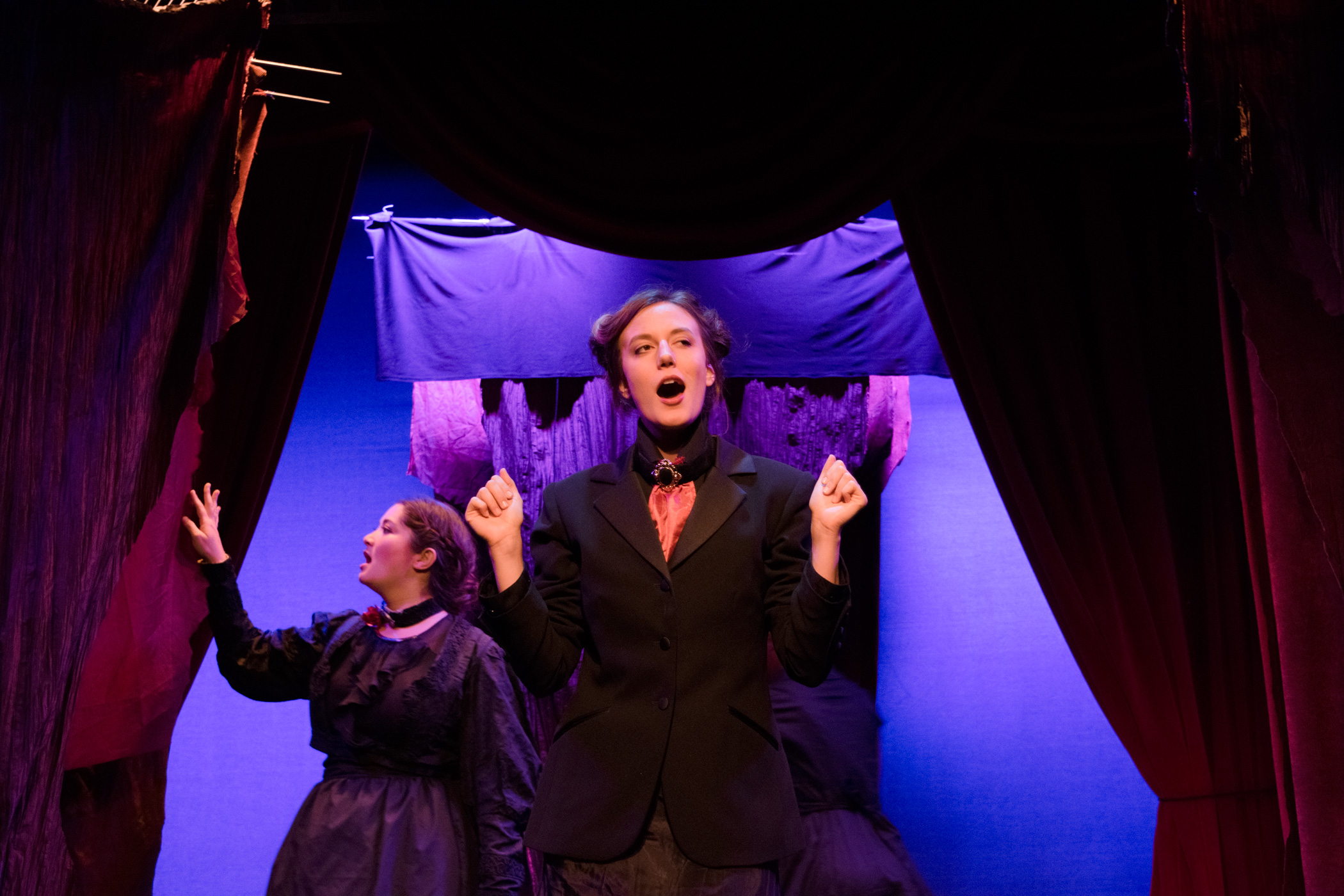 Ambitious in its name and premise, "Ambition" by the playwright Kaela Mei-Shing Garvin falls short, mainly because it is trying to tell three different stories at once. Each of these tales deserves attention, but, as they are brought together on the stage of the Planet Connections Theatre in a mish-mash, they lose their depth. With only three actresses (Kaela Mei-Shing Garvin, Kineta Kunutu and Patricia Sabulis) playing multiple characters, it is hard to follow whose story we are told.
At the same time, the audience cannot help but enjoy hearing the three actresses' beautiful voices. Off-off Broadway plays are seldom set as musicals and have a live band, especially that the musicians in this case not only create the background for action during the show, but also entertain the viewers before it begins and create the mood. The band, Gandor Chorale, which consists of a guitarist, a drummer and a bass player, and the singing are the two most memorable attributes of "Ambition." It could have only gotten better if certain melodies, meant to create suspense, were varied, and not repeated over and over.
As far as the content is concerned, the play is based on true stories of three American female serial killers, Nannie Doss, Jane Toppan, and Belle Gunness, "who each face the burden of a sexist and restrictive society." Though the play is meant to explore "the psychological ramifications of legal subjugation," little time is spent on psychological analysis and getting to know the characters. Instead, we are shown snippets of their lives in a myriad of scenes not connected to each other.
With this said, Ms. Garvin does stick to her promise to base the play on historical events. Still, while it is cool to know that the stories we are told are biographical and not made-up, one must be familiar with the subjects of this work in order to appreciate its historical truth. The rest of the audience, however, is left confused and misled by the quick switches from one heroine to another.
In addition, not enough time is spent on the issue of women's subjugation in a male-dominated society. All we get is domestic violence, and even then husbands are killed for monetary gain more often than for revenge. Thus, the women seem greedy rather than ambitious, which makes their stories less compelling. "Rat poison is a lot cheaper than a divorce lawyer," says one of the characters, which is funny, but also shallow.
Out of all the characters, Belle Gunness (Kaela Mei-Shing Garvin) comes across as the most ambitious. As Wikipedia tells us, she accumulated a fortune by seducing (and sometimes marrying) men and taking their money (along with collecting life insurance whenever possible). In "Ambition" she admits that she kills for money and notes, "You can't succeed unless you're already successful, and once you are, you become addicted." But just how successful Belle was (according to Wikipedia, she "had allegedly accumulated more than $250,000 through her murder schemes over the years," the equivalent of "about $6.3 million in 2012 dollars"), the play does not reveal.
And yet, we must commend Ms. Garvin and the director, Lauren Adleman, for making such a gloomy topic fun. In a number of times, the viewers laugh out loud, and, while the three actresses sing "I Kill for Money," they tease the audience with fake $100 bills, which livens up the mood.
Hence, though the play has lots of room for improvement and character development, music and humor definitely save the day. After all, weaving good songs into a coherent story is no easy task. In this case, it might have contributed to the narrative being fragmented, while also added charm to it.
Photo By Rebecca Russell