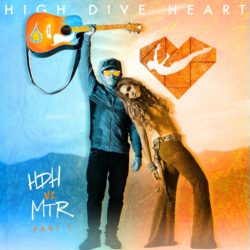 Review Fix chats with Nelly Joy of High Dive Heart to learn all about the band's origin, creative process and goals for the future. High Dive Heart (multi-platinum songwriter and solo artist Jason Reeves and singer-songwriter Nelly Joy) are set to release their dynamic six-song sophomore EP HDH VS. MTR (Part One) later this summer. The EP is the follow-up to the band's 2015 debut Sonic Graffiti featuring the hit "Vintage" http://bit.ly/1UbNEBf that was #1 on the Global Viral Spotify Chart and has over two million streams.
Review Fix: How did you get together to form High Dive Heart?
Nelly Joy: Before Jason lived in Nashville his publisher set him up on a writing trip there and I was actually his first co-write. It was his first time writing in Nashville and we immediately connected and became friends. At the time I was still in my country duo The JaneDear Girls and we would write songs for that as well as for his solo projects. We were both signed to Warner Bros. Records at the time too, him in LA and me in Nashville. After writing and singing on each others' albums for about four years, an amazing producer/writer/musician named Nathan Chapman (Taylor Swift, Keith Urban, Lady Antebellum) heard a duet we had recorded and told us we should be a band and make a record together. We took his advice.
Review Fix: What do you think makes this band special?
Joy: Part of what makes us special is that we're married and pull inspiration for our music from our lives together. We want our project to represent love and spread light and be real. We rely on our power as a team to make the best art we can, and we support each other through all the ups and downs of being musicians in the modern world.
Review Fix: How would you describe High Dive Heart's musical style? Who are your biggest influences as a band?
Joy: Our style is a unique mixture of all of our musical influences including acoustic, hip hop, rock, pop, folk and futuristic. We love to combine acoustic instruments with synth beds and digital drums and use vocal harmony as a sonic landscape in almost all of our songs. Some of our biggest influences are Bob Dylan, Pink Floyd, Coldplay, Radiohead, Macklemore & Ryan Lewis, Atmosphere and Led Zeppelin.
Review Fix: How is your forthcoming EP due out later this summer, HDH VS. MTR (Part One), different from your 2015 debut Sonic Graffiti?
Joy: This new EP, which is the first half of our two-part album, has a much bigger, sonically grandiose atmosphere than Sonic Graffiti. We made the album with LA based pop producer Morgan Taylor Reid and he brought an urban edge to our songs. We also tackled heavier topics lyrically and intentionally made the music more diverse from track to track.
Review Fix: First single "Misfit" from the new EP is an anti-bullying anthem. What is the story behind it?
Joy: We wanted to write a song for all the people around the planet that were suffering from the incredibly poisonous social epidemic of bullying. Jason and I feel like Misfits in this world and were writing it for ourselves just as much as for anyone else. Our goal is to start a whole campaign around the idea of not fitting in and being different. We want to encourage people to feel beautiful in their own skin and to not hide who they truly are because of what other people say or do.
We are donating 100% of proceeds from the "Misfit" iTunes  and Spotify  sales along with Misfit t-shirt sales to The Bully Project for a limited time.
Review Fix: What's your creative process like?
Joy: Our favorite part about our creative process is that there are no rules and every song comes together in a different way. We love writing in studios and houses, but also come up with ideas out in nature. We take instruments to beaches, mountain tops and forests and love to travel to create. For the new music, we wrote with Morgan Taylor Reid and Nathan Chapman, and working with them is an extremely inspiring, infinite process. Anything can happen and we love they mystery of that. Usually songs start with jamming on guitars and pianos and the melodies are inspired by the chords, and most of the time the lyrics seem tied to the melodies. It's always a different path to the end result though. That's why it's so fun.
Review Fix: What are your goals for this album?
Joy: Our main goal for this album is to get as many people as possible around the world to hear it. We want to inspire people to help us make this planet a more beautiful place to exist. And we want to inspire people to love each other and themselves. We would love to tour the world and play the songs for anyone who wants to hear them. Our mission is to move people. Music has the power to make change, no matter how big or small. We want our songs to represent brightness in the dark shadows.
Review Fix: What's next for High Dive Heart?
Joy: We're unrolling all the elements of our Misfit Movement leading up to the release of our official "Misfit" video. HDH VS. MTR (Part One) is due out this summer and we are in the studio over the summer writing and recording the second half. Beyond that, we are going on the road with Colbie Caillat and Justin Young this fall for The Malibu Sessions Acoustic Tour. We will be opening for Colbie and then playing her new album with her as well. That's the immediate future for us, the future is a beautiful unknown.