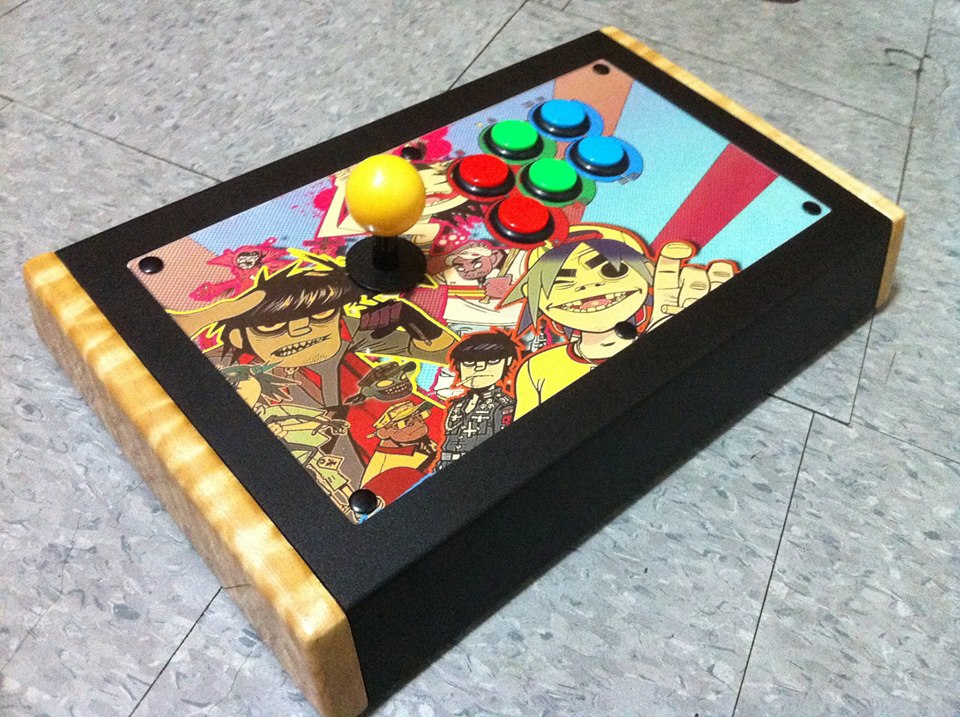 As the power gap between home consoles and arcade machines closed, fighting games transitioned from dimly lit arcades into the living rooms of gamers. While convenient, a controller was no substitute for an arcade cabinet with a precise joystick and responsive Sanwa buttons. Companies such as Mad Catz and Hori saw an opportunity and began producing arcade fight sticks, but they weren't cheap, and if gamers were going to spend up to $300 on one, they would want it tailor-made for them.
Ben Fong, a native New Yorker born in Manhattan and raised in the Bensonhurst neighborhood of Brooklyn, took up the task to outfit gamers with personalized arcade sticks to match their preferences and personality.
While attending SUNY IT—interestingly enough, not for computer science, primarily what the college is best known for, but instead majoring in Business— Fong had an experience that aligned him with the world of custom arcade sticks.
"I've always had a fascination with electronics, when I was a kid, before high school, and I wanted to get into the video game industry since then. When I started doing Arcade controllers it was during my last year of college," Fong said. "It was a vision I saw one day— I took an acid trip one time, that sort of vision, and I just wanted to build an arcade stick for the release of Street Fighter IV."
That acid trip served as the catalyst to Fong's descent into the custom arcade stick scene, where he learned the craft and networked with other like-minded hobbyists.
"And it was interesting, though, you know, while I was on it I was drawing up a whole bunch of things. It was just for the art and what not, and it became very easy for me to do for some reason; it became common sense," Fong said. "I didn't have any electrical background, and one day during my last year in college I started reading up on this forum, Shoryuken.com, and they have, aside from the fighting game tech and strategies, a forum for arcade stick presentations, and I was pretty inspired by what they had."
It wasn't just the therapeutic nature of tinkering with and assembling arcade sticks that reeled Fong in, but also the lack of support for the PC fighting game community. Frustrated with the negligence shown by arcade stick manufacturers, he decided to take the initiative and work toward a solution.
"Before Mad Catz started having their TE (Tournament Edition) sticks out, there wasn't a lot of sticks out on the market for PC at the time, and so I wanted to play a lot of the PS2 games on emulator, since getting an arcade board was very expensive to have," Fong said. "I bought a controller one day— a really low-quality entry-level Hori Stick. And it wouldn't work on the PC and I got really frustrated, so I was looking up these parts that were compatible with PC and learned how to assemble my own stick from there to make it work for the PC."
As a hobby, Fong continued to build arcade sticks and share them on Shoryuken.com, amassing a following that would soon request sticks of their own. As interest in Fong's custom arcade sticks grew, his hobby became profitable, and after graduating from SUNY IT, moved back to Brooklyn to start a business building custom arcade sticks.
"At the time when I came back there wasn't anybody—there still isn't anybody—that actually builds arcade sticks or dual mods them. There was this guy, Henry Cen, from the old Chinatown Fair, that people used to go to, but he didn't have time back then," Fong said. "So after he relocated to Next Level Arcade, I worked with him at one point, and I had people coming in and asking me to build sticks for them."
Fong's quality of service and build quality instills a level of trust in his customers.
"He has done a lot of work for me as far as modding sticks," says Christopher Reyes. "He has modded over 6 sticks, including one with LED under the buttons."
Fong became invested in Next Level Arcade, and his craftsmanship earned him the reputation of the go-to-guy among the local fighting game community. Now, with over eight years of experience under his belt, he's built upwards of 800 custom arcade sticks, including some for the top fighting game players in the country.
Fong's experience allows him to flex his creative muscle and craft unconventional arcade sticks, in addition to building full-scale arcade cabinets.
"People come to me with their designs and stuff, and I'll see what I can do to cater to their whims. As long as you give me a box or something to work with, I can build you an arcade stick. Even if you give me a UPS box or a pizza box," Fong said. "Instead of just building a regular arcade controller in a box, I've done an arcade controller in a TV dinner table before, and built one out of an X-Box 360 console."
Undoubtedly the demand for arcade sticks is reliant on their being a steady stream of high-quality fighting game titles to keep both the mainstream audience and the fighting game tournament scene interested. Since Street Fighter IV's release in 2008, the climate has been health but like with any genre, popularity peaks and declines in a cyclical nature.
With his foresight and versatility, Fong is ready to pivot the landscape changes, and already has ideas to cater to different audiences.
"I would like to expand on doing console peripherals and PC peripherals, as well. Just to be competing with the leading brands nowadays, you know Corsair, Razer, Corsair. I would make something mechanical, something that would contour to people's hands when they play. Just a different design on it, you know—something ergonomic, as far as the product goes."
If you're ever in the market for a durable arcade stick, and some spare cash lying around—a custom stick made from scratch will run you around $500—Fong will be more than willing to create one specifically for you.
"Check out my work, I really appreciate it," Fong said. "That actually means a lot to me because every stick I made, I've actually designed it for each person's personality as far as art and design.