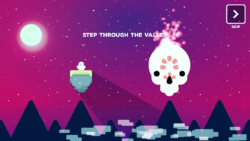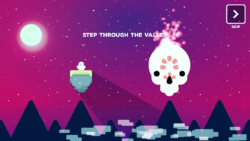 Review Fix chats with Alex Petlenko, Founder, Wall West, to find out all about the incredibly hard, but endearing mobile platformer "George is Scared of The Dark." Developed solely by Petlenko, the game was a labor of love.
Review Fix: What makes George cool?
Alex Petlenko: George is too cool for school! No seriously, I mean he is a ghost — so naturally, he's very cool … but he doesn't like to brag about it.
Review Fix: What games inspired George: Scared of the Dark?
Petlenko: I've always loved retro games. I also enjoy mobile games. This game pays homage to that. I wanted to create a game that was more than just a casual mobile game — with more depth, mystery and story. In particular, I wanted the game to feel atmospheric — for the player to be temporarily immersed into the magic of the game world. At its core, I wanted it to have a central theme of overcoming challenges and conquering fears. It kind of has a nostalgic feel that's both fun but also reflective in many ways. As the story develops and you help George on his journey, some of that world begins to open up for the player.
Review Fix: What has development been like?
Petlenko: Development has been fun but also challenging.  It's been a solo project, so I've had to be strict about the scope of the project and my time-keeping. The game spun out of procjam2015, which is all about procedural generation – writing code that creates something. The hardest part was creating a level-generation algorithm that creates fun but challenging levels — keeping the experience unique each time. I also work in massive peaks and troughs. Some days are slow; it's all about experimenting and taking it easy — allowing the creative process to unfold naturally. Other days, once I know what needs to be coded and those design decisions have been made, it's full pedal-to-the-metal coding! I also like to hang out and be part of the London indie scene to break up my routine — and that has been great for inspiration, feedback and support.
Review Fix: With all the competition on the mobile market and in the indies now, how difficult was it for you guys to try and make something that stood out?
Petlenko: Yeah, tell me about it! It's tricky to stand out for indies. For me, it's just about creating something that I'm passionate about and allowing that to shine through in the finished game. Yes it's a platform game … but the mashup of cute graphics, difficult gameplay, and magical-but-at-times-eerie feel makes for a very unique experience.
Review Fix: Any chance at a PS4 or Vita release?
Petlenko: I wouldn't discount ports to other platforms, but there are no concrete plans at this time. Initially, I will be looking to improve and develop the iOS version. I'm already working on the Halloween expansion!
Review Fix: Bottom line, why must someone play this game?
Petlenko: To help George overcome his fears — of course!
Review Fix: How do you want this game to be remembered?
Petlenko: That's a tricky one. I think the players will ultimately decide that one. I want it to be remembered as a fun and challenging game.
Review Fix: What are your goals for this game?
Petlenko: For me, it's a flagship game for my startup game studio in 2016. I hope players will simply enjoy playing it.
Review Fix: What's next?
Petlenko: I have a massive future "wishlist" for George: Scared of the Dark that doesn't fit on my laptop! There are many development directions. I will be taking a close look at the feedback for the game and considering ways to improve it. However, I also have a few new ideas for other games to explore during 2017.