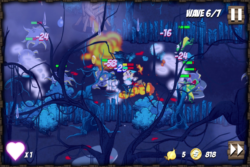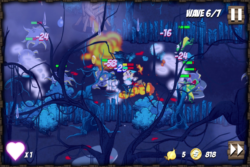 Review Fix chats with Queen Bee Games developer Steven Cassidy, who discusses the frenetic and fun action on the Steam, Amazon, iOS and Google Play Action RPG "Onion Force."
Review Fix: What games inspired this one?
Steven Cassidy: In some cases, it may not be too obvious, but there are bits and pieces of a lot of different games in there. Dragon Quest, Diablo, even some Dynasty Warriors. Of course, there is influence from other tower defense games as well. We wanted to create a new style of tower defense, and Up the action in a big way. No just waiting around for things to happen, you get directly involved in and things get extremely brutal. We're happy with the mash-up we've created. It's got character, and in our opinion stands out from the other games like it.
Review Fix: What has development been like?
Cassidy: I'm not going to lie, it was extremely difficult. When I began the project I did not know the first thing about creating a video game. I was literally googling things like "make man move". Every single step of the way, I just google my problem and found the solution. As one might imagine it was a very time-consuming and at times frustrating experience. I'll tell you the sense of accomplishment made it all worthwhile, every step of the way.
Review Fix: How does it feel to be featured by Apple?
Cassidy: It was a total surprise, and of course we were very happy and honored to be chosen; especially this being our first game. We hope we can get more features in the future because this definitely does drive downloads. One feature on launch day is not enough, however, to bring in the bacon.
Review Fix: With all the competition on the mobile market and in the indies now, how difficult was it for you guys to try and make something that stood out?
Cassidy: That's the main problem that every dev needs to solve. It's not easy to get attention amongst the oceans of products being released all the time. It's at the point that making an excellent game isn't enough anymore.
Review Fix: Bottom line, why must someone play this game?
Cassidy: Anyone who likes tower defense or action adventure games should definitely give it a try. It's an experience that can't be found in any other game that I know of. It's got an interesting mechanic that caters to players of all levels, there is fun to be had for the casual player, and also has stuff in place to keep the experienced gamer licking their wounds. There is a near infinite amount of strategies to formulate and it's up to each player to come up with their own.
Review Fix: How do you want this game to be remembered?
Cassidy: Really just want anyone that has played it to think back upon it and get a smile on their face. That was the core goal the whole time, just make a game that makes people happy.
Review Fix: What are your goals for this game?
Cassidy: We would just like to get it into the hands of as many players possible. It was a lot of work and we are proud of what we accomplished, it would be really nice for a really broad audience to be able to share in that with us.
Review Fix: What's next?
Cassidy: Mum's the word on that for the time being, follow us on twitter for the latest.